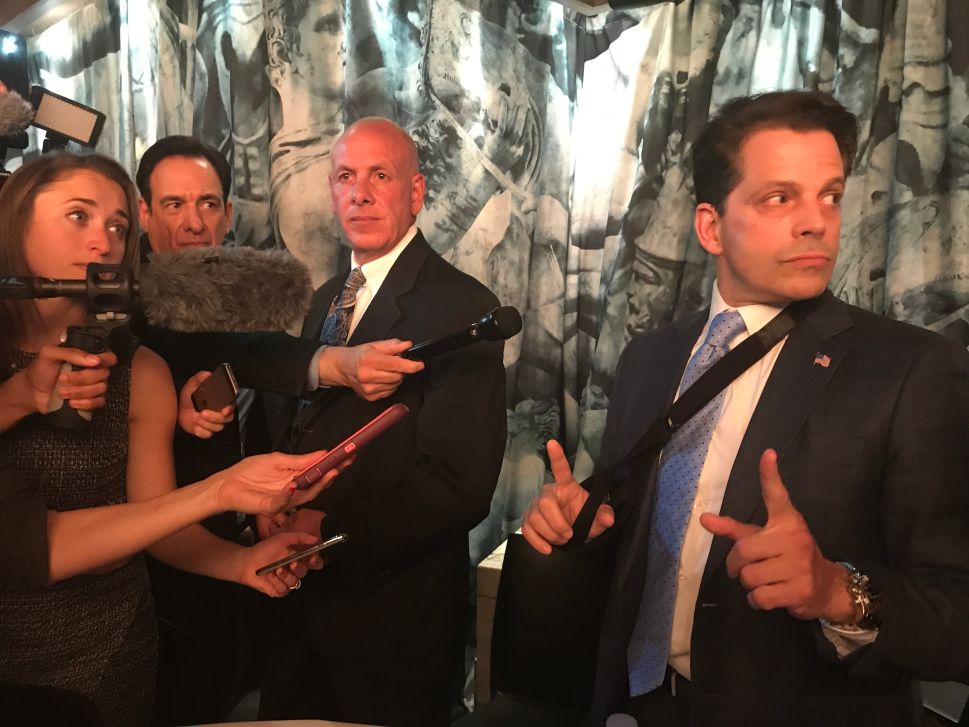 "Have we met before?" the Mooch asked, his arm wrapped in a tourniquet he refers to as "ice compression technology."
"I sent you an email," I told him.
"I remember the email," he said before castigating a reporter from The New York Times.
Last night, former White House Communications Director Anthony Scaramucci hosted a "launch party" for his independent media venture, The Scaramucci Post. Droves of reporters from Bloomberg, The Guardian, Reuters, Squawk Box, Buzzfeed News, and The Hill crammed downstairs in Manhattan's Hunt and Fish Club (of which Scaramucci is a co-owner). They buzzed around the ex-Skybridge Capital founder from one corner of the room to the next as friends from Long Island, New Jersey, and Wall Street drank cocktails by the bar, watching the Trumpian spectacle with amusement. Behind them, former hedge fund manager Lance Leifer live streamed the event from an iPhone. A former staffer for Milo Inc., the company behind controversial right-wing provocateur Milo Yiannopoulos, was also present.
"During the Occupy days, I'd get accosted every day about being a trader," reflected a Goldman Sachs associate with acting credits in The Wolf of Wall Street and The Big Short. "Please, I'm an investment manager."
"Pigs in a blanket?" a waitress offered, holding a tray of miniature hot dogs. I opted for the tuna tartare instead as a reporter pressed Scaramucci about how he was planning to stop gun violence. Mooch brushed the question off before discussing how The Scaramucci Post would cater to millennials.
"You guys got to think like entrepreneurs," he told reporters. "The whole media landscape is changing."
Although the event was promoted as a launch party, nothing was officially launched. In fact, reporters left even more confused than when they arrived.
"Say 'Scaramucci has absolutely no idea what he's doing and he has absolutely no idea what Scaramucci Post is,'" Scaramucci told the crowd.
The story of a hedge-fund founder-turned-10-day White House communications director-turned-celebrity media hound fits perfectly into 2017's bizarre cultural wasteland of celebrity worship and oligarchy. With numerous industries intersecting amid rapid technological advances and raging narcissism fueled by social media, bizarre figures like the Mooch drive national conversation, policy, and culture—for better or for worse.
In today's climate of #fakenews, cheesy spectacles like last night further blur the line between reality and satire. Generation Satire is over—we now live in a post-satire society.