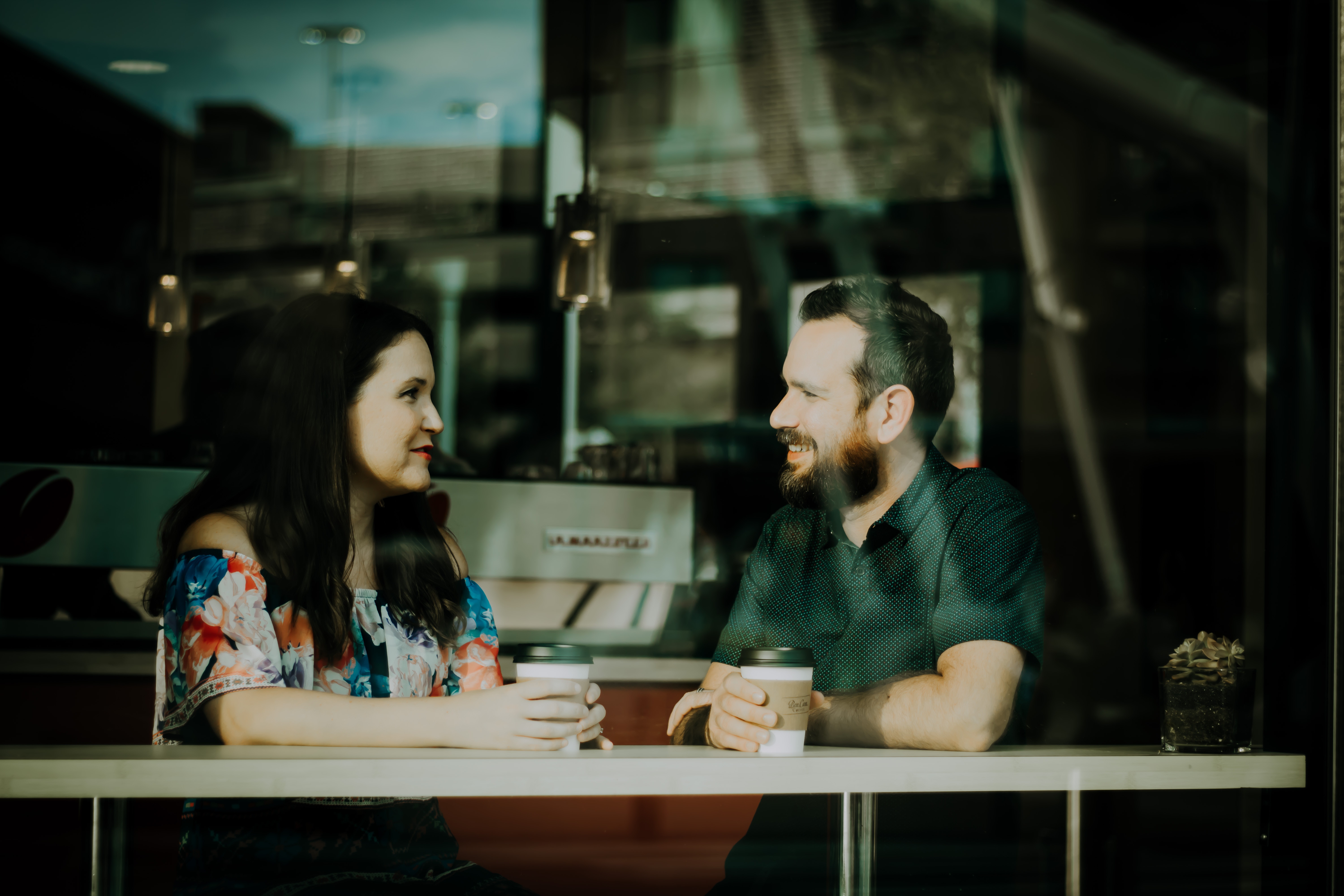 In my new book, Stories I Tell On Dates, I traffic in a fair bit of nostalgia. There are references to Missile Command, to Paula Abdul, and to the 1989 Fleer baseball card that featured Billy Ripken and his profane bat knob.
This sort of nostalgia is rooted in the comparatively deep past: the 1980s.
But there is another kind of nostalgia in my book, as well: a wistful return to a time when people walked up to each other, starting talking, and eventually, after six or eight (or one) dates, ended up in bed together.
When I was a teenager, I was awed by people who could do this—who could talk to a strange girl without prompting and somehow come back with that girl's phone number. But then, as I aged into my twenties, I found myself doing it. Some of this newfound bravado could be chalked up to an understanding of something my father told me when I was 13, which was that "in a hundred years, it isn't going to matter anyway." But a lot of it could be put down to necessity. You see, I spent the first decade of my post-college life playing professional basketball.
This, though, wasn't the LeBron James kind of professional basketball. This was more like the Roy "Tin Cup" McAvoy kind of professional basketball. The Crash Davis kind of professional basketball. OK, Kevin Costner, these references would make a lot more sense if you'd been in a basketball movie.
My stop-and-start basketball career took me all over the world, and, briefly, into the NBA. And you might think that this—the professional basketball thing—was what granted me the ability to talk to strange girls. But a thing I learned in my twenties was that girls don't much like it when you couldn't be sure if you'd be in town next week. Or if you said you were a professional basketball player but then had to follow that up with an explanation of what the Yakima Sun Kings were and why you were in North Dakota.
So, any capacity for talking to Unknowns arose because I had to. I was in a lot of weird places (Athens, Greece; Kazan, Russia; Malaga, Spain, to name a few) and if I was going to have any dates—any friends at all, really—I needed to learn how to talk to strangers.
I thought this newfound ability was going to serve as a lifelong skill. And for a while, it did. I was no longer that scared middle school kid. I could walk up and say hi at a coffee shop, in a restaurant, on the beach.
(Just kidding, no one is good at meeting strangers at the beach.)
But in recent years, I've noticed something. People don't like to talk to each other anymore.
Now, it might be easy to chalk this generalization up to the ramblings of an old man. I am, after all, 39 years old. (Gasp.) But I have on my side some evidence. One bit is of the documented, I'm-going-to-put-a-link-in-here kind. The other is of the practical kind.
Millennials, it seems, are having less sex, and with fewer partners, than any generation in recent history. Some people say this is reductive—that we need to reclassify sexual behavior, generally. But the fact remains that fewer penises are going into fewer vaginas than ever before. And I think I know why.
Next time you go to the airport, pay attention to what people are doing. It won't take you long to come up with an answer. They're on their phones. And if they're on their phones, what they're NOT doing is talking to strangers. And if they're not talking to strangers, they're not going to be having sex with strangers. Or, in the interim, going on dates with strangers.
This might seem small. I mean, surely we can overcome a few missed airport encounters to ensure the survival of the species, right?
But there's a ripple effect. As people stop talking to each other, each new chance becomes all the more difficult. Throw in a rejection or two—maybe because it's been so long since you talked to someone you didn't know, or maybe because it's been so long since they did—and pretty soon, everyone's lost in the safety of their phones or Facebook pages or Tinder profiles, where our ability to craft a personality insulates from the potential pain of the unknown.
Which is why, as I look back at my own book, I can't help but see it as both distantly and recently nostalgic. It is an archaeological dig, into my past as a child of the Cold War and into my past as an adult in airports where people spoke to one another.
I'm not sure what to do about this except to tell you to enjoy a small dose of how things used to be. You know, five years ago, back when people actually talked to each other. And when Hugh Hefner was alive. Because this little tale takes place at the Playboy mansion.
I've just told the date in question a story about my days as a college basketball player, when my team (Iowa State) won at Allen Fieldhouse, home to the University of Kansas Jayhawks and the coach who'd once crushed my boyhood dreams.
And she's about to dispense some wisdom—one of the many great things that can come from talking to other people.
***
The Playmate from Missouri taps the side of her empty wine glass with a blood-red fingernail.
"So," she says. "You'd pretty much forgotten about almost becoming a traitor."
I laugh and lean into the vinyl behind me.
"The ignorance of youth."
"You were just trying to square the circle in your head."
I can feel the wrinkle in my brow.
"What do you mean?"
"Well, like people who get divorced. I once read somewhere that usually, when people split up, they're on OK terms. But by the end, there's a good chance they'll hate each other."
"Because of the lawyers and stuff?"
"No, because they need to convince themselves that they made the right decision. Our brains don't like to be uncomfortable."
"So I had to decide I hated Roy Williams, even though, like, 45% of me still wanted to be playing for him?"
"Exactly."
I swirl the few remaining drops of wine around the crimson dot at the bottom of my glass.
"It'll probably only get worse, won't it?"
"What?"
I look up at her.
"The story. As I get older, I'll probably forget more and more about how many ways I could have ended up at Kansas, and it'll become a story about me versus big, bad Roy Williams."
"Yep," she says, rising out of her chair. "It's still a hell of a story, though."
This is what I wanted to hear all along, of course.
We move to her bedroom. She's got one of those memory-foam mattresses, and lying down is a relief after a night of standing around at the Playboy Mansion.
We kiss a little, but nothing happens, as it were. It's too late, and she says she's not that kind of girl. And as I go to sleep, I am feeling pretty good about that. Because who knows, it might be kind of interesting to date a former Playmate—take her home to Kansas, have her meet my family. People won't understand, because they never do. But who am I to judge her for being in Playboy? I was in the NBA, and people make all sorts of judgments about that.
Not to mention: she's wiser than she has any right to be.
As I drift off, I'm congratulating myself on the new maxim I've just worked up: just as you shouldn't judge a book by its cover, you shouldn't judge a Playmate by her centerfold.
I wake up to daylight streaming into her bedroom. It must be 10 am. I'm alone, so she's probably in the bathroom, or maybe the kitchen.
I do a quick body scan to gauge how I feel, which is not nearly as bad as I thought, considering that I had way more than one free drink before that bad rapper took the stage at the Mansion.
I look around the room.
Live. Laugh. Love is in blocks on a shelf, and there's a Dance Like No One's Watching poster, and such things might turn me off if she sold insurance or taught third grade. But in this case, they serve as ballast, counterweight against the Playboy thing, like all the other things I've done serve as counterweight against the playing-in-the-NBA thing.
I continue my survey of the room, rotating my head counterclockwise, past the dresser, the mirror, another shelf—this one with candles on it.
And that's when I see it.
Above her bed, blown up to 24 inches by 36 inches, is a picture.
It's her own centerfold.
I turn sharply so I can see the whole thing. I'm hoping it will at least be tasteful. Hands covering pubis, that sort of thing.
It is not tasteful. One hand is on her hip, pushing her naked pelvis toward the camera. Her breasts are fully exposed, making the photo more National Geographic than not.
But most important: IT'S ABOVE HER BED.
"Hey!" she says from the doorway.
I whirl from the poster.
"Hi!"
My voice has more enthusiasm than I intend because my brain is being overrun with questions.
What happens when her parents come to visit? When friends are over? With unsuspecting gentleman callers like myself?
She leans into the doorjamb, playing coy.
"Do you want to get breakfast?"
"Uh," I say. "Do you think you could take me to my car?"
Remember what I said about not judging a girl by her centerfold?
That's only true if it isn't hanging over her bed.
Paul Shirley is an author, editor, writing coach, and former NBA star. He has written for such outlets as The Wall Street Journal, Esquire, ESPN.com, Slate, and Playboy. He has founded a website for writers called FlipCollective and started an e-magazine called Cartel. He also runs two writers' workshops in Los Angeles: Writers Blok and Roundtable. His book Stories I Tell On Dates is available October 17, 2017.