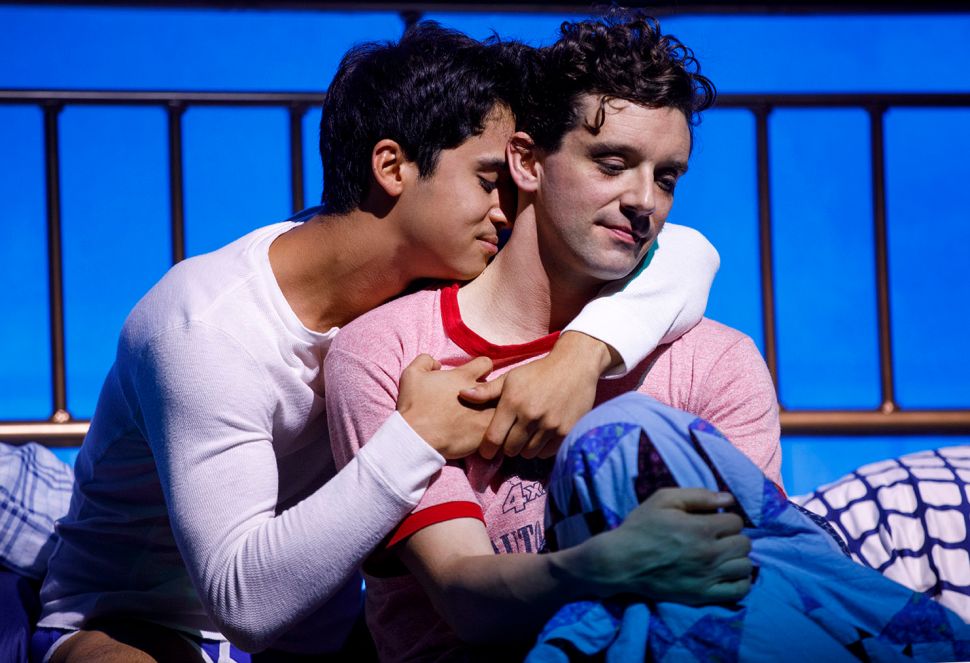 "Everything old is new again" might as well be the theme song for Torch Song, the new trimmed-down revival of Harvey Fierstein's ground-breaking play Torch Song Trilogy. Universally acknowledged as a cornerstone of evolution in the development of gay theater in America, it was originally produced in two separate versions off-Broadway in the late 1970s, finally triumphing in three acts on Broadway in 1982, where it became a smash hit that ran for three years, winning Best Actor and Best Play Tony awards for Fierstein, who repeated his starring role in the movie version in 1988. Thirty-five years since it was established as a landmark of gay American drama, Fierstein has trimmed, tightened and condensed it from its original four-hour running time into two acts instead of three, but under the new title Torch Song, in a superb production by New York's Second Stage company at the Tony Kiser Theater, I am pleased to say it has lost none of its wit, heart, wisdom, poignancy or purpose. It still runs nearly three hours and I, for one, didn't want it to end. If the director Moises Kaufman hadn't turned the lights out, I would still be sitting there.
In case you were born yesterday, this is the one about the trials and tribulations in the tragic, hilarious and flamboyant world of a Jewish drag queen, Arnold Beckoff, the friends who enter his life and hang around to stay, and the monstrous gargoyle of a mother who smothers him with a domineering and disapproving love that looks and feels very much like hell. All Arnold wants is monogamy, a husband, a career, and the support of a family that loves him. What he goes through to get it shouldn't happen in an illegal cock fight, but Fierstein spent a chunk of his own life making Arnold three-dimensional, so whether he's cracking wise, hobbling across the room breaking in new heels, or grappling with the complexities of life in tears, you are with him all the way. It's a play and a role that turned its author into a star—a unique, cross-dressing mixture of Gravel Gertie and Marjorie Main—and pity the poor actor who tries to follow in his fearless Size 12 footsteps. How fortunate we are that Michael Urie, the charming and versatile award-winning actor who made a big splash as Barbra Streisand's screwy assistant in Buyer and Cellar, doesn't bother to waste time imitating Fierstein. His Arnold is not as garrulous as Fierstein's, but vivacious and vulnerable. Also funny, heartbreaking, neurotic and completely original. In the first act, he meets Ed (wonderful performance by Ward Horton), a handsome, confused and closeted bisexual schoolteacher he picks up in a notorious gay bar who is so terrified of being gay he won't even enter the back room. Their on-and-off-again love affair changes Arnold's life, but Ed is so afraid of commitment that he eventually leaves him for a woman to prove he's a red-blooded heterosexual and ends up guilty, regretful and needing Arnold more than ever.
Fast forward from 1971 to 1974. Arnold is now happily living with Alan (Michael Rosen), a pretty hustler turned fashion model, who persuades him to reluctantly accept an invitation to spend a weekend in the country with Ed and his uneasy other half, Laurel (Roxanna Hope Radja). Ed wants to prove, at least to himself, that he can still make Arnold jealous. Laurel, whose attraction to gay men has resulted in one disastrous relationship after another, wants to test Ed's insistence that he's successfully gone "straight" before she marries him. The country air, veiled suspicions and relentless self-analysis all contribute to a disastrous weekend in which Ed seduces Alan and everyone ends up crushed and despondent. This episode, which played better in the realistic setting of the film with Fierstein, Matthew Broderick, Karen Young and Brian Kerwin as the roundelay of lovers, is now staged as absurdist theater and performed by all four actors entirely on a huge bed, with the characters changing partners for conversation and cuddling. It's the least convincing interlude in the present production.
By the second act, it's 1980, and things have changed dramatically. Alan has been murdered by gay bashers (a harrowing scene in the film but only talked about in retrospect onstage); Arnold has become the foster parent to a troubled gay teenager named David (Jack di Falco); and Ed, now divorced from Laurel, is back in the picture, crashing on the sofa and bemoaning the life he's wasted in the closet when all he wants is to spend the future with Arnold and a ready-made son. Arnold seems to have finally found the key to what he's always wanted. At last he can describe himself as "a good person—not a saint, but generously thoughtful—in a itchy sort of way." To everyone's horror, in a masterful stroke of bad timing, this is the time "Ma," the middle-aged widow and self-centered dragon lady, arrives from Miami for a visit with a bag of oranges and a lifetime of pent-up mendacity to share. Ma, in the form and figure of scene-stealing Mercedes Ruehl, is her own hurricane. A battle royale ensues over what Ma finds, mistakenly believing her son is having it off with an underage juvenile delinquent (David) and an older man (Ed) in some kind of wicked menage.
With her perfect timing and wilted delivery, Ruehl can give as well as get, so the one-liners fly in the best comic rhythms of Neil Simon and Larry Gelbart. But there is also knife-edge perception in this seasoned actress's well of hidden feelings for her son. She greets Arnold's desire for the same kind of legitimate marriage she had with his father with a mix of empathy and indignation, regarding it as an insult. There's one powerful scene in which Arnold pleads for the respect Ma has always denied him. Times have changed since the advent of AIDS. Jewish mothers deriding and torturing their gay sons for trying to define themselves in the terms of a new morality might have been grudgingly amusing when Fierstein created Beckoff. But things are different now. An emasculating mother is no longer much fun, despite some great lines. Estelle Getty played the part originally with the same brittle bad mood she carried to stardom in the Golden Girls. Sensing the need to soften the verbal blows and make the mother more humane, the great Anne Bancroft added sentimentality to the anger with enormous success. Ruehl plays Ma more like Bancroft did in the movie—a woman whose ballast is a mask for her affection. The result seems more modern, introspective, and better shaped. The production is well-served by a terrific cast, especially Urie, a gifted actor who embodies Arnold's awkward effeminacy with a sensitivity that is endearing and even sexy, and Ruehl, whose bravado has the power to attract and repel at the same time. You might hate her pickled mother routine, but when she leaves the room to pout you can't wait for her to come back.
In every other respect, Torch Song stands as a brave, brilliantly conceived period piece—a portrait of gay life in the late '70s and early '80s that put a recognizable, "normal" face on gay people and paved the way for political and social gains that surpassed the historic Stonewall riots. Without adding references to AIDS, safe sex, or gay-rights politics, Torch Song is timelier than ever. Arnold Beckoff's views on the hot-button topics of same-sex marriage and gay parenting are no longer dreams. They're more valid and vital in today's society than ever, and so is Torch Song.