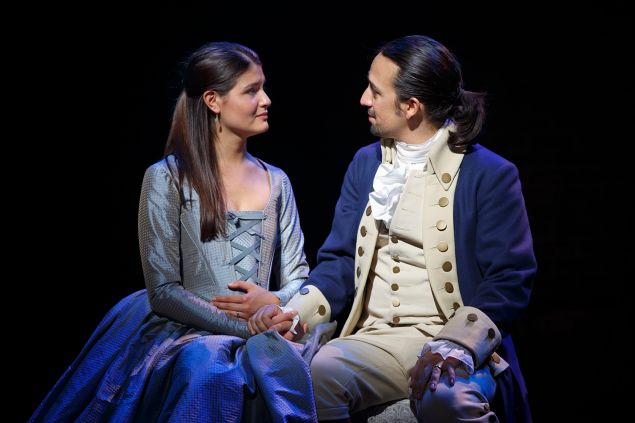 Ticketmaster is not throwing away its shot to stop bots from getting tickets to Hamilton.
The company is suing ticket broker Prestige Entertainment for an undisclosed amount, claiming the company used bots (special automated software) to scoop up 30,000 tickets to the Broadway hit and resell them. At times, Prestige was able to acquire 30 to 40 percent of the Hamilton tickets available on Ticketmaster.
And it wasn't just Hamilton—according to the suit, Prestige and its affiliates used 9,047 separate accounts to make 313,528 ticket orders over the course of 20 months.
Ticketmaster is accusing Prestige of fraud, breach of contract and violation of New York's anti-scalping law. The company alleges that Prestige inundated Ticketmaster's server by placing thousands of tickets on temporary reserve. Consumers then could not access these seats even though they had not technically been purchased yet.
"When deployed during the first sale for a popular event, this practice of making rapid, excessive and repeated reserve requests creates a severe artificial shortage of tickets," the suit states. "The inventory of tickets available to consumers who do not use bots is substantially diminished, which has led some consumers to question Ticketmaster's ability to ensure a level playing field."
While Ticketmaster's terms of service forbid the use of bots, Prestige was able to override warning or error messages. The company also used special software to get around captcha codes meant to screen out bots.
The suit also alleges that Prestige rented high-speed internet and storage from third-party colocation facilities, or data centers where equipment, space and retail are available to retail customers. Most of the Mayweather-Pacquiao orders came from just five colocation centers.
This is not the first time Prestige has been in trouble with the law this year. In May, New York Attorney General Eric Schneiderman (who has fought the scourge of ticket bots for several years) announced a $3.5 million settlement with Prestige and other brokers over a bot scheme. Prestige bought 1,012 tickets to a 2014 U2 concert at Madison Square Garden in one minute and then sold them at markups averaging 49 percent.
Ticketmaster launched its own investigation after discovering that Prestige bought a majority of the tickets to a 2015 fight between Floyd Mayweather and Manny Pacquiao in Las Vegas. Prestige used multiple credit cards, email addresses and IP addresses to evade Ticketmaster's order limits and conceal purchaser identities.
While Ticketmaster sent a cease and desist letter to Prestige following the Mayweather-Pacquiao incident, the company alleges Prestige continued its illegal activities, necessitating the lawsuit.
"Ticketmaster strives to provide an equitable ticket distribution system that affords all consumers a fair opportunity to acquire the best available tickets for events," the suit reads.
Many entertainers have joined Ticketmaster in bashing bots. Artists like Bruce Springsteen and Lin-Manuel Miranda have advocated for equality in ticket access and pricing.
Ticketmaster also recently implemented a safeguard called Verified Fan, which requires prospective buyers to register in advance for tickets. Fans who are "verified" receive a text message with a unique offer code they can use to unlock tickets.
Shows like Hamilton and Springsteen on Broadway have already implemented the new system, though there were some issues early in the process—despite Ticketmaster's best efforts some seats still appeared on resale sites. The number of illicit tickets was drastically reduced, however.
Verified Fan's next big test will come October 18, when tickets for the Broadway play Harry Potter and the Cursed Child go on sale. Here's hoping Ticketmaster can magically end the scourge of scalping.