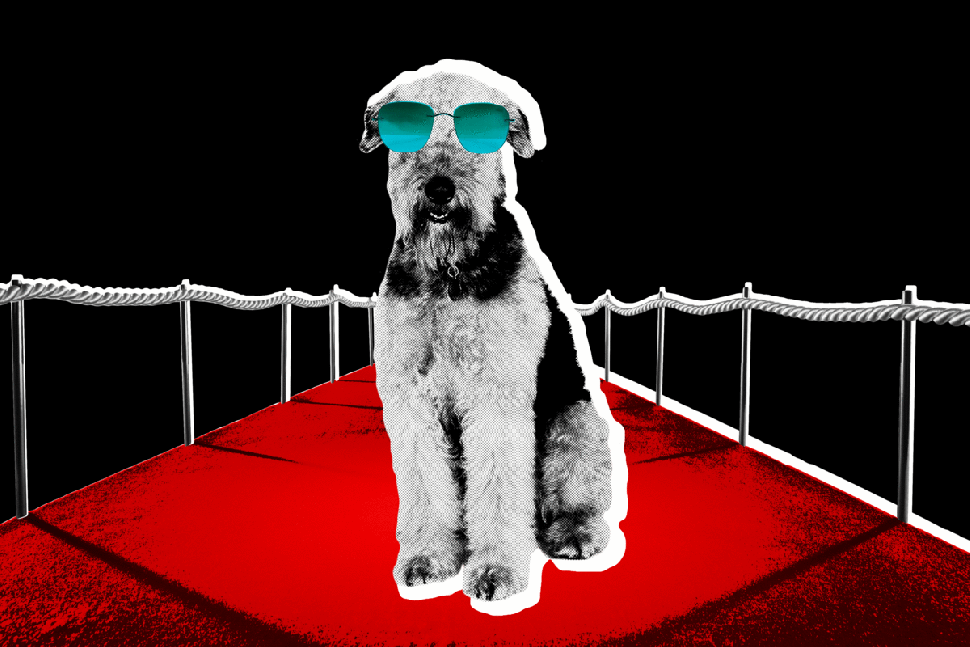 You've got the cutest dog. Everyone says, "he's so beautiful he should be in the movies." Hey, why not? Remember Rin Tin Tin, Lassie, Beethoven, and Benji? That could be your gorgeous, furry, four-legged baby who pulls in big showbiz bucks.
But it isn't easy to get a dog into the movies. Every day, doggie talent agencies like Hollywood Paws in Los Angeles are inundated by doting pet parents with stars in their eyes, determined to carve out a lucrative career for their pooch.
Matt Wolf's Pomeranian Husky mix named Norman has over 80,000 followers on Instagram and just appeared in his first film, set for release later this year. As a Los Angeles based public relations professional, Wolf had relationships in the PR industry. A friend who worked for a production company needed a dog. "That's how Norman got his first film role," said Wolf. "Norman has some formal training, in addition to basic training, which he received from his manager—yes, he has a manager!" he added.
But where does a dog owner start, especially one who has no connections in Hollywood?
I asked Nicole Ellis, a pet expert and certified professional dog trainer for Rover, how your dog can make it big in Hollywood.
Ellis's dog, Maggie, adopted from a city shelter, performs in films and commercials, visits hospitals, puts on shows, does demonstrations, and knows over 100 commands—from skateboarding to hand stands. Maggie's list of appearances include ads for AT&T, Shiseido, Travel + Leisure, Petco, and a spot on The Today Show.
Where does a dog owner start?
Nicole Ellis: For production training, having a confident dog is very important. Maggie's done all sorts of odd shots from 20,000 balloons falling on her to being chased by a Yoda while riding a skateboard. Having a confident dog is going to be very important for not only scenes like this, but for teaching new behaviors quickly. One of our most common behaviors for set work is taking a mark, or teaching the dog to stand on any object needed—from a leaf to a stamp on the ground—and doing every behavior asked on the mark to help keep focus on the animal while filming.
Start with making sure your pet's behaviors are very solid—including a good, sit, stay and down. If you have to ask your pet more than three times to sit, it's going to hold back the shoot, and when a scene may be done 10 or more times, no one wants to wait for the dog on set—no matter how cute he or she is.
What are specific animal personalities are movie and TV producers are looking for?
Confidence is number one, followed by motivation (toys and food). These dogs are usually excited to work and love to work. Sometimes we are on sets for a very long time, and while the pets do get to rest in their crates and are always with us, it's important that even at hour 10 they are excited to do their job on set.
Are showbiz dogs mostly owned by trainers in the business?
Most dogs in the business are owned by trainers and animal training companies, specifically for production work.  Logistically, it's easier for the trainers as they know the dog's behavior and demeanor.  However, there has been a change lately, where a lot of owner dogs are working.  In fact, I've been able to submit a lot of my clients' dogs for production jobs recently.
What are the odds of a private citizen getting your furry child into movies or commercials?
It comes down to training more than anything. If a private citizen has a well-trained dog, he or she can definitely find some work for them. Everything from looking on Craigslist for jobs to getting a pet agent (yes, they do exist) can help land a gig.
What exactly are directors looking for besides good looks?
Training, training, training. This is probably more important than looks, a lot of the time. Studio trained dogs should be able to hit a mark, sit, down, head up, head down, and lay on one command. Plus, all of these commands need to be on a hand cue and able to be done at a distance of over 10 feet. And, of course, sometimes the dogs need to be able to interact with the actors on set.
What behaviors are essential?
The list is pretty extensive, but my top behaviors would be: mark, mark to mark, go to mark, sit, stay (very solid stay, around people eating, running, yelling, and so on), come, speak, circle, and head up or down.
Do dogs need agents, similar to people who want to get into show business?
It's not required to have a pet agency, but they can help you find jobs. I often post jobs that friends are casting for on our Facebook page, and you can also find jobs via sites such as Craigslist.
 What will the agencies do?  What are their fees?
Agencies handle the insurance on set for the animal. They'll also often send a trainer with your dog, if you aren't available, and negotiate contracts. All agencies work differently when it comes to their fee. Some take the trainer rate or they take a percentage of the overall amount.
What breeds are they typically looking for in showbiz?  
Everything! From the family dog to the street dog. Every dog could work, as long as they are very well trained, motivated, and eager. Black and white colored dogs often don't work as much, as they are harder to see on in photos and videos.
What jobs are available for dogs—still shoots, commercials, movies? 
Everything! Maggie has been in photo shoots for Harpers Bazaar, Travel + Leisure, and WetSeal. She's been in commercials for Radio Flyer and Ziwi pet food and she even appeared in a Steven King movie adaptation. For the Radio Flyer commercial, we taught Maggie to ride a bike down the Venice boardwalk, while children and crowds stood around and watched her.
How much money could a pooch earn? 
The income depends on the job. A Craigslist job may pay you $50, while a commercial job may pay a fee of $350—and often the trainer gets another amount. But it definitely doesn't draw the riches people imagine. Most people do it because they love it. On set, an animal is considered a prop, just like a mailbox (not as cute in my opinion), so there are no maximum hours, but we always make sure they are happy and enjoying it.
Any last tips?
Train, train, train and make sure your pet loves it. If not, there are a ton of other amazing activities you both can be involved in from fly ball to scent work. If you have a skittish or nervous dog, this probably isn't the best path to go on, as sets can be an unpredictable and we don't want our pets nervous or scared.