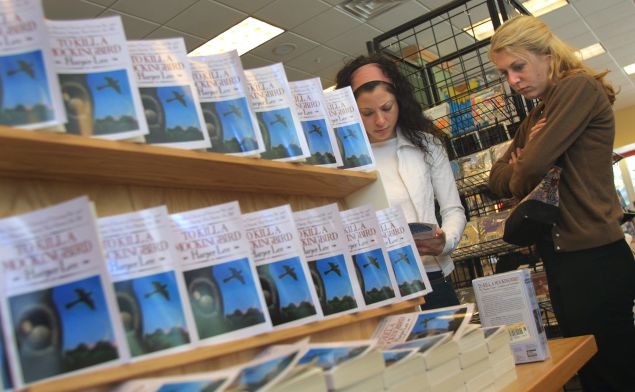 The Pulitzer Prize-winning novel To Kill a Mockingbird has been a staple of middle and high school English classes for over 50 years, but this American classic is still ruffling feathers despite its gold-plated status.
In the latest salvo against Harper Lee's novel, the Biloxi, Mississippi school board removed Mockingbird from the district curriculum last week because it "makes people uncomfortable." Which is, let's face it, the point of the book.
Mockingbird hasn't been "banned," per se—it will still be available in school libraries. But Biloxi eighth graders will no longer learn Atticus Finch's story in class.
The story was allegedly removed from lesson plans because parents objected to Lee's use of the word "nigger." The racial slur was commonly heard in early 20th century Alabama (when Mockingbird is set), but the district apparently didn't want modern children exposed to it.
According to the district website, however, Biloxi's eighth grade English classes should include texts that focus on empathy, the Golden Rule and taking a stand. Atticus Finch, a lawyer who selflessly defends a black man in the face of mass criticism, is among the best examples of these characteristics in American literature. So it's more than a little ironic that his story is being removed from the district syllabus.
The word "nigger" is used multiple times in Mockingbird, but Lee frames it so that the reader knows it's not a positive term. As the The Washington Post put it, "The book is widely celebrated as a condemnation of the racist language it so often offends its readers with."
As such, the school board's actions were widely criticized on social media. Both Nebraska Sen. Ben Sasse and former Education Secretary Arne Duncan defended Lee's novel on Twitter:
Local media also objected to the board's decision. The Mississippi Sun-Herald wrote in an editorial that a "frank discussion" about racism is long overdue.
"Perhaps if we talked about race more there would be fewer people cavalierly tossing out hurtful, racist language," the editorial read. "In the book, the Finch children, Scout and Jem, grow when they confront evil. They discover prejudice and overcome it. And that is because their father, Atticus, treats them maturely and guides them in the right direction. The Biloxi school system should follow his example."
This isn't the first time school districts have attempted to censor Mockingbird. In fact, according to the American Library Association, Lee's novel was one of the 25 most frequently banned or challenged books in U.S. schools over the last decade. Most recently, both Mockingbird and Mark Twain's The Adventures of Huckleberry Finn were removed from some Virginia classrooms last year due to concerns about language.
Lee, who died last year, zealously defended her novel's values throughout her life. When a Virginia school board banned Mockingbird in 1966 because of an "immoral" depiction of rape, Lee wrote a scathing letter to local media.
"Surely it is plain to the simplest intelligence that To Kill a Mockingbird spells out in words of seldom more than two syllables a code of honor and conduct, Christian in its ethic, that is the heritage of all Southerners," she wrote.
Lee attached a $10 donation to the district's literacy fund.