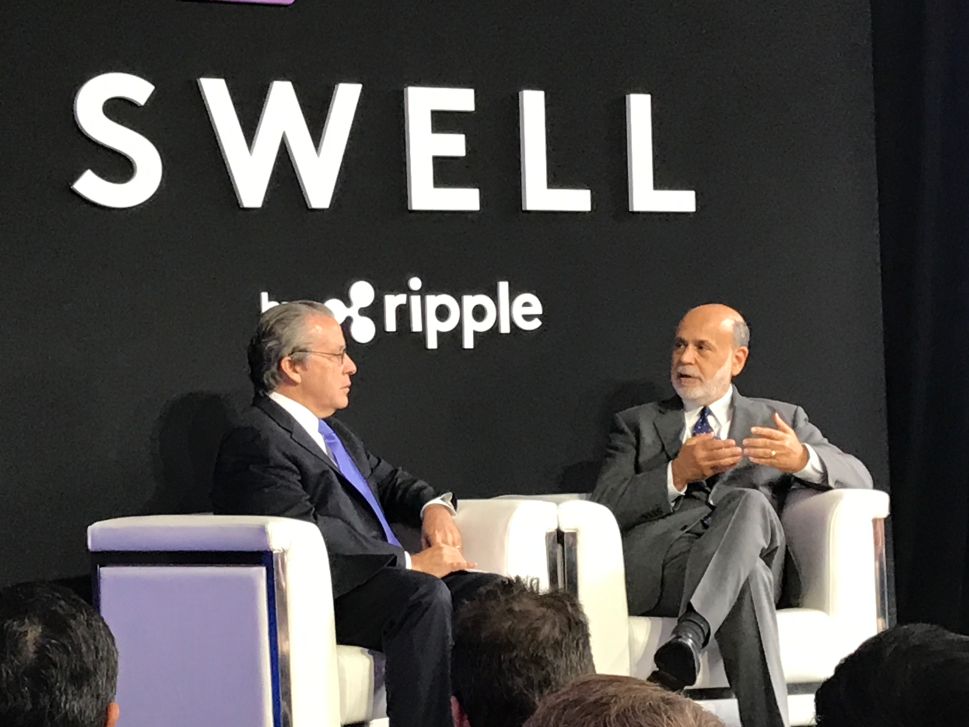 TORONTO—Sibos, the annual financial services conference, began here today, with flags and bus stops proclaiming Canada's biggest city as a home for fintech. But before it even began, an incumbent-versus-disruptor dynamic had already taken shape between SWIFT, the Belgium consortium that produces Sibos, and Ripple, the company that supplies blockchain technology to banks. Ripple is both participating in Sibos and also sponsoring its own off-campus events in Toronto at a competing conference called Swell, the name an unmistakable wink at its entrenched rival.
That dynamic was on full view Saturday night. And the Sibos Board of Directors was certainly enjoying the perks associated with incumbency. On Saturday, its board members all descended (with spouses and significant others) from suites at the Ritz-Carlton on Wellington Street in Toronto's fashionable Entertainment District. Waiting for each board member was an individual Sibos-branded Mercedes S550, and each board member was assigned an individual chaperone who was holding one of those embarrassing paddles indicating the name of the important person whose chariot awaits. They each drove a mere four blocks to Luma, where the East Coast scallops go for $39. Located inside the TIFF building, the entire restaurant had closed for the evening to accommodate the event.
The contrast to Swell could not be more clear. Looking to cast itself as the disrupter, Ripple has booked panels with ethereum inventor Vitalik Buterin and world wide web inventor Tim Berners-Lee for its counter-event in the hipster Distillery District.
Ripple's Swell event is closing things out Tuesday night with a set by rock 'n' roll Hall of Famer Steve Miller Band, whose rebel yell at the 2016 induction ceremony has earned the classic rocker street cred among a much younger and hipper set. In fact, Miller's words for the rock 'n' roll HOF process could easily be seen as a metaphor for the way Ripple—and plenty of other fintech startups—view SWIFT:
"This whole industry fucking sucks and this little get-together you guys have here is like a private boys' club and it's a bunch of jackasses and jerks and fucking gangsters and crooks who've fucking stolen everything."
Meanwhile, Ripple has been releasing a blizzard of news to generate buzz for its own cross-border payment system. Last week, the San Francisco-based company announced that it had signed its 100th financial institution and said that one of them, the Mexican bank Cuallix, would use Ripple's token, XRP, to make cross-border payments. This morning, Ripple also announced a partnership with the Gates Foundation to "develop a new open-source software called Mojaloop for creating a real-time, interoperable payments platform on a national scale to reach the world's poor with essential financial tools."
Ripple isn't the only crypto company making news up here. T.O. is also buzzing about the deal consummated by IBM to use Stellar tokens for its first excursion into cryptocurrency, which will allow for the sending of British pounds and Fijian dollars back and forth.
Stellar's token, XLM, soared on the news and its $579.45 million market cap makes it the 16th biggest token. By comparison, the "big three"—bitcoin, ethereum and XRP—all boast market caps of more than $10 billion.
The IBM-Stellar deal raised some eyebrows because of the erratic past behavior of Stellar's founder, Jed McCaleb, who was also the founder of Mt Gox, which turned into bitcoin's biggest ever fraud, and then co-founded Ripple but was expelled by the board for installing his girlfriend as an executive with no clear portfolio.
IBM is trying hard to make a name for itself in the blockchain space, but this partnership has people puzzled in Toronto. One leading ethereum developer told the Observer, "It's an also-ran tech company choosing an also-ran token."
Pressed for an explanation, another developer—a key industry figure and leading cryptographer, who did not want to be identified criticizing a prominent player in the space—detailed to the Observer what he feels is lacking in Stellar.
"It has tech flaws and it has market issues. The tech flaws are that Stellar is hopelessly centralized. They are completely centralized without a plan to decentralize. Worse, their method of adding validators [the mechanism that "unmined currencies" like XRP and XLM use to preserve the integrity of their blockchains] prevents new validators from joining in a meaningful way. New validators become simply trusted repeaters of what Jed says rather than independent validators. In short, they're effectively stuck as a centralized currency unless they change their fundamental software. So they've had zero closed ledgers as a decentralized system, [which means it is] untested. Second, no progress has been made in scaling their blockchain."
As for the "market issues," the same cryptographer said, referring to an issue covered at length in the the Observer in February 2015, "Stellar, still has not received its non-profit status—unlikely they ever will given the profit insiders are making on lumens. [Lumens is another name for XLM tokens] Secondly, Poloniex is basically their only exchange. This defeats the purpose of using a crypto to reduce nostros—through exchange. Third, their currency give-always have resulted in Stellar owning more currency. Plus, they have inflation, which only helps Stellar."
At least some of these "market issues" are not quite accurate: the small exchange Bittrex also trades lumens and this morning, in the wake of the IBM news, XLM was actually the best-traded currency on Bittrex.
Still, it's clear that at least some developers are skeptical about Stellar's long-term prospects and others scratched their heads as to why a company like IBM, eager to be perceived as a fintech leader, would opt to partner with a blockchain company that hasn't embraced the central premise of blockchain, which is decentralization.
None of this inside baseball seemed to matter on Monday afternoon at the Swell convention. Its space in an old brewery stood in marked contrast to the Sibos events at the Convention Center. The crowd was at capacity as Ripple board member Gene Sperling, the Director of the National Economic Council under Presidents Clinton and Obama, conducted a Q&A with former Fed Reserve Chief Ben Bernanke, who made some news by seeming to endorse Ripple as a model for cryptocurrencies.
"A big difference between what Ripple is doing and bitcoin is that bitcoin is meant to replace fiat currencies; it tries to evade regulation and government intervention," Dr. Bernanke told the crowd. "I don't think that's going to succeed. Governments eventually, when they feel their ability to stop money laundering or criminal transactions come under threat, they'll take whatever actions they need to prevent it."
Meanwhile the big cheeses of Sibos were experiencing a different type of convention.
On Sunday night, the fleet of Benzes lined up again. This time, they scurried financial executives to the Hockey Hall of Fame, where Sibos was hosting its "Chairperson's Dinner."
Things are apparently going pretty well at SWIFT, where it's good to be a monopoly. For the time being, at least.
Michael Craig is an author, journalist, and lawyer. He has written four books, including The Professor, the Banker, and the Suicide King: Inside the Richest Poker Game of All Time. Follow him on Twitter (@MikeCraigIsAmok).