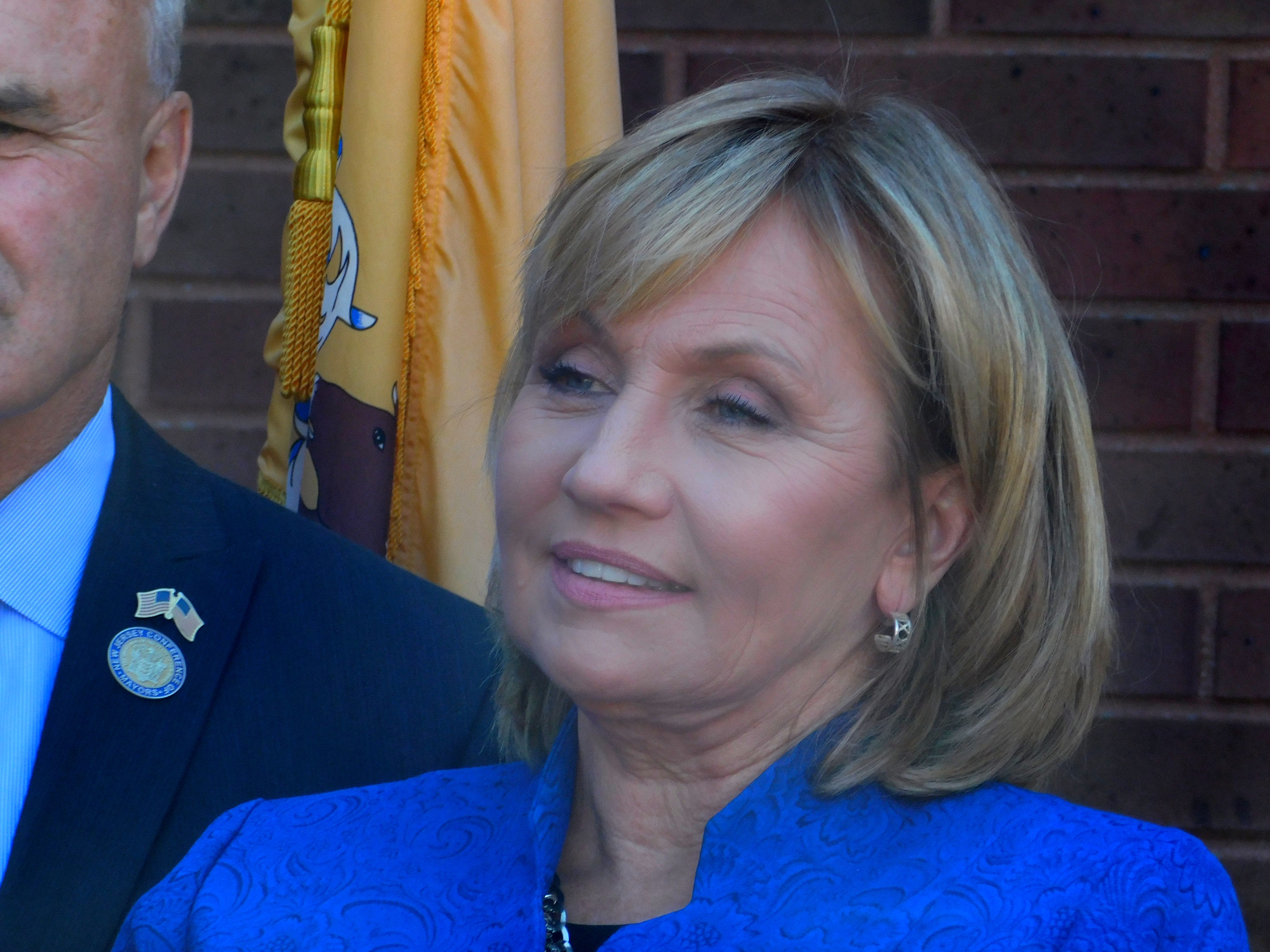 OLD BRIDGE — Kim Guadagno's campaign for governor has gotten $6 million less in public matching funds than Phil Murphy's, putting her at a disadvantage in the home stretch before the Nov. 7 election, according to a report released by the state Election Law Enforcement Commission on Wednesday.
New Jersey's matching funds program provides a $2 match for every $1 raised by candidates who qualify, capped at $9.3 million.
While Murphy is rapidly approaching the limit — he has collected $8.3 million, or 89 percent, according to ELEC — Guadagno is at $2.3 million, or 25 percent. At their current paces, Guadagno is unlikely to reach the matching funds limit before Nov. 7, but Murphy is likely to max out in the coming days or weeks. He is holding a fundraiser with Hillary Clinton in Harrison on Sunday.
"Phil Murphy has always had a huge cash advantage over Kim Guadagno," said Seton Hall University political science professor Matt Hale. "Unless there are a couple of polls with her coming within five points, it is going to be hard for her to raise enough money to put a dent in his lead."
Guadagno and Murphy faced off in their second and final gubernatorial debate on Wednesday night. On Thursday, Guadagno held an event on "state affordability," rehashing and expanding on promises she has made throughout the campaign to lower property taxes and the cost of living.
Guadagno would institute a new tax credit, what she calls a "circuit breaker." It effectively would cap the portion of a household's property tax bill that goes to schools at 5 percent. By Guadagno's estimates, the plan would save the average home $800 a year and the maximum credit would be $3,000. But the cost to the state budget would be $1.5 billion, and Guadagno, the Republican lieutenant governor, has drawn criticism for not identifying enough solid funding sources to cover the cost.
She expanded on her plans on Thursday. If the full amount of money needed to cover the circuit breaker can't be recouped through an audit of state government she has proposed, Guadagno said, she would be open to consolidating some of the state's 500-plus school districts to find more savings.
"Consolidate school districts, streamline administration, and take that money and give it back to the property taxpayers, that is just another example of how we can find the money," Guadagno said at her event Thursday. Murphy, the Democratic nominee, said Wednesday night he would incentivize local governments to share public services and appoint a "shared services czar."
Murphy on Thursday campagining with former President Barack Obama in Newark, the most recent high-profile Democrat to join him on the stump in New Jersey.
"No matter who comes in to campaign for Phil Murphy, no matter whether they are rock stars or political stars, it is not going to change the fact that Phil Murphy is completely out of touch with the people he wants to represent," Guadagno said at her event. "The people he wants to represent want lower property taxes."
In a press release, she called on Obama and the Democratic National Committee to return all the donations received over the years from the disgraced Hollywood film producer Harvey Weinstein, who has been accused of sexually assaulting and harassing dozens of women over decades.
"As leaders of the Democratic Party, President Obama and Phil Murphy must condemn the DNC for failing to donate all of the money that Harvey Weinstein gave them on their watch and demand they donate all of it to charity," Guadagno said, claiming that only $30,000 of total contributions totaling $300,000 had been returned. "To date, they've only given about 10 percent of the money to Democratic political groups; none of the money has been given to help victims of sexual assault. As a woman, that's unacceptable."