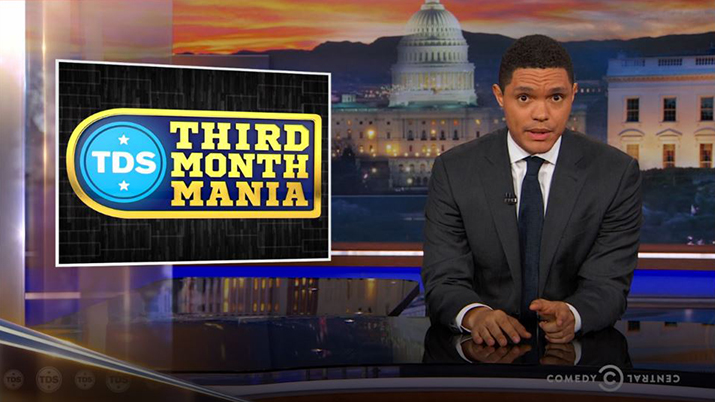 When Trevor Noah took over The Daily Show following the nearly 20 year run of former host Jon Stewart, the latter had a bit of advice for Noah. "Jon said to me, 'take your time. It took me three years just to figure out how to sit in the chair.'"
This revelation drew a big laugh from the crowd at the Tribeca TV Festival as Noah settled in to discuss how the series has evolved since he slipped into the anchor seat just over two years ago.
"One of the hardest things to understand when taking over the show was that progress was going to be incremental, that in many ways it would be an evolution as opposed to revolution," began Noah. "I inherited viewers from Jon Stewart and my mandate from the network was to garner new viewers comprised of young people who weren't necessarily watching TV—the cord-cutters."
All of this was further complicated by the rapidly changing news cycle, said Noah. "A lot of news is only online, with stories that are only spoken about in the digital space. We spent a lot of time figuring out the larger idea of what we aim to do now and in two years, three years, four years and so on."
Noah says that the most important thing that he and his team tackle daily is the question of: "What are we saying, and why are we saying it?"
Expressing exactly what he's learned thus far, Noah revealed, "We're telling the story that is America and how it's dealing with the force known as Donald Trump. In this story, there are many subplots. Like, the journey of the republicans and the battle against Obamacare, the story of the democrats and their journey to reboot themselves, and the story of the young voter trying to find their place in an America."
He smiled broadly, and with big gestures added, "It's like watching Game of Thrones. You're watching one main story but then you're like, 'wait, what's this guy doing with the baby again?'"
Shifting gears, Noah explained that working at The Daily Show is similar to making a quick medical assessment of a patient. "Our time from shock to laugh is probably the shortest amount of time possible. We see Trump say something and we're like, 'oh my God I can't believe that happened'… and joke. It's not that we're not shocked, it's that we've had to learn to process that information as quickly as a doctor who says, 'oh you've been shot I need to fix this immediately.'"
Noah hastens to say that the real skill needed to produce the series is in finding a balance between news, information and entertainment. "If you watch, I want you to have a good time. That's what separates us from the news. It's less of a responsibility and more of a privilege. I say to my viewers, 'we're experiencing this together. Comedy is a tool we all use to process what's happening to us.'
To make sure that all sides of an issue are being represented on the show, Head Writer Zhubin Parang said, "The idea of [the whole writers room] being liberal is very exaggerated. We have conservatives, we have moderates, we have all different points of view."
To this Noah added, "It's all about processing information. Two people can process things in two different ways. In the writers' room, what we're really trying to hone is a comedic take about what's happening."
Noah is also very aware of what he can't do in his role as host. "I try not to fall into the trap of appearing neutral for the sake of appearing neutral. When there's something that is evil or bad and we can all agree on that, there's no point to being neutral. I think that's the place the show is in and America is in. That's a tough thing, finding that balance between truly being in the real middle and create a false equivalency."
Giving his true thoughts on the current administration, Noah offered this: "Donald Trump is the most dishonest authentic person ever. He can tell a string of lies but do it in a way that feels real. What he's saying is not what he means. [People] are fighting against what Donald Trump is saying, but his audience is taking in what he means. So, we're communicating on two completely different planes. So, when I watch him I [try to] hear what he means."
Offering his take on what the United States needs right now, Noah laughed a little as he said, "We need a mascot in this country, we need to do it like they do it in the U.K.—they have the Queen, who's all happy, and then they have the boring political, who gets things done. That seems like it would work here, right?"
'The Daily Show' airs weeknights at 11 e/p on Comedy Central. The series is also available On Demand.
Anne Easton is a West Coast-based writer for Observer. She's an Emmy-award winning writer and producer who has worked in news, sports and children's television for FOX, ABC/Disney and the ReelzChannel. Follow her on Twitter at @anne_k_easton.
More from Anne Easton: 
Trump May Now Be Brunt of Jokes, But Thankfully Will & Grace Hasn't Changed 
Mariska Hargitay and Brooke Shields Will Duke It Out On New Law & Order: SVU
Larry David Talks Trump, Turning 70 and Being A Quitter