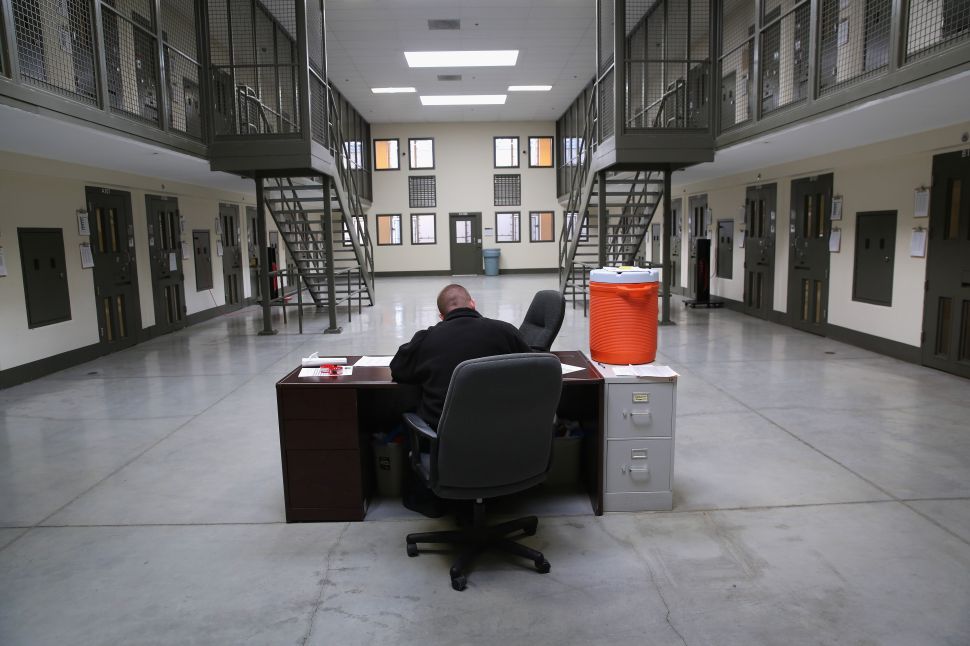 As the Trump administration chokes illegal immigration, the prison-industrial complex grows. In recent weeks, the Immigration and Customs Enforcement (ICE) agency has targeted sites for privately-run jails in Chicago, Detroit, St. Paul, Salt Lake City, and southern Texas, according to notices published on a federal contracting website. The agency did not publicly announce its plans to house over 4,000 detainees at the facilities.
Since President Donald Trump assumed office in January, the agency has aggressively expanded its efforts to contain immigration. According to ICE statistics, from January 22 through September 9, the agency arrested 97,482 people suspected of living in the country illegally, a 43 percent increase over the same time period in 2016 under the Obama administration.
Private prisons and jails provide infrastructure for deportations. Each day, ICE houses between 31,000 and 41,000 detainees in federal prisons, privately-operated facilities, and local jails. In a statement to USA Today, ICE said the requests for new jails are fair from finalized but fall in line with the White House's request for an additional $1.2 billion in the 2018 budget to increase detention capacity to 48,000 detainees a day.
In negotiations with Democratic leadership, Trump has been unsuccessful in securing funding for a wall along the U.S.-Mexico border, sending him pinballing between Republicans and Democrats over a DACA agreement. On Tuesday, a federal judge also overruled his revised travel ban from predominately Muslim countries as unconstitutional. However, blockbuster policy cases like these distract from arenas where the President has succeeded in further transforming the United States into an oligarchy governed by private industry.
On November 9, the day after Trump won the election, the nation's biggest operator of private prisons, Corrections Corporation of America (now CoreCivic), saw its price rise 43 percent. CoreCivic's competition, the GEO Group, rose 21 percent. Stocks in both of these companies are now up more than 100 percent since Election Day. Several months later, Attorney General Jeff Sessions abandoned an order issued last August by Obama's Justice Department to phase out the government's use of private prisons.
In expanding private prisons under the guise of providing safety from illegal immigrants, the President further cements the prison-industrial complex as an ugly reality of American capitalism.