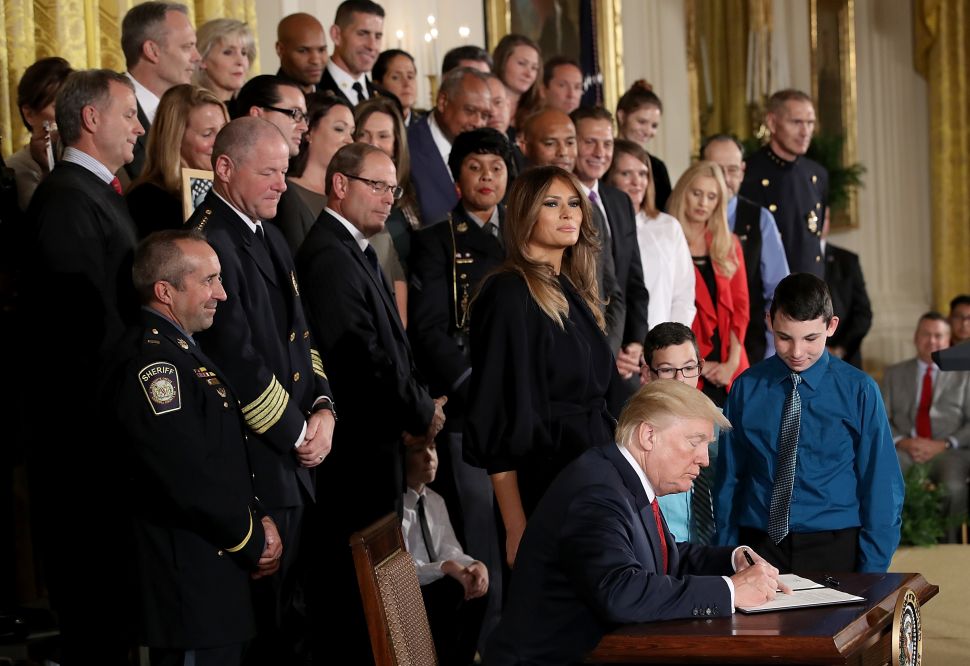 President Donald Trump has declared a new war on drugs, with a softer message for the afflicted. On Thursday, the president delivered an emotional address on the opioid epidemic that has ravished North American families, claiming an estimated 142 lives a day.
"The stigma of drug addiction must be normalized and that starts by talking about it," said First Lady Melania Trump during a rare speaking appearance. "This can happen to any of us. Drug addiction can take your friends, neighbors, and family. No state has been spared."
The first lady has participated in listening sessions while meeting with the families of those affected by drug abuse.
Declaring the opioid epidemic a "national public health emergency under federal law," the president pledged "billions of dollars" to fight drug addiction.
"It will take many years, and decades, to address this scrooge in our society," said Trump. "I want the American people to know the federal government is fighting the opioid epidemic on all fronts."
Trump's vision for how to combat opioid abuse was wide-sweeping, incorporating numerous players in government and the private sector. Coordinating with CVS and the National Health Institute, the president aims to develop "non-addictive painkillers" and take deadlier opioids off the market.
"I will be pushing the concept of non-addictive painkillers very, very hard," said Trump.
The Department of Justice has indicted drug traffickers, while prototypes of the president's long-promised wall along the U.S.-Mexico border are under construction. The U.S. Postal Service and the Department of Homeland Security are reportedly inspecting packages for fentanyl, an opioid 50 to 100 times stronger than morphine that is often manufactured in China. The president plans to discuss the drug with Chinese President Xi Jinping, who Trump claims "will do something about it," during an upcoming trip to the country.
The president's remarks offered a coherent, positive vision for the nation. Treating and rehabilitating addicts back into society is crucial, and a long-overdue approach to addiction following mass incarceration that spiked under the Clinton administration. While certain authoritarian overtones echoed through Trump's rhetoric towards immigration, it is important that Americans come together for honest conversations about addiction as a disease, one that spreads when companies target key demographics for profit.
The opioid epidemic is one of the last bipartisan issues that both Republicans and Democrats can get behind. However, with the president's executive order to cripple the Affordable Care Act and cuts to Medicare that could make it harder for people to get treatment, the issue risks getting lost in partisan noise.
For now, the change in tone will have to do.