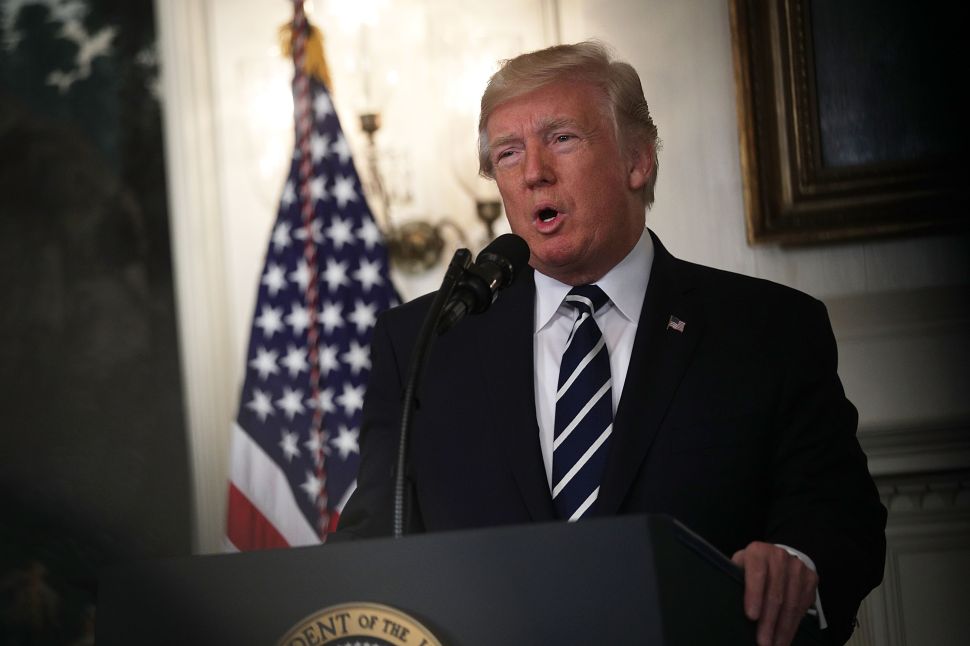 President Donald Trump's insensitivity to Puerto Rico, which was badly damaged by Hurricane Maria, has demonstrated his callousness and inability to exhibit compassion. The desperate plight of 3.4 million Puerto Ricans incited little action and concern from Trump last week, who focused on his conflict with the NFL. Worse yet, he accused San Juan Mayor Carmen Yulin Cruz of a "poor leadership ability."
This statement—which Trump made from a New Jersey golf resort—was in response to Cruz criticizing the federal government's inefficient relief effort. During a press conference on September 29, Cruz stated, "We are dying, and you are killing us with the inefficiency and the bureaucracy." She continued, "This is what we got last night: four pallets of water, three pallets of meals, and 12 pallets of infant food—which I gave them to the people of Comerio, where people are drinking off a creek. So I am done being polite. I am done being politically correct. I am mad as hell."
Puerto Rico was already struggling before Hurricanes Maria and Irma struck. Federal court proceedings began earlier this year with its creditors to restructure the island's $120 billion debt. The territory is ineligible for Chapter 9 bankruptcy, leading Puerto Rico to seek relief in federal court.
The effects of the debt crisis were worsened by the hurricanes. Public health and infrastructure projects have been placed on hold, a "brain drain" caused by drastic education cuts has forced people to migrate from the territory, and government workers' pensions have suffered substantial losses. Unemployment and poverty rates in Puerto Rico are twice the national average of the rest of the United States. Long-lasting economic consequences are sure to result.
Additionally, another obstacle to Puerto Rico's recovery is that Hurricane Maria destroyed most of the island's infrastructure. The territory's electrical grid has been nearly wiped out, and a reported 80 percent of transmission power lines are destroyed. The Puerto Rico Electric Power Authority, which previously had $9 billion in debt, doesn't have the resources to rebuild the island's infrastructure on its own. Even if it did, the project would take an estimated four to six months to complete. Ninety-five percent of wireless cell sites are out of service, and Guajataca Dam in the northwest region of the island is on the verge of collapsing. The hurricane destroyed $780 million in agricultural yields, which will lead to food shortages down the road—on top of those presently plaguing the nation.
Puerto Rico desperately needs massive federal aid, but it seems the Trump administration and Congress are hesitant to provide the capital necessary to relieve the island. Instead of offering relief, Trump blamed Puerto Rico for its financial woes: "Texas & Florida are doing great but Puerto Rico, which was already suffering from broken infrastructure & massive debt, is in deep trouble." On September 30, he attacked Puerto Rico again, claiming, "They want everything to be done for them when it should be a community effort."
It remains to be seen how Trump's response to Puerto Rico's crisis will affect his presidency in the long term, but pundits have pointed out parallels to George W. Bush's fumbling of Hurricane Katrina relief in 2006, which his presidency was never fully able to recover from. However, Bush lacked Trump's vitriol and refrained from blaming the locals for a natural disaster out of their control.
Michael Sainato's writing has appeared in the Guardian, Miami Herald, Baltimore Sun, Huffington Post, LiveScience, Buffalo News, the Plain Dealer, The Hill, Gainesville Sun, Tallahassee Democrat, Knoxville News Sentinel, and the Troy Record. He lives in Gainesville, FL. Follow him on twitter: @msainat1
More by Michael Sainato: 
The Democratic Party's Wild Card, Alan Grayson, Is Making a Comeback
Michigan Republicans Further Deregulate Campaign Finance
Senate Obeys Special Interests, Increases Military Spending by $700 Billion