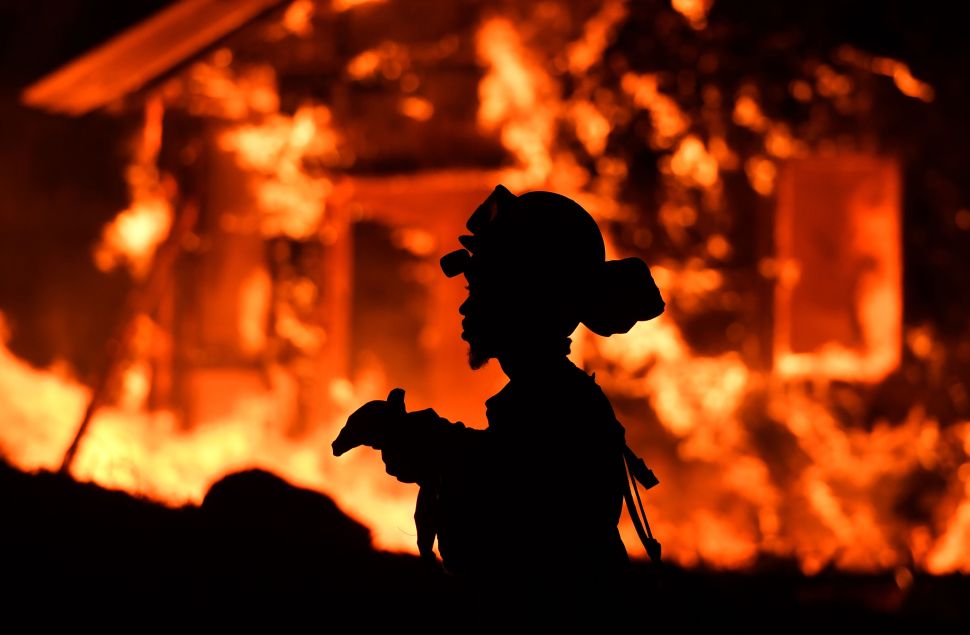 You could learn everything you need to know about the Trump administration's climate change policy from the front page above the fold in Wednesday's edition of The New York Times. The left column screamed headlines that more than 20 lives were lost and 170,000 acres burned from wildfires in Northern California that continue to rage out of control. And on the right: an editorial on the EPA's official decision to unwind the Clean Power Plan, the Obama administration's signature climate change policy.
Of course, the string of wildfires and hurricanes this summer and fall is hardly breaking news. Nor is the Trump administration's unwavering rejection of climate science and commitment to the rollback of environmental regulation in all forms. But the juxtaposition of the two in such close proximity—in the headlines and in our collective consciousness, from the White House to our smartphone screens—throws into new relief the administration's moral obtuseness, cynicism in the service of fossil fuel interests and short-term political gain, and imperviousness to common sense.
Let's start with some basic facts and expert analysis. While it is difficult—though no longer impossible—to attribute individual weather events to climate change, the scientific community has unambiguously and repeatedly warned that climate change leads to drier conditions and droughts in the West, the recipe for massive wildfires, and to stronger, more powerful hurricanes in the Atlantic and Caribbean. The National Climate Assessment, prepared by the many agencies across the U.S. federal government, did just that, in plain sight, in 2014 and continues to update that information for a new report, for which drafts are already public. Comprehensive economic analyses of climate risks in the U.S., such as those prepared by Risky Business Project, assess the likely near-term economic losses to coastal property, agriculture, and the energy sector in the tens of billions. These, of course, are the risks and impacts in the U.S. alone; the vulnerable people of the world number in the billions, and their losses from disasters are more likely to be devastating and life-threatening.
All of these predictions are now being borne out in reality. This year's hurricanes have collectively been the strongest in recorded history. More than 2 million acres have burned in U.S. wildfires this summer, hitting states like Oregon and Montana harder than ever before—and that was before this month's devastating California fires. Hurricanes Harvey, Irma and Maria alone are likely to cost over $200 billion. What more evidence does one need to conclude that our country and our world face a costly, deadly, and growing threat to our safety, security, and economy?
And yet the Trump administration continues to double down on efforts to undermine climate action day by day. President Trump tore up Obama-era regulations ensuring flood-resilience of new infrastructure one week before Hurricane Harvey struck the Texas coast, and this spring the White House proposed cutting the Forest Service's fire-fighting budget by $300 million. Just last week the Department of the Interior froze Obama-era regulations to control emissions of methane, a greenhouse gas 30 times more potent than carbon dioxide, from oil and gas production on federal lands. Last month, the EPA and Department of Transportation announced a review of fuel efficiency standards for passenger vehicles, which reduce emissions and save consumers billions on gasoline. The Trump administration is not above introducing new regulation if it serves fossil fuel interests, however: The Department of Energy last week proposed a plan to subsidize failing coal plants to keep them open (nuclear plants too), despite their economic uncompetitiveness.
None of these policies save taxpayer money or grow the economy. All of them either reduce federal tax revenue, expose citizens to extreme events, or hurt consumers who pay more at the pump or on their electricity bills, to speak nothing of the increases in pollution and carbon emissions and loss of global competitiveness in new energy technology markets.
But what really turns my stomach is the brazen and unswerving facility of the president and his cabinet members to blithely ignore devastating current events in the service of their cronies and political fortunes. There's something viscerally nauseating in the venal, self-serving promotion of coal and regulatory rollback on a backdrop of acute human suffering. While dozens have died in California, Puerto Rico, Texas, and Florida in these recent climate-related disasters, President Trump has paid little heed other than to "pat himself on the back" for the federal government's response during victory-lap visits to these disaster zones.
His cabinet is no better. In August in front of a Montana forest fire, Interior Secretary Ryan Zinke and Agriculture Secretary Sunny Perdue held a press conference flatly denying any role for climate change in exacerbating wildfires. Immediately after Irma ravaged Florida, EPA Administrator Scott Pruitt went so far as to say, "To have any kind of focus on the cause and effect of the storm… is misplaced." What could be more pressing for the federal government than protecting lives, livelihoods, and property from losses—including understanding the causes and effects?
Instead, the pathological preening and slavish shilling for fossil fuel interests has gone from predictable to grotesque, as the president and his corrupt cabinet ignore the conflagration while peddling matches and lighter fluid. Another day, another shocking headline: Last week, President Trump named a coal lobbyist as the number-two official at the Environmental Protection Agency. Think about that for a moment.
We are past the time when one could credibly argue that fossil fuels are cheaper and more reliable. Likewise, anyone reading the news can see that weather-related disasters are getting worse and that they are plausibly linked to climate change. It takes a deep well of insouciance and willful denial to ignore the merits of a vigorous response.
What we are observing is the complete and utter abrogation of the vows of our public officials—particularly the president and his cabinet—to uphold the duties of public office as described in the Constitution to "provide for the common defence, promote the general Welfare, and secure the Blessings of Liberty to ourselves and our Posterity." Having long since destroyed the integrity of their public service, the conduct of the highest officials of the land has veered into the morally bankrupt and cruel. Corruption and service of special interests are age-old pursuits. But in our era of ample scientific knowledge and real-time media access, ignorance is no longer possible, let alone excusable; the hypocrisy and mendacity are breathtaking. In this context, impeachment doesn't do justice to their dereliction of duty—indictment for crimes against humanity is more fitting. In the meantime, the mind-boggling sabotage of our country and our natural world emanating from the White House continues.
Andrew Eil is an independent consultant with expertise in climate change and clean energy policy, international development and sustainable investing. As former Coordinator of Climate Change Programs at the State Department, he managed a $75 million portfolio of clean energy programs. Prior to the State Department, Andrew worked for the World Bank. Andrew has an MPA from the Woodrow Wilson School at Princeton University and a BA in Russian history and literature from Harvard University.
More by Andrew Eil: 
Let's Not Use Wealth as an Excuse to Ignore Climate Change
7 Reasons Why More Hurricane Harveys Are Imminent
New Climate Report Says Trump Can't Stick His Head in the Sand Much Longer