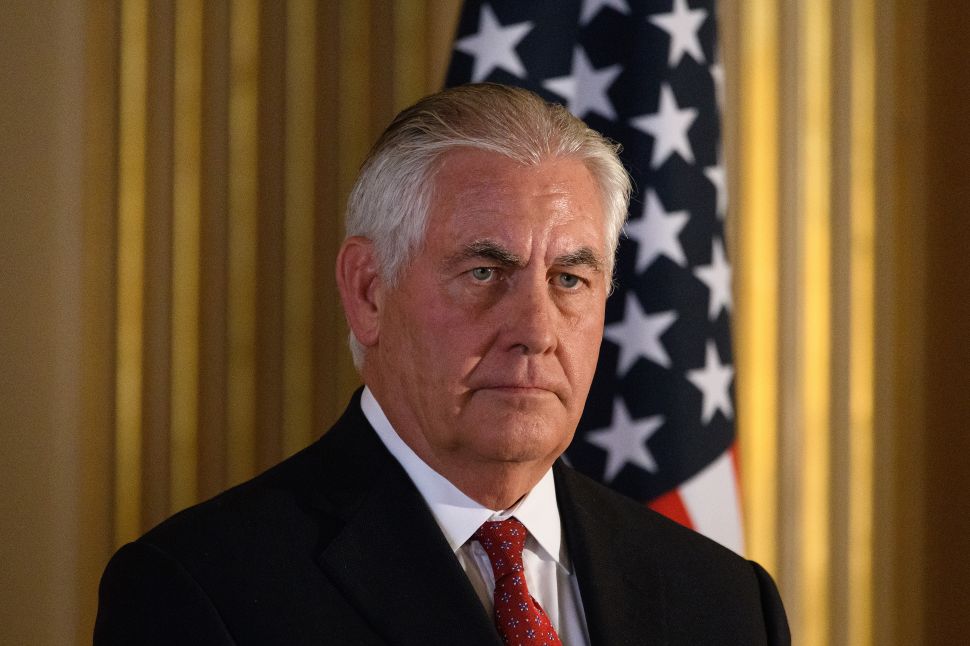 On Saturday at a press conference in Beijing, Secretary of State Rex Tillerson voiced a minor win in diplomacy with North Korea in stating that the U.S. was engaging in "lines of communication" amid the rising tensions between the two nations. However, President Donald Trump, character limits permissive, abruptly negated any signs of peace talks in a series of tweets on Sunday. The president wrote, "I told Rex Tillerson, our wonderful Secretary of State, that he is wasting his time trying to negotiate with Little Rocket Man…". He continued, "…Save your energy Rex, we'll do what has to be done!" To conclude his impromptu foreign policy press forum, he added, "Being nice to Rocket Man hasn't worked in 25 years, why would it work now? Clinton failed, Bush failed, and Obama failed. I won't fail." Pundits speculate an impending resignation from Tillerson, as his negotiating power has dwindled due to continued humiliation from the president.
By verbally undermining his secretary of state, Trump infused more uncertainty into the increasingly precarious relationship between the United States and North Korea. Underlying the conversation is a constant pattern of inconsistent verbiage across all aspects of foreign policy within the White House. Tillerson confirmed that diplomatic efforts are finally being made to ease tension with North Korea, but Trump undercut him in a tweet suggesting the opposite. Trump rendered NATO obsolete during his campaign and refused to confirm if he would defend an ally under Russian attack, yet he has spoken more favorably of America's status in the treaty since his inauguration. In his delivery to the United Nations Assembly, amid mounting evidence of Russia's interference in the U.S. election, he refused to utter Russia by name and instead remarked, "We must reject threats to sovereignty, from the Ukraine to the South China Sea." Not only did he get Ukraine's name wrong (there is no "the"), but he bluntly ignored the largest threat to U.S. sovereignty while speaking on the issue.
What, if any, is the method to the madness of such an erratic speech tactics?
State Department spokesperson RC Hammond dismissed Trump's tweets on Sunday as a quip towards Kim Jong-Un rather than Tillerson, tweeting, "The President just sent a clear message to NK: show up at the diplomatic table before the invitation gets cold." Regardless of who his words were intended for, the result is the same: This is a president willing to publicly gouge his highest staff members in exchange for fueling a rhetorical fire with his enemies.
As Pyongyang continues to develop its nuclear weapon program, consistency and unity in foreign policy are integral to achieving peace talks with the rogue nation. "I feel like we still have two different policies on North Korea: One at the Department of State and Department of Defense, and another on the president's Twitter feed," Sen. Chris Murphy, a Connecticut Democrat, remarked after a private press briefing of Congress on North Korea in September. Trump's Twitter reinforces his self-constructed reputation as a world leader whose erratic behavior permits "fire and fury" levels of rapid retaliation. The more his fear tactics continue to cast a shadow over constructive means of foreign policy, the more he continues to alienate his allies both internationally and within the White House.
Francesca Friday is New York City-based National Politics contributor for Observer. Follow her on Twitter: @Friday_Tweets
More by Francesca Friday: 
Tom Price Tries to Remedy $500,000 Taxpayer Bill With $51,887.31
Roy Moore's Alabama GOP Win Signals Establishment Has Lost Control