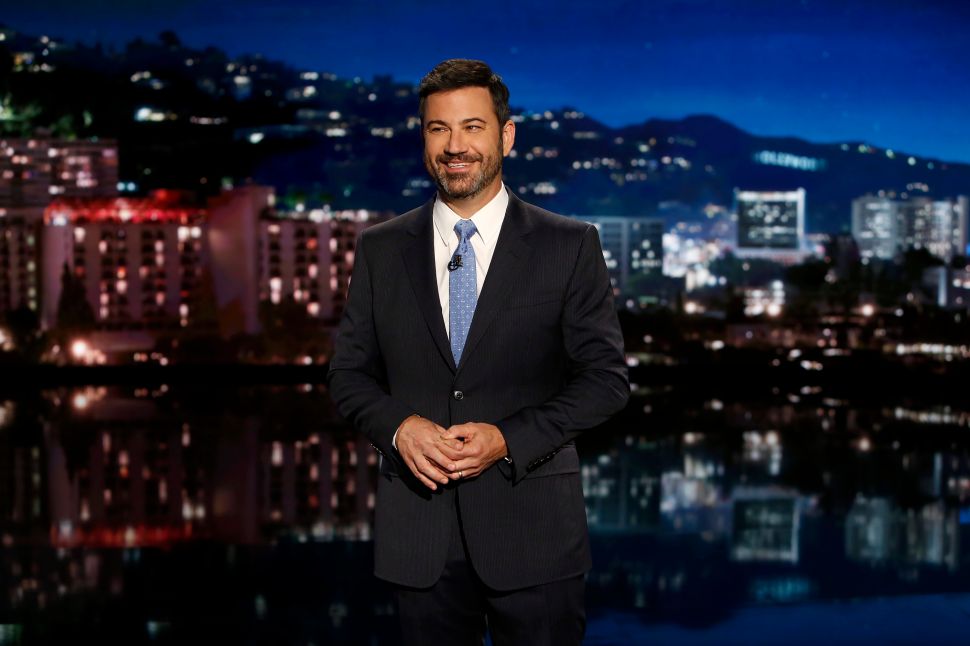 Late night television is a very fickle animal. Once upon a time, Jimmy Fallon—the human late night TV host equivalent of a puppy dog—reigned supreme thanks to his catchy viral bits and cascade of A-list celebrity guests. Then, as the 2016 presidential election heated up, Stephen Colbert's political leanings began to attract more and more eyeballs and has continued to be the big attention getter. Now, it is Jimmy Kimmel who is starting to make moves in the ratings.
THR reports that two weeks after the start of the 2017-18 season, Colbert still stands as the most-watched host while Fallon has plunged 31 percent (an ongoing narrative) and Kimmel is on the rise. The divisive political landscape of today has turned viewers into news hounds sniffing out hot takes on current events. As such, Jimmy Kimmel Live! is the only 11:35 p.m. telecast up in two key measures: viewership (9 percent) and ratings in the advertiser-friendly 18-49 demo (four percent), per the outlet. Though his ABC talk show is still in third place overall, it is showing signs of life just when both Fallon and Colbert are starting to slip in the 18-49 target audience.
In recent weeks, Kimmel's opening monologues have become Internet sensations as he's taken on conservative health-care reform and gun control while singling out specific Republicans such as Senator Bill Cassidy. Though he's taken a more hard-lined stance against Donald Trump, ABC hasn't seen an exodus of right-leaning viewers. Jimmy Kimmel Live! even won the opening night of the season in overnight ratings, which doesn't usually happen without the help of an NBA Finals lead in.
According to THR, Colbert's The Late Show still boasts a 16 percent lead over No. 3 Kimmel in the 18-49 audience, so there's no concern there. But the same should not be said for NBC's The Tonight Show. Of the three late night hosts, Fallon is the only one drawing less viewers this year compared to last (25 percent to an average 2.75 million viewers since the new season began).
The new season's race is still very much in its first leg, so you can expect some major changes over the next few months. But numbers don't lie and these are good early indicators of of ongoing viewership trends.