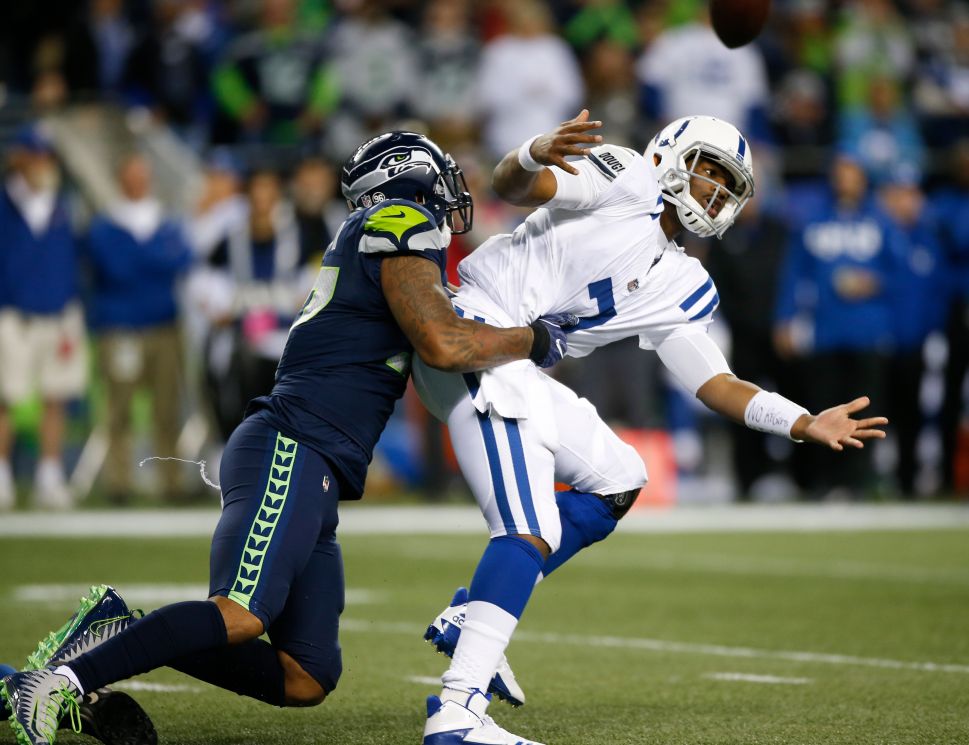 The NFL's National Anthem protests, once the concern of Colin Kaepernick and few others, has morphed into something much bigger over the last year. President Donald Trump's recent divisive comments regarding players who take a knee during the National Anthem to protest racial inequality and police brutality has unified the NFL and some of its owners against him. But how have the growing protests affected the NFL's viewership in primetime?
Per the metered market ratings (via THR), the Seattle Seahawks' 46-18 blow out win over the Indianapolis Colts on NBC's Sunday Night Football averaged an 11.0 rating, the same rating 2016's Week 4 Sunday night game earned. That's notable because the 2016 season was marked by a worryingly slow start in the ratings, thanks in part to the protests and the presidential election, before rebounding mid-season. In other words, viewership still appears to be down compared to previous seasons this decade. The matchup even marked a 5 percent dip compared to Week 3's Sunday Night Football game.
It's worth noting that Seattle's rout of Indianapolis wasn't exactly the most entertaining game of all time, despite a somewhat competitive first half, which could have contributed to the ratings. Other possible contributing factors was the competition as three new scripted series—CBS' Wisdom of the Crowd, Fox's Ghosted and ABC's Ten Days in the Valley—debuted on network television.
Interestingly, though the ratings were unchanged from last year, THR notes that the game grew 1 percent in its total share of the TV-viewing audience. However, Week 4 has been down across the board after a slight uptick in Week 3. CBS' Thursday Night Football saw a ratings decline in year over year numbers compared to 2016.
"It's early yet. No need to snort a Xanax," Anthony Crupi of Ad Age tweeted about the early NFL viewership numbers. Brian Hughes, a senior vice president at audience monitoring agency Magna, agrees.
"The ratings, even while down, are still pretty much the highest on TV, and I think it remains very valuable as a promotional platform for other shows," Hughes told CNN. "I don't think the NFL is in trouble or dead or anything like that."
So should the NFL be worried or is this just another short-term trend?