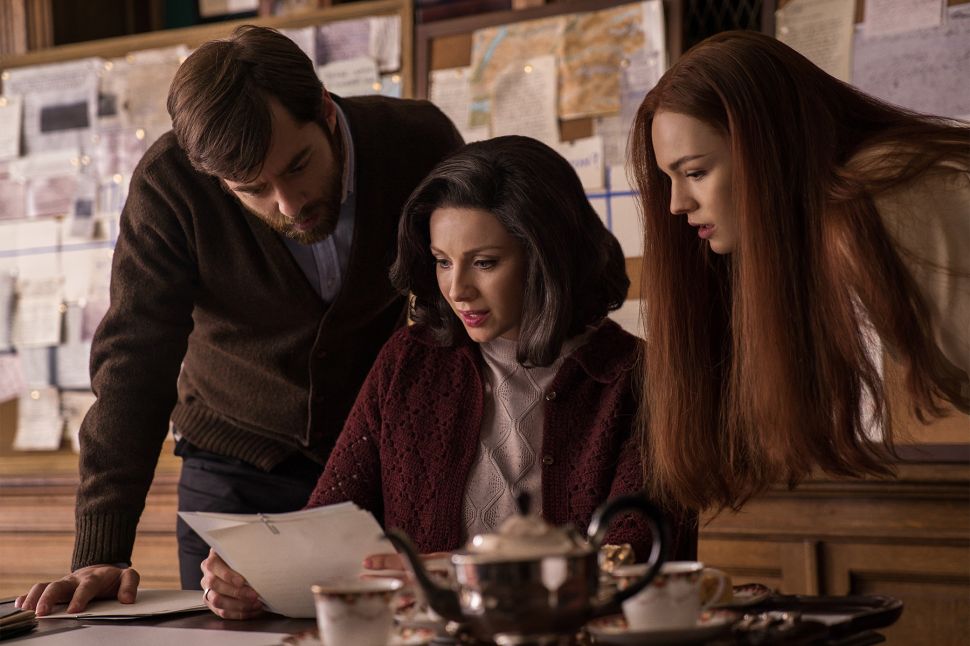 Last October, I saw a sign outside Saint James in the West Village declaring "Sweater Weather is Better Weather." I wish I had that sartorial sentiment printed on an actual sweater, so much do I agree. But this week's column is not about slogan shirts; but rather the show that's providing fall sweater inspiration: the time-traveling Outlander. Some looks never go out of style, and these work just as well in 1968 as they do in 2017.
On Outlander last season, Claire (Caitriona Balfe) spent time in eighteenth century France wearing eye-catching gowns before traveling back to Scotland and through the mystical, standing stones to her original time in 1945. Season three fast forwards 20 years to the 1960s. In the most recent episode, "Of Lost Things," Claire returns to the place where it all began, and she's got a suitcase in tow. In the Fall TV Style Preview, I noted turtlenecks, knits and plaids would be some of the items to look out for, and Outlander costume designer Terry Dresbach hasn't disappointed.
A lot of these garments are vintage—as Dresbach notes on Twitter—and thrift stores, Etsy and eBay are your best bet if you want a sweater with a zipped back like Claire's. There are also plenty of contemporary alternatives and this is the optimal time of year to add to your collection. Turtlenecks—or polo necks—straddle the line between relaxed and professional. There are also a number of other culture connotations that go along with the unassuming top, particularly in dark shades (beatnik or spy, it could go either way). Try this affordable Madewell version for a great starting point.  
There's a strong academic vibe running through the Outlander scenes set in 1960s Boston. Claire's husband, Frank, has the whole professor look down, pairing his sweaters with thick, dark rimmed glasses and corduroy. Uniqlo is my go to for plain staple items that you can use to build this layered look. Also, check out J. Crew, Zara and H&M for affordable takes on the classic turtle neck. The turtleneck tab over at & Other Stories has you covered for all turtleneck scenarios including the standard, oversized and ribbed (which is also on the sheer side).
Claire's a lot older than the last time she was in Scotland. Beyond the wisp of grey hair, her clothes also show her age. Plus, she's used to wearing scrubs and her knitwear evokes a level of comfort. Caitriona Balfe is super glamorous, so it's hard for her to look plain in anything, but the colors here are earthy in tone with a dash of burgundy and violet to add some warmth. Plaid does sneak into her look, which is fitting considering the highland location, and Claire's skirts are demure in both print and length; for something on the bolder side try this kilt skater skirt from Topshop.
Clare's daughter Brianna has already bonded with Roger (the adopted son of the local minister who is helping them search for Clare's lover from her time-travels) over more than just their passion for fine knitwear. Roger has quite the collection of chunky knits that make a fireside chat more cosy. After Claire and Brianna depart for Boston he can take solace in his choice of sweater. Try Patagonia for a Roger-like grey chunky knit turtleneck that isn't going to break the bank and will keep you warm. Thankfully, this is a trend that doesn't require time travel.
Emma Fraser is the creator of TV Ate My Wardrobe and spends most of her time writing about TV, fashion and costuming, like Abbi and Ilana's Broad City style, the wigs on The Americans and Fleabag's lipstick. Emma has a MA in Film and Television, and she holds Angela Chase responsible for this path. You can find her on Twitter @frazbelina
More by Emma Fraser:
'Mark Felt' Costume Designer on Conveying Power Through Ugly, 1970s Ties
It's Going to Get Ugly in 'Crazy Ex-Girlfriend' Season 3
Look to TV's Crime-Fighting Female Badasses for Your Workwear Wardrobe Inspiration
Where to Shop All the Looks From HBO's 'Insecure'