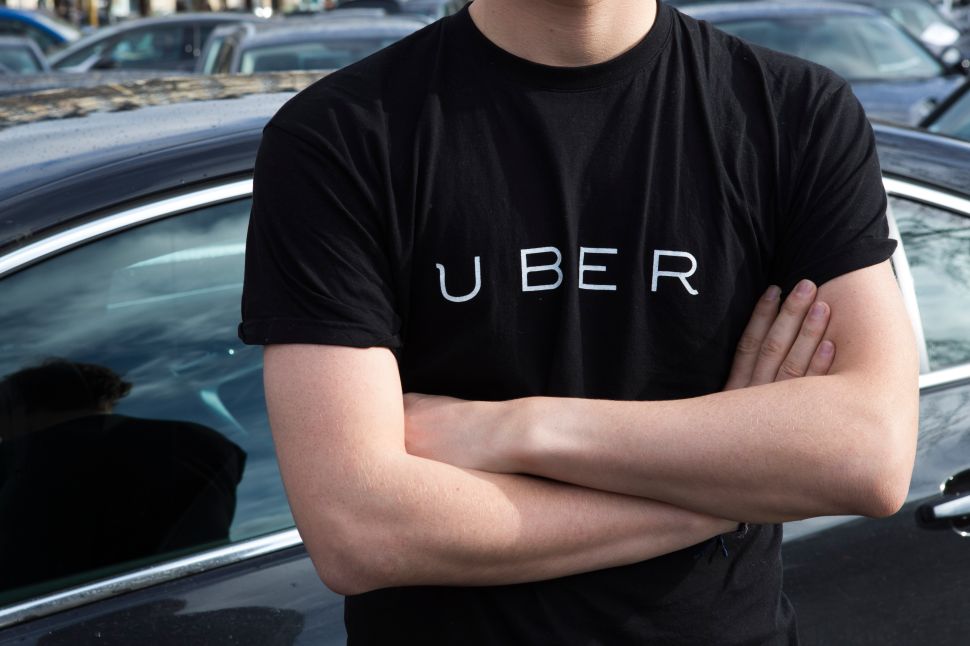 In a MarketWatch report this morning, Uber revealed that the Securities and Exchange Commission has signed off on its business model. This represents the ride-hailing service's first step toward going public.
The MarketWatch story makes it sound like Uber is gaming the system by not reporting driver wages—but the company does in fact share this information, albeit indirectly. Furthermore, the SEC paperwork actually has nothing to do with drivers' take-home pay and everything to do with new accounting standards which the agency set forth for public and private companies.
According to Uber's SEC filing, its drivers are the company's actual customers, rather than the passengers those drivers pick up. That makes Uber an "agent" which connects the actual "merchant," the driver, with a customer.
This may sound like corporate doublespeak. But Bradley Tusk, a businessman and venture capitalist who helped Uber overcome regulatory hurdles in New York City, said it actually makes sense for the company.
"The transaction is between the customer and the driver," Tusk told Observer. "The platform is connecting the two and taking a piece of it. That's the underlying business model of the entire sharing economy."
Uber's belief that it is merely a facilitator for the people who use its app also dovetails with its insistence that its drivers are contractors who provide their own cars—not full-time employees. From an SEC standpoint, that would also mean Uber could report net revenue on all rides without revealing driver wages or take-home pay.
Tusk said this wasn't a problem from an investor standpoint.
"What's relevant for an investor is revenue," he said. "Then they have clear transparency to make investment decisions."
Uber—which launched a new credit card with Barclays today—also has to contend with new accounting standards from the U.S. Financial Accounting Standards Board (FASB). The rules, which go into effect in 2018 for public companies and 2019 for private ones, require firms to report both revenue and the cost of products and services that generated that revenue.
Net income and employee earnings are considered part of the products and services cost, which would theoretically present a problem for Uber. How can it provide this information when it doesn't consider its drivers full-time employees?
But Uber, which was audited by PricewaterhouseCoopers, is actually already complying with this standard. It's always included driver earnings in quarterly reports—and according to a company source, it will continue to do so. It just reports the data in a roundabout way.
Here's how it works: In the second quarter of 2017, Uber reported $8.7 billion in "gross bookings." That figure takes into account both Uber's profit from rides and the amount drivers made.
The company's adjusted net revenue, which included only Uber's profit, was $1.75 billion. Subtract that figure from the gross bookings, and it appears Uber drivers made about $6.95 billion (plus $50 million in tips). A company source confirmed these figures.
Under the new accounting standard, Uber will no longer classify gross bookings as a revenue stream—adjusted net revenue will be its only source of revenue. The company will still report gross bookings separately, however, to give a window into how much drivers make.
The Uber source said the company has already started following the new accounting rules in all of its earnings reports. While still a private company, Uber has voluntarily released quarterly filings since last year.
There are several reasons why Uber may be trying to get into the federal government's good graces. SoftBank's investment in Uber has stalled recently, so this increased regulation could be a way for Uber to show the Japanese corporation that it means business and will go public even earlier than the 2019 date floated by the company's board.
This could also be a move to smooth over relations with investors following the departure of embattled founder Travis Kalanick. Uber's new CEO Dara Khosrowshahi has recently attempted to right the ship.
Uber's driver earnings figures are a little opaque, and the company shows every indication of keeping it that way. But its business model and financial plan still fall well within federal regulations. Only time will tell how other corporations fare as they implement these rules.