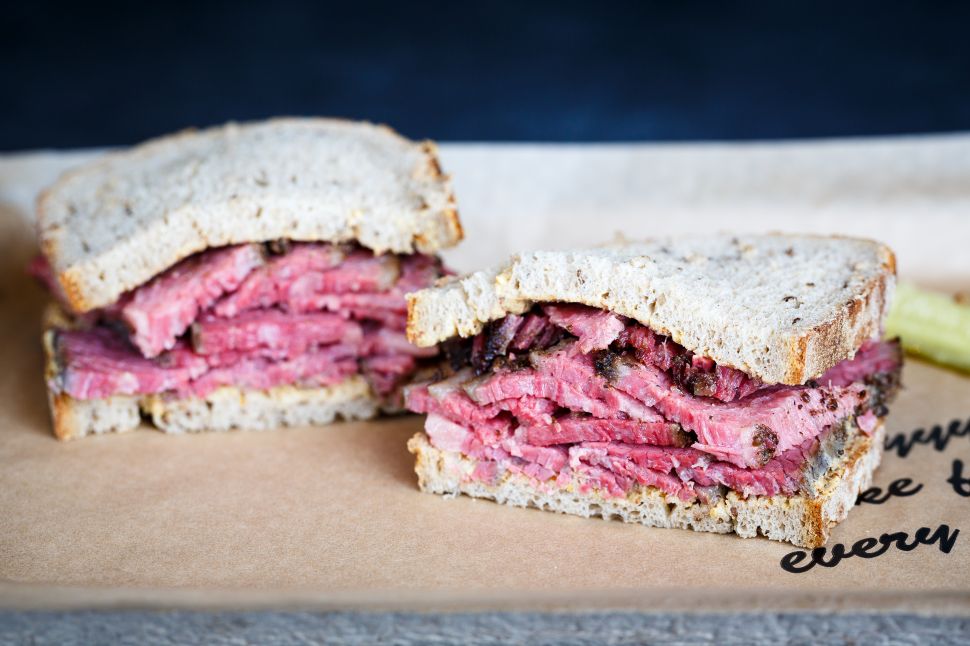 With sales slowing at department stores and apparel retailers, big malls are looking to transform themselves into lifestyle destinations. Giving customers a cool and comforting place to eat and hang out is at least as important as giving them a nicely curated place to shop. 
"Malls are the new food halls," says L.A. restaurateur Michael Kassar, who recently opened an outpost of Wexler's Deli as part of the newly unveiled billion-dollar renovation of the Westfield Century City shopping center.
Chef Micah Wexler, who also has a Wexler's Deli at downtown's Grand Central Market food hall (which just released a great cookbook) and another outpost in Santa Monica, is known for serving bagels and smoked meat and fish that are good enough to make New York transplants feel a lot less homesick in L.A.
At the Westfield food court, Wexler's got his classic bagels and sandwiches (the O.G. with pastrami, mustard and rye never fails) along with a great new sandwich: The chopped steak is made with a brisket patty, onion, raclette cheese and Russian dressing on grilled challah. It's a dream of a patty melt.
Other standouts in the new-look food court (also known as the dining terrace) include Rori's Artisanal Creamery, known for its next-level ice cream flavors like black pepper pistachio, cinnamon toast cereal crunch and wild berry chocolate crisp. You're welcome to double down on the root beer float flavor by using it to make an actual root beer float.
The food court (where you can also hit Chick-Fil-A if you must, and where Spice Affair will soon be slinging biryani) is just one part of the shopping center's formidable new dining collection. Danny Meyer's Shake Shack is already open. So is Petros, which is operating both a Greek restaurant and, somewhat bizarrely, a vintage store with $550 Levi corduroys. Tender Greens, which has 25 California locations and is one of Meyer's recent investments, is the shopping center's new salad solution. Randy's Donuts is here to take care of your sweet tooth. MiDiCi's excellent Neapolitan pizzas are on the way. An outpost of Din Tai Fung, the most popular soup dumpling restaurant in the world, is coming soon. (The mall is already home to the mouth-numbing Szechuan food at Meizhou Dongpo.) Mario Batali and Joe Bastianich's forthcoming Eataly (the first in the West Coast) will share the third level with Equinox, because life is about balance.
Eataly and Equinox are, of course, high-end brands. This is a fancy 21st century makeover for this shopping center, which now also features an Amazon bookstore and an L.A. Originals pop-up that sells $2,000 Urb-E electric scooters. Last week, a friend decided to take one of the Urb-Es for a test drive around the mall until security told him to stop. That was a bummer, but the overall experience that day was a lot of fun.
My pal had come to the mall earlier and sat down outdoors on a comfy chair near the movie theater. He leaned back, connected to the strong WiFi and participated in a conference call. For a moment, this mall was the perfect co-working space. Then it was time to hang out.
Andy Wang, the former real estate and travel editor at The New York Post, has covered West Coast food and drink for more than a decade.
More from Andy Wang: 
At Tintorera, Maycoll Calderon Serves Sumptuous Seafood on a Relaxed Patio
Inaugural Cocktail Festival Showcases the Best and Brightest of LA Bars
Great White's Blue Smoothie Bowl Is Peak LA
Jason Fullilove's Modern Soul Food Is Unlike Anything Else in LA