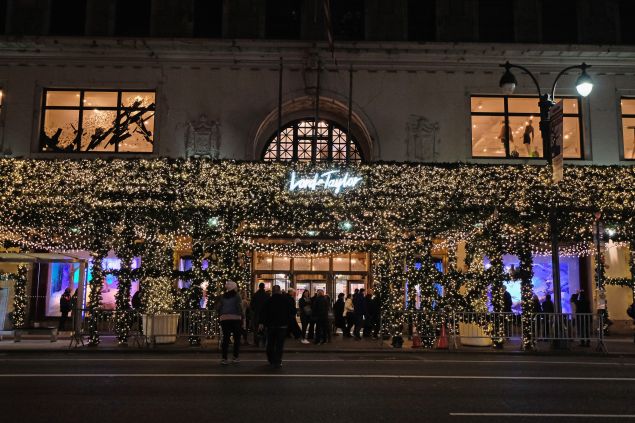 The iconic Lord & Taylor building on Fifth Avenue will soon be overrun by millennial startup employees.
Hudson's Bay Company, which owns the luxury retailer, announced today that it had sold Lord & Taylor's midtown Manhattan home base to office space startup WeWork for $850 million. WeWork will take over 75 percent of the building, while Lord & Taylor will rent and redesign the bottom floors to fit a smaller version of its department store.
"This is a transformative partnership that rethinks how retailers create exciting environments and leverage less productive space, while substantially improving the value proposition," HBC governor, executive chairman and interim CEO Richard Baker said in a statement.
"WeWork could not be what it is today if it wasn't for our New York roots," WeWork co-founder and CEO Adam Neumann added. "The WeWork of today is a testament to the energy and hustle of this great city, and it permeates everything we do…As a business with an emphasis on human connections in physical spaces, we will continue to create jobs within this city while simultaneously re-energizing the traditional retail experience."
As part of the deal, WeWork will also lease space in Hudson's Bay stores in Toronto, Vancouver and Frankfurt.
A 191-year-old shopping giant and a seven-year-old shared workspace company may seem like strange bedfellows, but the deal is a reflection of luxury retail's recent struggles. Companies like Macy's, Nordstrom and Sears have closed dozens of stores in recent years as more shopping has moved online.
"There's an enormous amount of disruption inside the industry," Mark Cohen, a former Sears executive who is now director of retail studies and adjunct professor of business and marketing at Columbia University, told Observer. "The proliferation of excess space has caused the great American shopping mall to hollow out."
Lord & Taylor is no different, according to Cohen.
"The value of the enterprise is principally the value of that building on 39th Street," he said. "Businesses that sell off their assets are usually able to keep the lights on for a while, but they don't solve their problems."
Despite its position under the Hudson's Bay umbrella, Lord & Taylor's retail sales and stock prices are down this year, and Hudson's Bay has a market cap of only $1.7 billion—peanuts compared to WeWork's $20 billion valuation.
WeWork has also vastly increased its worldwide footprint in recent years. It now has 237 office locations in 56 cities and 20 countries.
All of this made the partnership much more appealing for Hudson's Bay. And indeed, company stock was up more than two percent today after the WeWork news was announced.
But Cohen said Lord & Taylor's days are still numbered.
"It's been in serial decline, and now it's gonna move into steep decline," he said. "Lord & Taylor is toast."
The store doesn't have to hand over the keys to WeWork just yet, however—the deal will not fully take effect until after the 2018 holiday season.