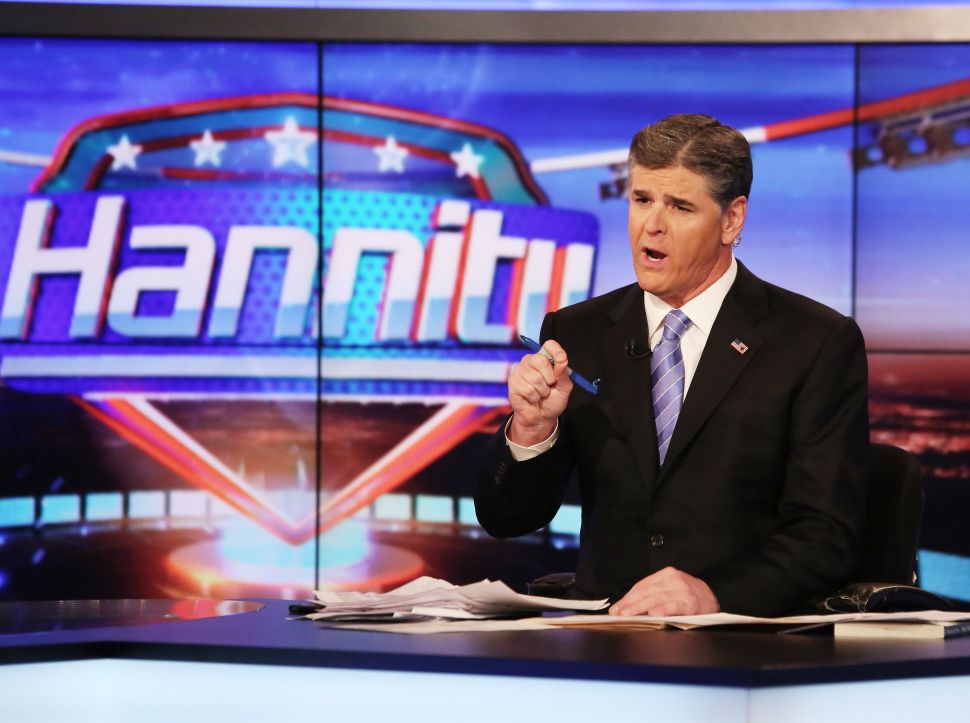 When amateur President Donald Trump joins Sean Hannity Wednesday night on Fox News Channel at 9 p.m., it will be the 69th time the 71-year-old, oranged-faced, yellow-haired manchild has chatted with his favorite fluffer since he began his presidential campaign.
Something about those two just seems to fit perfectly, like upside-down numerals. Perhaps it's due to their shared youth on the sandy Long Island land mass that also spawned gentlemen of the media like Bill O'Reilly and Howard Stern.
Although Trump ducks most news media interrogations, he'll be wide-open to Hannity before an audience at the Air National Guard Base in Harrisburg, Pa. The setting suits Trump's reality-show approach to performing his current role. Like Trump, Hannity blurs "reality" with "real" and sticks to the script.
"(Trump) can rest assured that he won't need to answer tough questions about (Robert) Mueller's investigation," Media Matters for America writes in a current web site posting. "Hannity's devotion to the president has taken an authoritarian turn in recent months."
The piece goes on to call Hannity "a loyal sycophant" who "advises the President of the United States while simultaneously serving as his biggest media booster."
In exchange, Trump "uses public rallies to gush over the Fox host's 'honest' coverage." Certainly Hannity is a figure of the moment in cable TV news.
By moving from 10 p.m. to 9 p.m. to go head-to-head against Rachel Maddow on MSNBC, Hannity is tasked to defeat a rising progressive star whose fact-based news hour took the lead in cable news ratings last quarter after a series of sex scandals disrupted production at Fox's propaganda factory.
Everyone's talking about him. Softer on Hannity than the Media Matters piece was a Hannity profile this week in The Washington Post that quoted Kellyanne Conway, the Trump mouthpiece who invented the idea of "alternative facts" to drive a fictional media narrative. She admires Hannity.
"Hannity's monologues have caught our attention," Conway told the Post. "There's a deeper, investigative component and, in this predictably vanilla and mediocre media environment, somebody can break through with a steady stream of uncovered stories."
Another source, anonymously, told the Post, "Sean gets programming and the president gets a platform for his message… It's not a transactional relationship. They're genuinely friends."
Certainly they have common enemies including Mexicans, Muslims, Black Lives Matter, Hillary Clinton, all liberals, a growing number of Republicans, Bill Clinton, terrorists, some Cabinet members, climate scientists, Puerto Ricans, Barack Obama, Obamacare, CNN, football players who genuflect during the national anthem, The New York Times, snowflakes, Fake News and Jeff Flake.
In that Hannity started as a radio host and still does a daily show, people compare him and contrast him with contemporaries like Rush Limbaugh. But in another sense, he is much like a radio demagogue from an earlier era named Father Charles Coughlin, a dangerously bigoted Roman Catholic priest.
In the 1930s, from a parish in suburban Detroit, Coughlin's political sermons grew increasingly fascistic and he faded away as World War II loomed against Nazi Germany and Coughlin's opinions were less well-received. But, like Hannity, he showed how powerful radio could be to inflame ill-informed listeners by targeting scapegoats for blame in troubled times.
Hannity does this not only with his own opinions but also by choice of guests. On Monday, it was Steve Bannon, the executive chairman of Breitbart News. Bannon was a chief strategist in the White House for a few months under Trump. Before that, he ran Trump's campaign and Breitbart News.
"You've lost weight since you left the White House," Hannity gushed to Bannon. "You look good."
Bannon wore an open-collared dark shirt under a dark suit coat. His jowls showed at least two days of gray stubble. His longish hair was combed in the front but still shaggy on the sides and in the back. He had dark bags underneath his blue eyes. He looked as if he'd slept on the red-eye flight.
"I feel great," Bannon said.
"You're a street-fighter," Hannity said later. "I'm a street-fighter."
In that Republican Sen. Bob Corker has warned that Trump might start World War III, Bannon attacked Corker and said he should resign.
"It's totally unacceptable in a time of war," he said of Corker's criticism. "He had the audacity to go to The New York Times."
How dare he? By citing "time of war," was Bannon alluding to how things become a little more, ahem, authoritarian when bullets start to fly? And if Trump starts a war, well, don't say you weren't warned. For now, Bannon will do battle with Republicans who displease the Great Leader.
"We are declaring war on the Republican establishment that does not back the agenda that Donald Trump ran on," Bannon said. He said Corker and Mitch McConnell "and the entire establishment-globalist clique on Capitol Hill" are "an absolute disgrace."
Bannon added that Corker "doesn't have the guts to get back in the race" and charged that the Republicans in Congress have committed "economic hate crimes" against the "working men and women of the United States" and that "we're coming after all of 'em. And we're gonna win."
In the short time since Hannity has returned to 9 p.m., other guests have included O'Reilly and Limbaugh. This week, it's Trump and Bannon. The right wing is loading up here. A viewer need not agree with what is said in this hour to know that Hannity is the bartender mixing Trump's toxic cocktail.
Joe Lapointe spent 20 years as a sports reporter for The New York Times and worked as a segment producer for Countdown With Keith Olbermann. Recently, he has taught journalism at New York University, Rutgers and Long Island University-Brooklyn. follow him on twitter: @joelapointe
More by Joe Lapointe:
NRA's Argument Grows Increasingly Incoherent as Massacres Mount
Fake News' Rampage Turns Real Nightmare as Trump Demands Investigation
This Woman Held a Man's Hand While He Died in Las Vegas Shooting