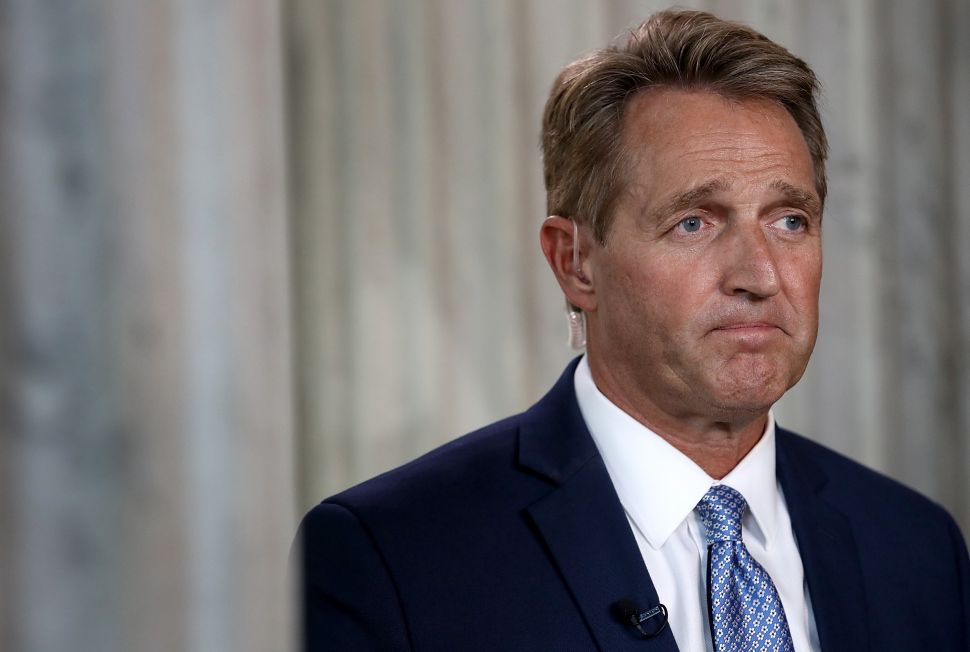 What a sad end to such a promising career for Sen. Jeff Flake (R-AZ).
I have great deal of respect for Senator Flake. As I have written in the Observer, Flake is a good man who acted heroically when Republican congressmen were shot at while practicing for the Congressional Baseball game:
"It's important to note that Flake was tested as a man during the shooting of Rep. Steve Scalise on June 14, 2017. According to the Washington Post, Flake ran to apply pressure on Scalise's wound the moment somebody said the shooter was down. By all accounts, Flake was running from victim to victim to help. For that, he should be considered a real hero and somebody who showed bravery under dangerous circumstances."
By all accounts, he was a likable and affable senator to constituents and other members.
That being said, he was a YUGE disappointment to many conservatives. When Flake was in the House of Representatives, he garnered a following because of his fight against earmarks and to cut spending. Flake's voting record in the House was stellar. He stood strong and voted against spending bills that were loaded up with special interests like a 2005 supplemental appropriations bill in response to Hurricane Katrina and a disaster relief bill in 2011. But when he arrived in the Senate, he supported legislation that expanded government. Flake went from conservative-libertarian firebrand to being part of the problem.
The fact of the matter is that there is one, and only one, reason why Jeff Flake is not running for re-election:; he was going to lose—either in a primary or a general election. According to The Hill's report on August 3, 2017, Flake's approval rating was at an abysmal 18 percent. The Washington Post reported on October 24, 2017 that he was on track to lose badly in a primary: "Flake's numbers have been especially brutal, with his approval rating plummeting. One poll showed three times as many Arizonans disapproved of him as approved."
While many in the media call Flake a hero for quitting the Senate, others think that his resignation is an admission that he had no constituency. One reason for his bad poll numbers was that Sen. Flake abandoned the brand of conservatism that got him into office. As I wrote in the Observer, his voting record in the Senate was very different from his voting record in the House :
"According to Heritage Action for America's record, Flake took the following bad votes: Cures Act (a bloated spending bill), Lame Duck Continuing Resolution for FY 2017, Puerto Rico Bailout Bill, a bill that included women in the draft, Murkowski-Cantwell "Energy Bill" that was loaded with crony capitalism, Highway Bailout Bill, and a $500 billion bill to repeal Medicare's Sustainable Growth Rate (SGR). These are bad votes, but his most egregious was his vote in favor of the motion to proceed to debate the Manchin-Toomey gun control bill on April 11, 2013. Sen. Rand Paul had sent a letter to leadership with Sens. Mike Lee and Ted Cruz promising to filibuster the motion to proceed because the bill was an infringement on the Bill of Rights. Flake refused to sign the letter and voted to start debate. For Flake's bad votes on spending issues and his vote to debate a bill that infringes on gun rights, Flake really can't be considered one of the solid conservatives in the Senate."
One other piece of evidence that Flake had become a part of the establishment was his admission that he regretted his conservative vote in 2008 to oppose the Wall Street bailouts that created the so called "Troubled Asset Relief Program" (TARP). Flake said on the Senate floor (as quoted by Breitbart), "The crisis we now face is a result of government intervention in the market. We are in this predicament largely because implicit, and eventually explicit, Federal guarantees in Fannie Mae and Freddie Mac shielded the financial services sector from market discipline." The 2008 version of Rep. Jeff Flake was right when he argued, "Those who believe that they can control and direct the market's invisible hand will eventually be slapped by it. That is the painful and embarrassing situation we find ourselves in today. We don't have enough money in the Federal Treasury, nor can we responsibly borrow enough money, to keep the market from finding its natural bottom." The 2016 version of Senator Jeff Flake ran away from his principled stand and he announced regret for that solid vote. Flake's wobbly ideology is the core of his political problems. Flake is no longer a conservative.
It is a sad end to a career that had him at the forefront of the fight against big government when he arrived in the House of Representatives in 2000, then graduated to the Senate in 2013. Although the Senate is losing a good man, politicians can study Flake's slide from firebrand conservative to establishment politician as a case study in what not to do when one gets elected to federal office.
Brian Darling is the president and founder of Liberty Government Affairs, a government affairs and public relations firm in Washington, D.C. He is former Counsel and Sr. Communications Director for Sen. Rand Paul (R-KY). Follow him on Twitter @BrianHDarling