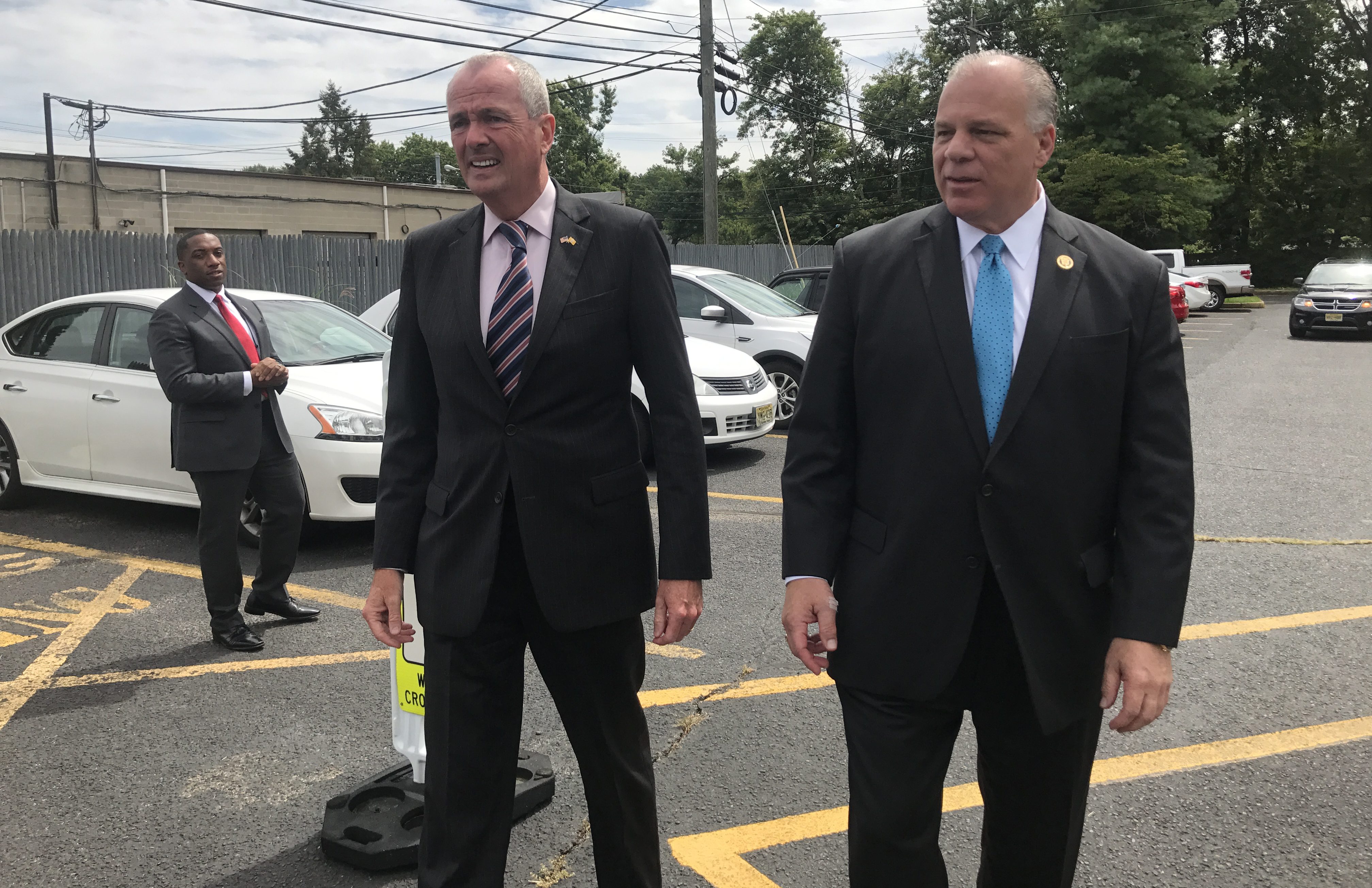 If Phil Murphy becomes New Jersey's next governor, perhaps his most important political ally would be Senate President Steve Sweeney, the state's top lawmaker and a leading South Jersey Democrat.
But there are signs of fissures between Murphy and Sweeney. A strained relationship between the two could make life difficult for Murphy, a former Goldman Sachs executive and U.S. ambassador to Germany who has never held elected office.
Sweeney (D-Gloucester) is fighting a costly war against the New Jersey Education Association as he seeks re-election to his Senate seat, and Murphy has avoided taking sides publicly even as the dispute became the most expensive legislative race in New Jersey history, a bonanza of attack ads that is costing each side millions of dollars.
"There is a feeling that Murphy could have been stronger in tamping down the NJEA," said a high-ranking Democrat who spoke on the condition of anonymity to discuss a sensitive subject. "He knows we have one of the strongest offices of governor in the nation. I'm not sure if he's internalized that the Legislature is co-equal and the Senate is a little bit more co-equal, and how that actually plays out, especially when it comes to appointments, judges and attorneys general, and all that sort of thing."
With more than 200,000 members and more than $100 million collected in dues every year, the NJEA is one of the most powerful lobbying forces in Trenton. Murphy shares the union's goals of returning to full funding for schools under the School Funding Reform Act of 2008, and increasing payments to the pension system for public workers.
Under Gov. Chris Christie, the state repeatedly shorted what it was legally required to appropriate for schools and pension funding. He and Sweeney partnered in 2011 to cut public-worker benefits. And Sweeney then reneged on a promised ballot question to guarantee pension funding through the constitution. NJEA leaders complain that the net result for their members under Christie and Sweeney was that schools received $9 billion less in funding over eight years, the Teachers Pensions and Annuities Fund (TPAF) is in the most dire state of all the state retirement funds, and benefits have been reduced.
Sweeney and his allies complain that the NJEA is so blinded with outrage, it is endorsing a right-wing Republican for his seat and is forcing Democrats to spend millions on his district that could be spent on other competitive races across New Jersey. Murphy has taken some heat for avoiding the feud, although few Democrats have wanted to go public with their concerns.
"It's disappointing," Sweeney told the Star-Ledger in September. "He's the leader of our party. And one of his biggest supporters is being allowed to try to shrink our majority."
Sweeney then revised those comments, telling reporters in October, "I don't need anyone to step in for me." Minutes later, Sweeney said Murphy had tried to step in and asked the union to call off the dogs, but was rebuffed.
"He said he asked them. They said they wouldn't back off. So I'm taking him at his word," Sweeney said on Oct. 5.
Murphy's campaign did not return a request for comment on Monday. "I'm honored by the support of public educators that I've gotten in this state, including very much the NJEA," Murphy said in September. "And at the same time, I'm also on the line with and am campaigning with Steve Sweeney."
Several Democrats said there was not much Murphy could do in any case, since the union is fixated on punishing Sweeney and on sending a message to other lawmakers that they can make life hell if they cross the union. "I'm skeptical this was fixable," said a Democratic campaign source who spoke on the condition of anonymity.
Christie and Sweeney have not always seen eye-to-eye but the two have had a fruitful relationship, negotiating several budgets, merging the state's higher education facilities, reforming the state's bail system, implementing a state takeover of Atlantic City's finances, and increasing funding for transportation projects by raising the gas tax. Christie also has a relationship with Sweeney's political benefactor, South Jersey power broker George Norcross.
Norcross and Murphy have fundraised together, but the contours of their relationship are still undefined and could have a big impact on Murphy's governorship. South Jersey Democrats are a powerful force in Trenton, often calling the shots in the Legislature because they march in lockstep on major issues.
The Murphy-Sweeney relationship began on awkward terms. The Senate president had been laying the groundwork for a gubernatorial campaign to succeed Christie, but was forced to pull the plug in October 2016 after Murphy consolidated support from North Jersey party bosses.
Sweeney didn't endorse Murphy until three months later.
Then, in June, with a state government shutdown looming, Murphy publicly opposed a bill Sweeney backed to restructure Horizon Blue Cross Blue Shield. Sweeney in response made the unusual statement that he was willing to repeal the Horizon legislation if and when Murphy became governor.
"I think it's going to be an interesting dynamic," said state Sen. Richard Codey (D-Essex), a former acting governor and Senate president who was ousted by Sweeney in 2010 and is a close Murphy adviser.
Guadagno, the Republican nominee for governor, tried to seize on the apparent friction between Sweeney and Murphy. Ricky Diaz, a Guadagno campaign spokesman, issued a statement Monday saying the Democrats' "party-infighting [could] not come at a worse time."
"With a week to go until Election Day, the Democrat's civil war is only intensifying as dissatisfaction with Phil Murphy's decision to play both sides of the NJEA-Sweeney feud grows," Diaz said.