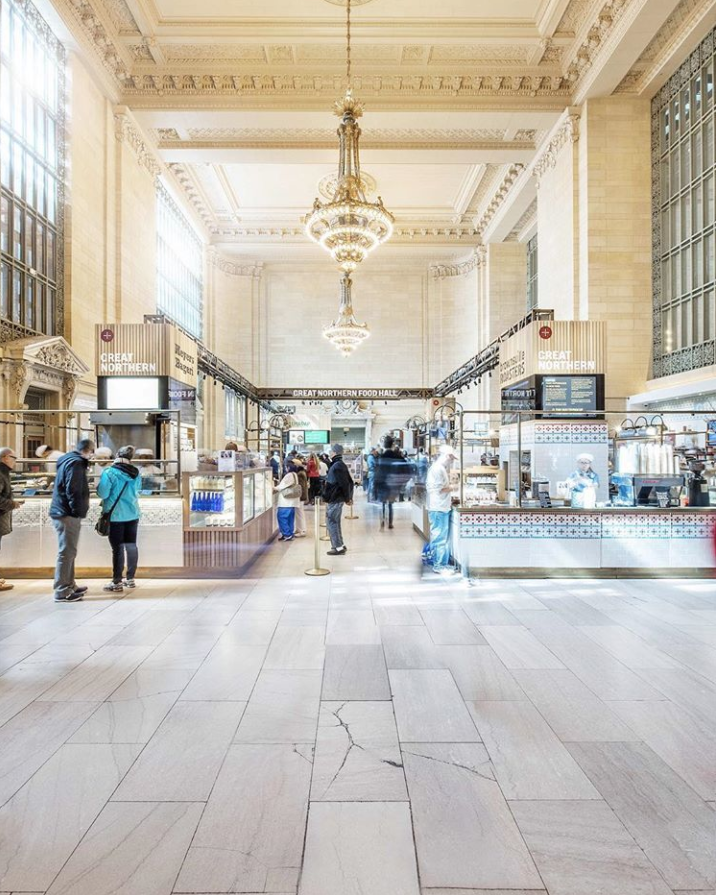 If you're into delicious food and unique menu options, New York is always going to be a prime destination, regardless of the season. But from the start of December through New Year's Eve, the city's dining scene reaches its zenith, with a plethora of special chef dinners and brunches, plus plenty of seasonal festivals and quite a few events dedicated to the most beloved holiday food specialties. Here, you'll find our top picks for foodie happenings in NYC this December.
Saturday, December 2: The Great Northeast Cheese & Dairy Fest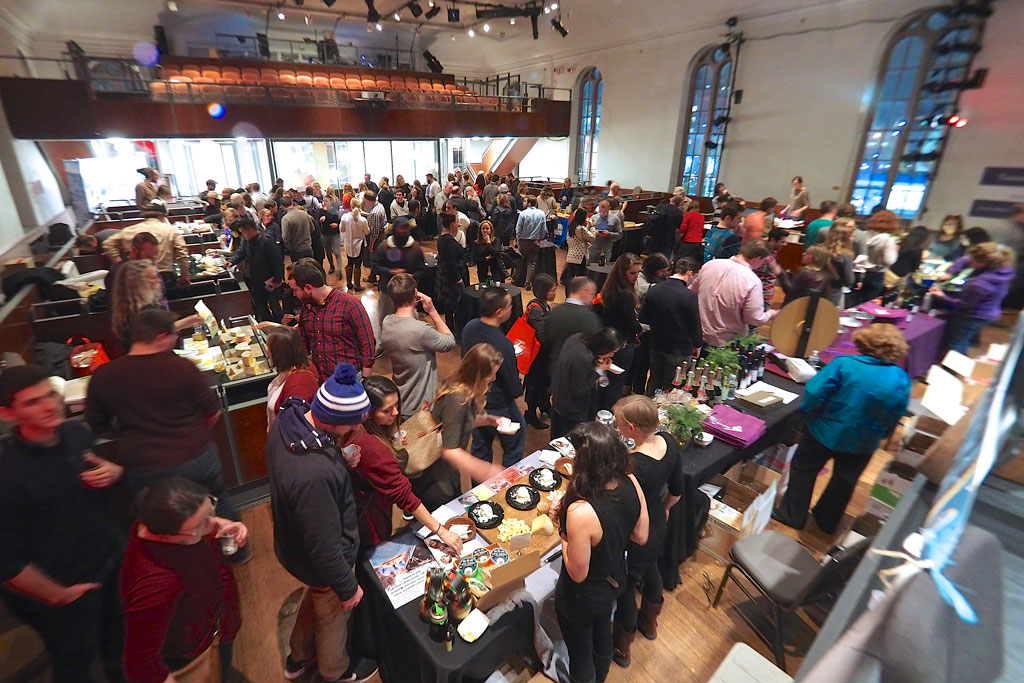 Cheese fanatics of New York, this one's for you. On December 2, The Great Northeast Cheese & Dairy Fest will take over Flushing Town Hall in Queens, where they'll be offering up over 75 different artisanal cheeses from various New England and Tri-State creameries. Plus, they'll have plenty of booze pairings on offer, including wine, cider and locally-brewed craft beer. The Fest will also feature cheesy dishes prepared by top Queens chefs, led by Hugue Dufour of M. Wells Steakhouse. Day passes start at $60 for access to all the cheese samples, beverage pairings, and chef tastings.
Saturday, December 2-Sunday, December 3: Gato Launches Brunch (With Bobby Flay In The Kitchen!)
Gato, Bobby Flay's Mediterranean restaurant in NoHo, doesn't typically serve weekend brunch. However, they're making an exception for the first weekend of December. On Saturday, December 2 and Sunday, December 3, guests can enjoy a two-course prix-fixe brunch at Gato for $40, which includes menu options of oven-roasted shrimp diavolo, eggplant with manchego, oregano and balsamic, and poached eggs with pimento hollandaise, crispy serrano ham, and olive-oil toast. And, for this limited-time brunch event, the Gato kitchen will be helmed by Flay himself. There are a few OpenTable reservations available for Saturday and Sunday, but they're going fast, so grab 'em while you still can!
Sunday, December 3: Dandelion Chocolate's Chelsea Pop-Up
The San Francisco chocolate wizards behind celebrated shop Dandelion Chocolate are popping up in Chelsea for a super-limited (and very sweet) engagement of just one week. They'll be serving a plethora of baked goods, from s'mores to chocolate-Nutella cake single-origin brownies. But the real attraction here is Dandelion's famous hot chocolate, steamed to-order and available in varieties like Mission hot chocolate with cayenne and cinnamon, gingerbread hot chocolate and frozen hot chocolate. The Dandelion pop-up ends its run on Sunday, December 3, but they'll be open starting at 10am, so we advise heading over early. There's nothing wrong with chocolate for breakfast!
Saturday, December 9: Julefrokost at Great Northern Food Hall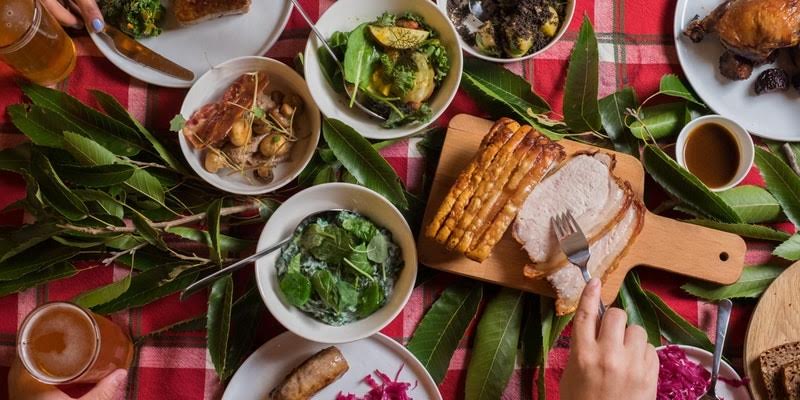 In Denmark, Julefrokost (or "Christmas lunch") is a beloved holiday tradition. In NYC, you can get in on the Danish action by heading to Great Northern Food Hall in Grand Central Terminal on Saturday, December 9, when they're offering a family-style Julefrokost spread. For the uninformed, that includes Nordic specialties like pork loin with crispy skin and pickled red cabbage, pickled herring with curried dressing, and Danish sausage with brown mustard, anise, and creamed kale. Tickets are $50 each, with service included.
Wednesday, December 11: Dinner With Gail Simmons at Italienne
Counting down the days until Top Chef's season premiere on December 7? Then you'll probably enjoy sharing an entire meal with an actual Top Chef judge. To celebrate the release of her new cookbook, Bringing It Home, food writer and long-time Top Chef-er Gail Simmons will host a family-style dinner at Italienne on Monday, December 11. This three-course meal features dishes inspired by the recipes in Simmons' book, including Moroccan lentil and chickpea soup, lamb chops with roasted grapes, and chocolate banoffee pie. A $150 ticket covers the four-course meal and wine pairings, plus a signed copy of Bringing It Home.
Saturday, December 16-Sunday, December 17: FoodPornFest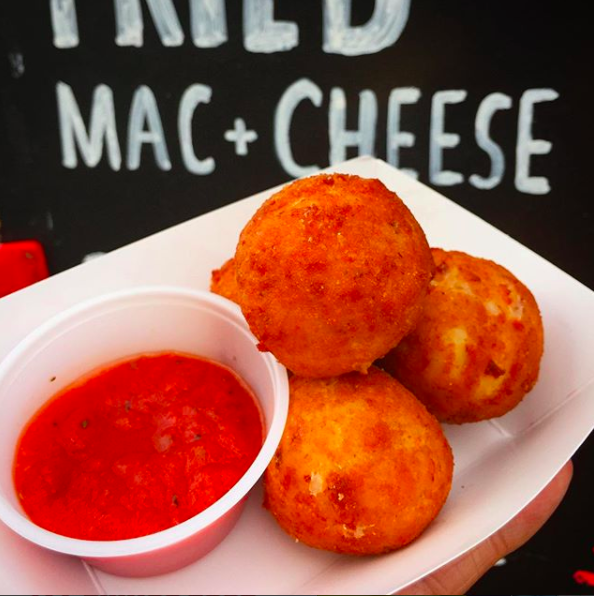 When an event called 'FoodPornFest' shows up in a warehouse in Bushwick, you drop everything and go. And from the looks of it, you and your Instagram followers will be very glad you did. This year's Fest will take place at Brooklyn market venue Shwick and the team expects over 40 food vendors, hawking varied fare such as CBD-spiked candy from Chronic Candy, fried mac and cheese from House of Mac and fully-loaded arepas from Arepalicious NY. As the festival name suggests, the dishes on offer will be highly photogenic, giving you the perfect opportunity to hook some new followers. Tickets for entry cost just $3, so consider buying one for everyone in your foodie friend group.
Sunday, December 17: Holiday Cookie Takedown
If you're an avid home baker, with a KitchenAid stand mixer at the ready and an arsenal of "good vanilla" locked and loaded in your cabinet, then the Holiday Cookie Takedown at Brooklyn's Royal Palms Shuffleboard Court is offering up the chance to show off your skills. Here's how it works: Brooklyn bakers bring in a few batches of their most-impressive holiday cookies and the enthusiastic Takedown attendees get to sample as many as they like. Once the tasting part of the program ends, a panel of judges made up of local chefs and food writers will select their favorite cookies, but the most heavily-weighted vote comes from the audience. The winner walks away with a prize and, more importantly, with massive bragging rights. Nothing like a little competition to stoke the holiday spirit!
Monday, December 18: 9th Annual Latke Festival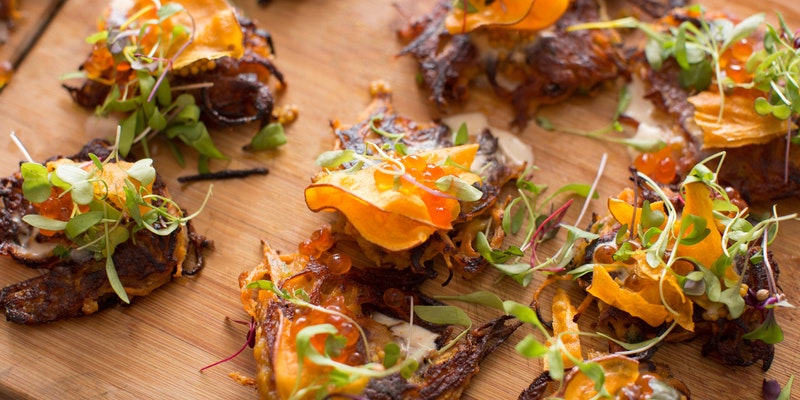 For nearly a decade, top NYC chefs and restaurateurs have come together in Brooklyn on a December evening, ready to show off their most creative takes on a holiday-season classic: the potato latke. This year's Latke Festival will take place at the Brooklyn Museum and it will feature tastings from restaurants like BAMCafé, Orwashers, R&D Foods, Veselka, and more. If you want to make a night of it, they're also offering libations from City Winery and Tito's Handmade Vodka. The latke maestros at the Fest get rather creative with their recipes; past entries have included a potato latke with pollo asado, salsa verde, crema and cilantro and a cranberry and juniper latke with smoked duck leg confit and spicy pickled cucumber.
Monday, December 25: Peking Duck Christmas Dinner at Massoni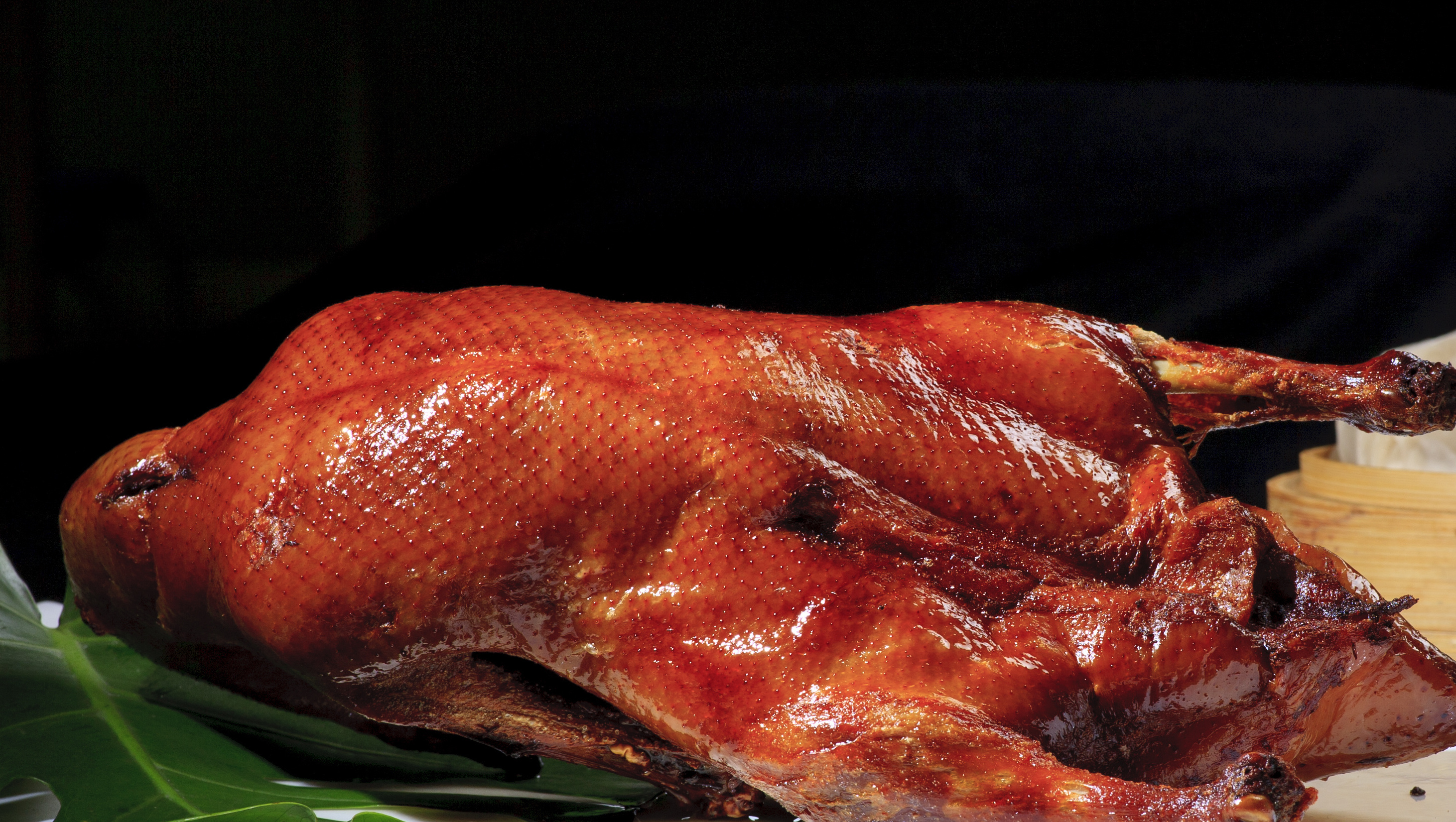 Christmas dinner at a restaurant can be a tricky endeavor. Some people demand a full-scale feast, while others would rather go low-key with take-out comfort food. At Massoni, the casual "Italian-ish" eatery in the Arlo NoMad Hotel, Chef Dale Talde is serving up a Christmas Day special that's large and luxe enough for the super-festive among us, but also nicely nods to the Chinese food and a movie tradition of December 25. For one day only, Massoni guests can order a Whole Roasted Peking Duck, paired with moo shoo pancakes, steamed buns, cucumber, scallions and hoisin, all for $40 per person.
Sunday, December 31: New Year's Eve Dinner at Ferris
There's definitely no shortage of New Year's Eve dinner options in NYC. Pretty much every restaurant in town has a prix-fixe menu and a never endling supply of sparkling beverages to accompany it. But if you want to give 2017 a proper send-off (not that it deserves one…), you'll want to head to one of the year's buzziest new spots for a luxurious multi-course feast. At Ferris, the hot seasonal American restaurant from Le Turtle and Major Food Group alums, you'll find just the thing. Ferris' New Year's Eve offerings include mackerel with ponzu, egg yolk and Italian plum, blood sausage with grilled dates and carrot, wagyu with sweet potato, nasturtium soubise and gremolata, and chocolate mousse with shaved white truffle. And, of course, they'll have plenty of sparkling pét-nat for toasting. Early birds can snag this prix-fixe menu for $135, for reservations between 5:30 and 7:30 p.m.; tickets for the later seating, from 8 to 11 p.m. go for $225.