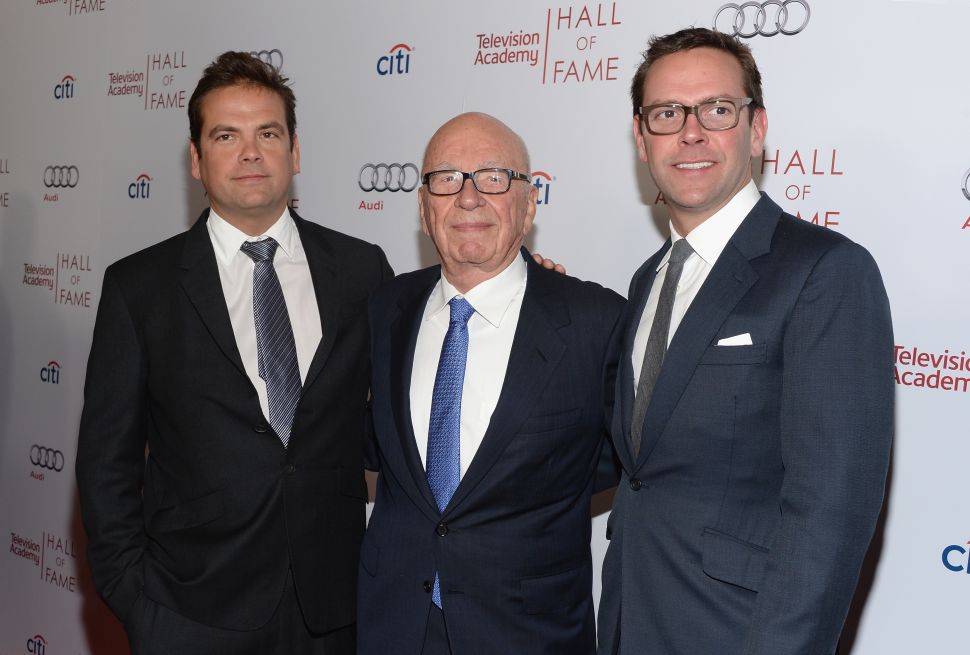 The Murdoch brothers who run 21st Century Fox offered no comment on the potential Disney merger in yesterday's earnings call, but said they like the company's current product mix, which reported estimate-beating revenues in the latest quarter.
21st Century Fox's total revenue for the quarter ending September 30 reached $7 billion, eight percent higher than the same period last year. Operating profit net $855 million, or $0.45 per share, three percent higher than last year.
Its three business segments—cable networks, television and film studios—saw mixed results.
The cable network segment contributed nearly 60 percent to the total revenue. Revenue increased 9 percent, and operating profit increased 8 percent from the previous year, thanks to higher viewership across sports channels and higher affiliate fees.
Television and film segments both reported profits, but lower than last year's figures.
Operating profit for the television segment, which includes FOX Broadcast Network and other local television stations, declined by 36 percent due to lower political advertising and higher contractual costs from an increased volume of football games.
Film studios report a 18 percent decline in operating income from last year, largely driven by lower film production and lower sales in international television market.
Co-executive chairman Lachlan Murdoch and CEO James Murdoch declined to comment on "recent press speculations," referring to the rumored Disney proposal to buy 21st Century Fox's entertainment business.
But Lachlan Murdoch offered a peek into the company's vision to concentrate efforts on core assets. "We have taken a lot of steps to change our portfolio over the last number of years, simplifying our mix of assets, investing in core brands (Sky, Hulu) and selling assets. We've really simplified our model. We've got a great set of brands and assets that we really like," he said in yesterday's call.
Michael Nathanson, a longtime media analyst of Moffett Nathanson, told The New York Times the Murdochs didn't offer "an out-and-out no."