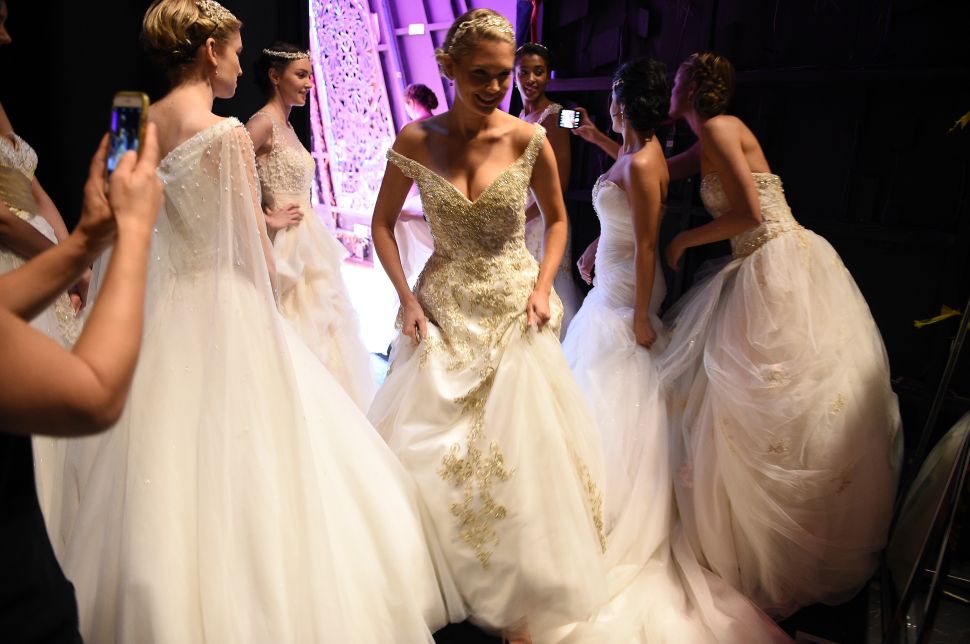 Of all the collapsing chains and brands that have characterized the retail apocalypse of 2017, the one I honestly did not expect was Alfred Angelo. The bridal brand, which abruptly shut its doors and filed for bankruptcy in July, used to gobble up pages of advertising space, with models swanning about, looking contemplative in the way only a woman swaddled in thousands of dollars' worth of pearly duchesse satin can.
I'd have thought the same thing about J. Crew's bridal line—surely there would always be a market for modern, occasion-appropriate dresses that from a brand with such a reliable customer base—and yet the troubled retailer shuttered that line of business at the end of 2016.
So what's going on in the world of wedding dresses? Isn't there enough of a $3 billion wedding retail sector for everyone?
Credit a one-two punch to retail: The Internet has made it easier for people to shop around for the wedding attire they want; meanwhile what people want from weddings has changed.
To speak to the first point: Bloomberg recently reported on how old-school bridal mainstays like Alfred Angelo, David's Bridal and Signet Jewelers Ltd. (owners of Jared, Kay and Zales), are dealing with lackluster sales, now that people aren't locked into whatever retail options happen to be in or near their towns. The explosion of online options—plus the rise of mall retailers getting into the bridal space—have really bitten into traditional wedding retailers' bottom lines. As Bloomberg reported:
Raya Sokolyanska, an analyst at Moody's, said there's a new paradigm emerging in bridal retail. "The bride can buy a budget wedding gown online, or a white dress from any apparel brand instead of a traditional gown," she said. "That's increased competition for David's Bridal and other bridal retailers, especially at the lower end."
"The consumer," Sokolyanska told Bloomberg, "has more choices."
And don't forget the power of wedding trends. After seeing how well J. Crew did by defining the casual wedding—the cool girl who looked no-fuss beautiful as she made everyone drink out of mason jars—a few other mainstream brands decided to serve that same style to price-conscious customers. Ann Taylor floated a bridal collection for a while. Target had their Tevolio bridal line in 2013. There are other mainstream retailers still trying to persuade their customer that the same place she goes for athleisure or office wear can outfit her on her wedding day.
And for those who don't want chill weddings, they have other options. For example, Disney's wedding business is booming. They've got two killer factors: the company's historic attention to customer experience (the Disney Fairy Tale Weddings and Honeymoons division can help with anything from a 24-hour-notice elopement to a large-scale event, a perk that helps persuade experience-focused consumers splurge on a Disney wedding), and an ardent Disney bridal customer community.
Ironically, what Disney doesn't appear to have right now is a line of princess wedding gowns. In a twist that seems to sum up the chaotic bridal retail sector: the company used to partner with Alfred Angelo to license each year's bridal line.
So what? Weddings are still big business: The Knot's annual survey showed that the average American wedding cost a little over $35,000 in 2016, and the average dress ran about $1,500. That is 83 percent of the average American's annual "apparel and services" expenditure of $1800 per person, so if you're a mainstream retailer, you might want to grab that extra chunk of change from your loyal customer.
Anthropologie spun out BHLDN for its target customer in 2011—since their customer was presumably entering her prime get-married years. However, Anthropologie's been flailing all year (eight straight quarters of flat to decreasing year-over-year sales) and analysts are beginning to say that the brand lacks a clear message to customers, a quick way to say, "This is who we see you as and what we see you doing in our merchandise."
Gap is another retailer with a recent history of sales trouble and the bright idea of using a bridal brand to bolster its bottom line: In December 2016, it closed a deal to buy online "data-driven" boutique Weddington Way, and the brand is available on the Gap's websites now.
Who cares? People getting married. While Bloomberg's report mentioned American brides' "traditional" expectations of having a magical, dress-buying experience in a bridal shop—an experience that's been turned into a successful reality television series, Say Yes to the Dress—it also acknowledged a lot of shifts in how we do weddings in this country now.
Not all the bridesmaids live in the same town and can show up at Stella's Bridal Shoppe for fittings; there's a need for options that can be checked out and purchased online.
The average age for a first wedding is has passed solidly into the millennial age bracket—27 if you're a woman and 29 if you're a man. These are also the ages when student loans are likely to eat up at least $4,000 per year, so something like Rent the Runway's bridal shop may be more appealing to a budget-conscious bride, maid of honor or attendee.
And for a generation that prizes experience as a luxury good, saying yes to the dress may not matter nearly so much as saying yes to a wedding experience, one that can be shared both in person and on social media. The retailer who understands that will live happily ever after.
Lisa Schmeiser has been reporting on and writing about tech, business and culture since the dot-com days. Find her on Twitter at @lschmeiser or subscribe to So What, Who Cares.