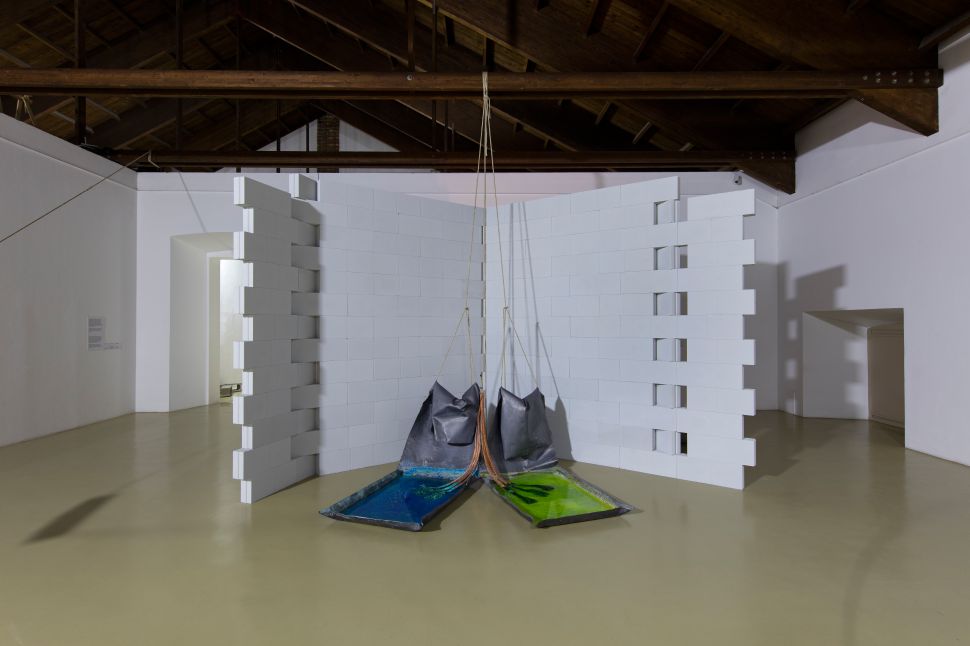 The market for Postwar Italian art has been rapidly growing over the last decade—you can't swing a Balenciaga bag around a modern art fair lately without knocking over at least three of Lucio Fontana's slashed canvases. But it's Arte Povera, however, that has made its way to the forefront of the market's collective consciousness just within the past couple of years. And this year—exactly 50 years since its birth—it seems as if recognition of the midcentury movement has hit its peak, both in its hometown of Turin and abroad.
At Turin's 24th annual Artissima contemporary art fair, which just closed November 5, first-time director Ilaria Bonacossa was keen to revive the Arte Povera vibe. "When I stepped into this position, I asked myself first 'why is there a major contemporary art fair in Turin?,'" she told Observer. "Well, if you've studied art history, it's simple: because of Arte Povera."
The term Arte Povera was coined in 1967 to describe the works of 14 young Italian artists including Mario and Marisa Merz, Michelangelo Pistoletto, Alighiero Boetti, and Jannis Kounellis. Literally translating to "poor art," the phrase underscored their use of cheap, industrial and organic materials. The artists used everything from vegetables and textiles to elemental materials like coal and steel as a way of responding to the shiny, perfectly fabricated commercialism of the dominant genre of Pop Art during the same time.
Over the decades, these works garnered a small but dedicated collector base, many of whom were located in Italy. With the exception of some unexpected sales at the height of the movement in the mid-1970s, auction prices have stayed reasonable for Arte Povera work—in the low millions by U.S.D. But a 2014 Christie's London auction saw a major Alberto Burri canvas fetch nearly twice its estimate while others were snapped up quickly, which seemed to spur interest in the movement.
It didn't take long for the revived penchant for "poor art" to traverse the Atlantic. In 2015, New York's Guggenheim museum staged the first U.S. and most comprehensive survey of Burri's work. Just over a year later, the Met Breuer opened the first major retrospective of Marisa Merz, the sole female figure within the Arte Povera movement, to rave reviews. And just this past summer, collectors Nancy Olnick and George Spanu opened their private institution, Magazzino, in Cold Spring, New York, which is entirely dedicated to the presentation and scholarship of Arte Povera artists.
Having gone global, the legacy of the movement undergirds Turin even more so today. Mario and Marisa Merz's foundation, The Merz Foundation, presents multiple exhibitions by contemporary artists who were more than likely friends of the artists (Mario passed away in 2003) like Lawrence Weiner and Alfredo Jaar, although recently they've branched out to include work by artists inspired by the Merzes, such as Cuban artist Carlos Garaicoa. Indeed, you will often stumble across a Mario Merz while walking around the city, such as his iconic steal igloo fountain that sits in the middle of a major thoroughfare through the city.
The city's stunning Castello di Rivoli—a former royal residence turned modern art institution—is often called the home of Arte Povera not only due to its vast holdings, but also because of the many solo and group exhibitions of Arte Povera artists that have been held at the museum over the years. These have often included works specifically made for its regal galleries, according to director Carolyn Christov-Bakargiev. She also noted to Observer that the castle was Italy's first museum of contemporary art, opened in 1984, on the "enthusiastic instigation" of the Arte Povera artists who had just returned from Documenta 7 in Kassel, Germany, which had been curated by Rudi Fuchs, who became the first director of the institution. "So, at Rivoli, I think the Arte Povera artists feel 'a casa,'" she said.
Coinciding with the launch of this year's Artissima, Castello de Rivoli unveiled an exhibition devoted to Gilberto Zorio. As the last living member of Arte Povera, Zorio represents the definitive end of the era, which may explain the fervent desire to revisit this major historical Torino touchstone, as well as the surge in prices for the artists' works as they hit the secondary market.
Because Artissima only presents contemporary work, Arte Povera artists weren't on offer at any of the participating galleries' booths, but Bonacossa still wanted to explore the pivotal movement's history—and undoubtedly capitalize on its current popularity—within the context of the fair. "I wanted people to have experiences related to that moment in history that are perhaps not so well-known now," she said.
To that end, she delved into the archives of 85-year-old Turin-based designer Pierro Derossi, who designed Turin's Piper Club to create anew the swanky nightspot. Curated by Paola Nicolin, served as the site for talks and screenings for the duration of the fair this year. The original Piper has an air of myth about it since it was only open from 1966 to 1969 and was a favorite haunt of many of the Arte Povera artists.
"They all hung out there. People like Pistoletto designed the mirrors, Marissa Merz did catwalks inside the club. It was quite a cultural moment for the city," Bonacossa explained, noting that it was important the details of the recreated Piper be accurate, such as its Pepto Bismol-pink ceiling. She also convinced the design brand Wolfram to recreate the original chairs found in the club, and Nicolin brought in a handful of younger artists currently working in Turin to create video and sound installations to imitate the feeling of the club.
The fair also included a new section, "Deposito d'Arte Italiana Presente," inspired by an  event that happened in Turin between 1967 and '68 where the newly minted Arte Povera artists convinced a handful of collectors to rent out a big warehouse space where they could show all of their work together. Artissima's incarnation of it was replete with boxes and crates to give it that warehouse feel, along with the works of 128 Italian artists working from 1994—when the fair first started—to today.
"This was meant as a reconnaissance of Artissima's own history as a large archive for retrospectively studying the system of Italian art and its market," explained Bonacossa. "I thought it would be an interesting option to see how the Italian scene has changed in that time."
While Arte Povera may be a foundational moment for Turin's art market both then and now, Bonacossa is dubious that current collector interest in the movement is spurring additional inquiry into the upcoming crop of emerging artists. But that doesn't mean they're SOL on the sales front. "Honestly I think the biggest difference with this generation—and perhaps their biggest strength—is that they speak English much better!," she said, noting that she hopes this language fluidity will facilitate a greater number of Italian artists to find a wealth of interested buyers like those of Arte Povera.
Margaret Carrigan is a freelance writer and editor. She planned to go to law school but she did terribly on the LSAT, so she got a master's in art history instead. She lives in Brooklyn with her cat, who is named after Alyssa Milano's character from the early aughts CW smash hit series Charmed.