The holiday shopping season is officially upon us and if you're anything like us, you have a daunting list of presents to acquire for practically everyone in your life. While it's always a great idea to cash in on savings offered on Black Friday and Cyber Monday sales, sometimes you want to actually enjoy the process of perusing shelves of sweaters, selecting the perfect suede boot or customizing a knit sweater.
That's why we've selected six pop-up shops that are bringing an experience to the holiday season—plus the opportunity to take a stellar Instagram. These in-store attractions include a personal appearance by Karlie Kloss, a look at the furniture that once decorated Drew Barrymore's own home and the option to make your very own Ralph Lauren sweater. Happy shopping!
For the Monogram Afficiando: The Custom Shop at Ralph Lauren
If it's not personalized, what's the point? That tends to be the general consensus in today's day and age, so it makes sense that Ralph Lauren is going custom this holiday season. Customers can visit any Ralph Lauren store in the U.S., or their website, to experience The Custom Shop and try their hand at designing a sweater—to give or to keep. Customers can select the color and detail that adorns the lush merino crewneck, including the sleeve color, the text on the front and back of the sweater and a stripe detail. There are a handful of font options, including Varsity, Gothic and Letterman, the latter of which is totally new to the brand, along with the option to shout out a special year.
The lush sweaters, which are "knit to order" and available for both men and women, cost just $198. They ship out within two weeks of the order date—just in time for a very personal holiday season. Head to the brand's Polo Ralph Lauren Prince Street location for an additional custom experience, where you can personalize your own polo with whichever version of the Polo Bear you most relate to.
109 Prince Street
Where to Score Some Sparkle: Vrai & Oro
The direct-to-consumer fine jewelry company Vrai & Oro has picked New York City for their very first brick-and-mortar experience. From December 1 to 17, the bauble brand will allow customers try on their signature rings, necklaces and bracelets  before making a purchase; the shop will also carry an exclusive design, made in partnership with stylist Danielle Nachmani. Shoppers (and their bored husbands/boyfriends/children/BFFs) can also get a firsthand look at the diamond-growing process of Diamond Foundry, a sustainable bauble company that's backed by Leonardo DiCaprio.
252 Mott Street
For the Classic Sneakerhead: The_Ones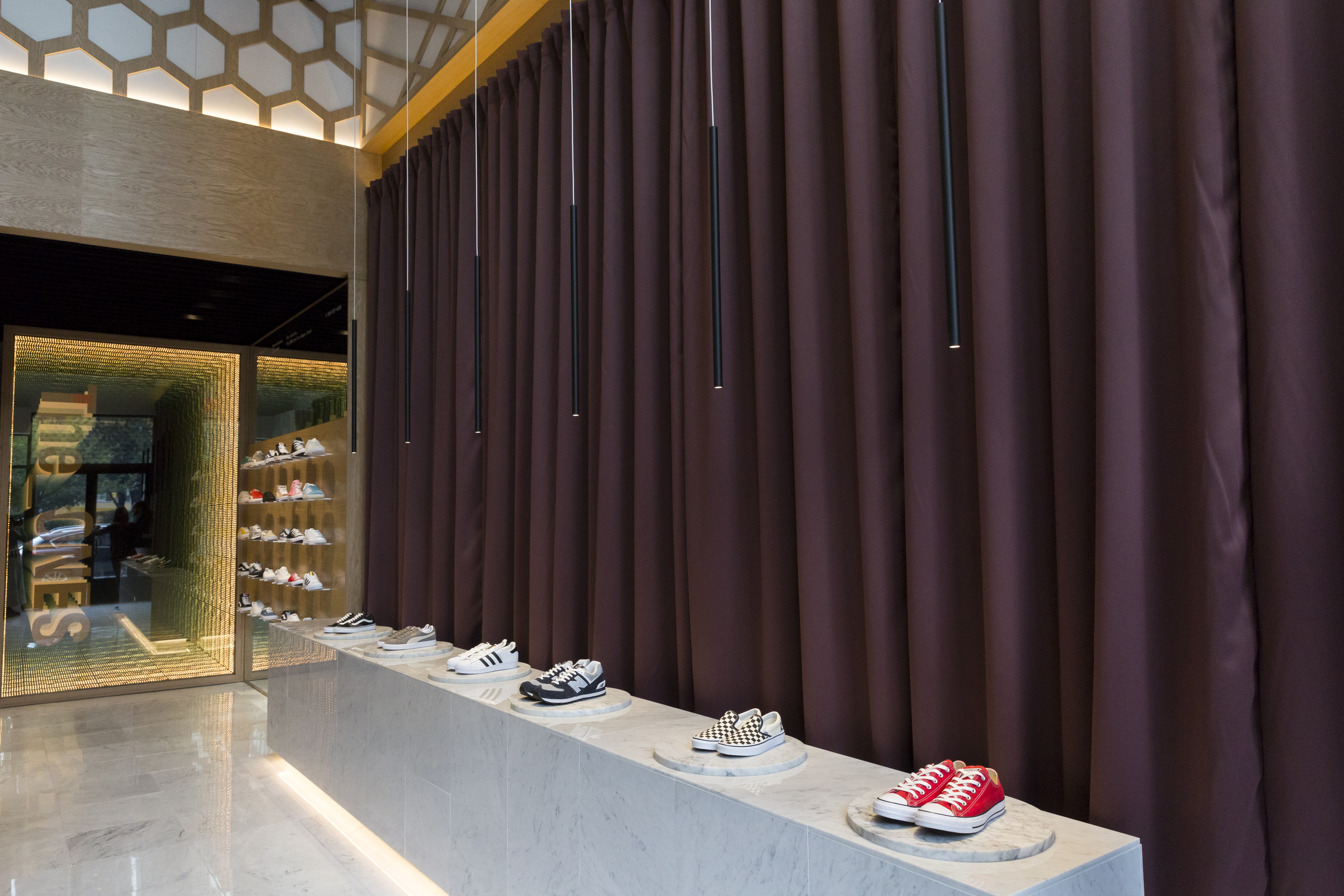 For the very first time, Zappos is going beyond the screen and testing out IRL shoe stores, called The_Ones. From November 15 to January 15 the mega e-tailer will run two pop-ups in New York, both of which will focus on classic sneakers, featuring kicks from Puma, Vans, Adidas, New Balance and Converse. Visit BEYOND, the Soho space designed by Tarek Hassan (featuring a very Instagrammable infinity mirror), for the tried and true classics, like Vans Old Skool low tops. For a trendier take on these evergreen styles, pop by Bird's Williamsburg location and don't be afraid to test out a Puma creeper.
Won't make it to New York before the shop closes? Just visit Findtheones.com or @The_Ones on Instagram, to shop the classic styles—and get intel on exclusive drops.
BEYOND, 229 Hudson Street, Manhattan
Bird, 203 Grand St, Brooklyn
Stock Up On Skivvies: Calvin Klein x Amazon Fashion

Buy a pair of Calvin Klein undies, with a little high-tech help from Amazon. The smartest pop-ups of this bunch are the bi-coastal Calvin Klein x Amazon Fashion boutiques, which will feature fitting rooms that are equipped with Amazon Echoes—so shoppers can quiz Alexa about Calvin Klein and control their lighting and musical experience. There will also be customization stations, where skivvies can be embroidered, in addition to "content creation spaces," where the perfect Instagram can be snapped. Huge cutouts of Karlie Kloss and Lilly Singh are plastered around the shops, but we hear the two stars will be making in-store appearances at some point before the Soho and Santa Monica shops close on December 31.
545 Broadway, New York
1444 Third Street Promenade, Santa Monica
For a Chic Pair of Holiday Shoes: M.Gemi Perfect Fit Shop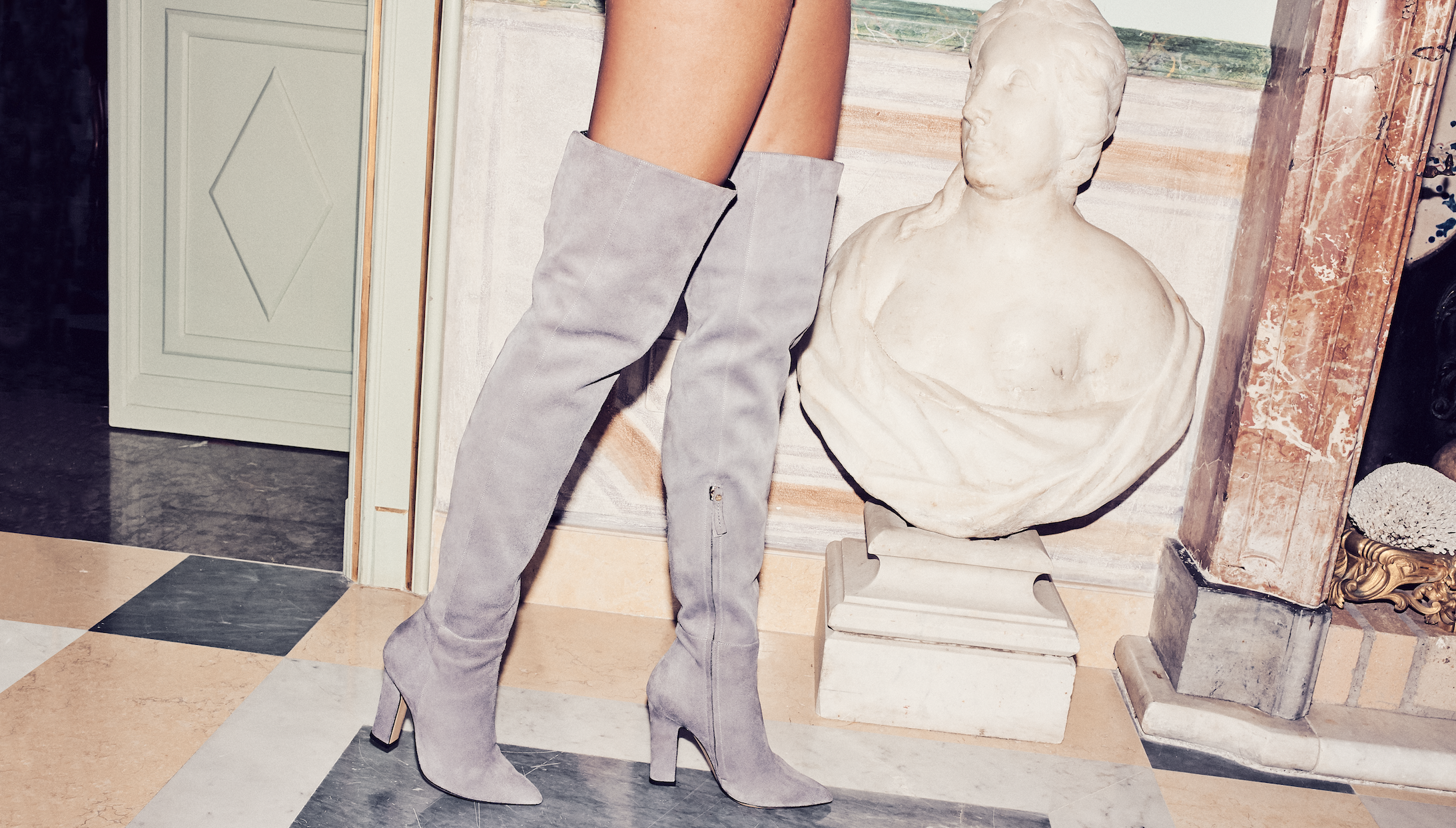 For the perfect suede booties and the smartest leather sneakers, head to M.Gemi's pop-up on the first floor of The Shops at Columbus Circle. There will be an edited selection of the brand's handmade Italian kicks and plenty of complimentary espresso shots to go around. This boutique, which will open on Black Friday and remain in the space for four months, is actually a showroom—so after you pick out your kicks, the sales associates will place an order and have them delivered straight to your door. M.Gemi will, however, have a few select styles in store, that can be taken home that day, which is the perfect way to complete a last-minute holiday party.
10 Columbus Circle
Best Place for a Potential Celeb Spotting: Dear Drew by Drew Barrymore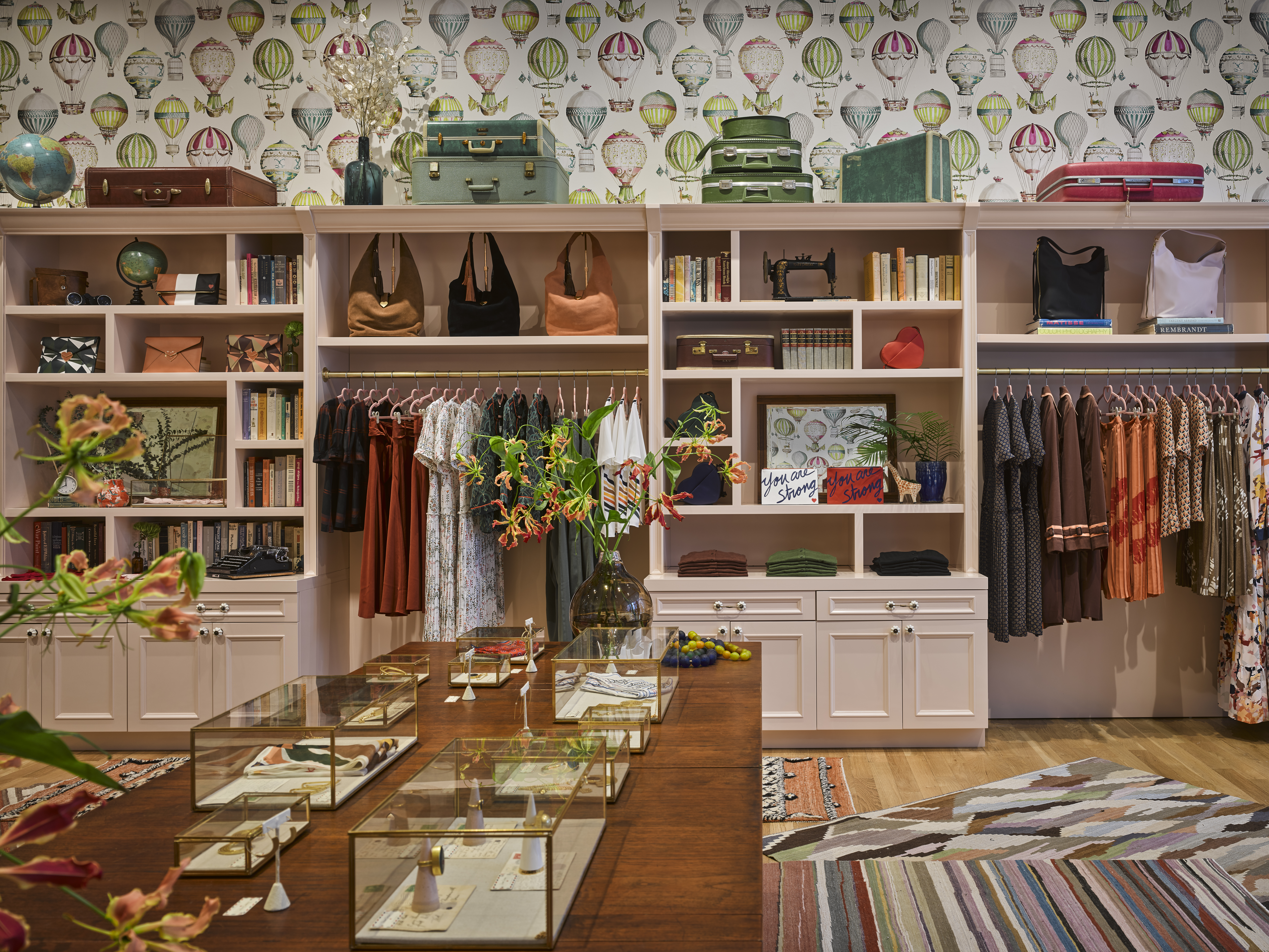 If you're a fan of ET or just really like feminine clothing and accessories, the Dear Drew by Drew Barrymore shop is worth a visit. The actress turned entrepreneur launched her clothing line with Amazon Fashion earlier this year and now it's coming to Soho, with quite a variety of products. The shop is stocked with practically everything the busy woman needs: cozy cashmere sweaters and romantic dresses, 20 different types of handbags, graphic earrings, vintage-inspired hardcover luggage, a variety of loungewear and lingerie—plus blow dryers, curling and straightening irons.
While shopping, don't forget to admire the décor of this shop, which features a ton of Barrymore's personal items. Seriously, 85 percent of the furnishings are from her home (including books from her own collection) while the rest is inspired by her globe-trotting life. We have a feeling that Barrymore herself can be spotted lounging on the shop's cozy couches, before the shop closes…in about six months.
14 Crosby Street