Silicon Valley's "bro culture" has been complained about for years. Women entrepreneurs face enormous challenges raising venture capital; tech startups are stereotypically dominated by men; and female executives struggle to be heard by their male counterparts. But how bad is it, really?
Last month, reporters from the Center for Investigative Reporting sent inquiries to 211 Silicon Valley tech companies for their EEO-1 reports, a government-mandated report of employee demographics that every large U.S. employer (with over 100 employees in most cases) must submit to the federal government.
Although companies have no legal obligation to release these reports, 22 companies, including the "FLAG companies" (Facebook, LinkedIn, Apple and Google), disclosed their diversity profiles as of 2016. Pinterest, View and 23andMe released their data for the first time.
With a focus on gender issues, Observer analyzed the gender and ethnic information at various job functions and levels. Here are our findings:
(Almost) none of the companies' workforces are more than 50 percent female.
23andMe, the biotechnology company headed by female CEO Anne Wojcicki, has the most gender-balanced office of the 22 companies. Roughly half the staff are women. All other companies employ more men than women.
The EEO-1 reports only contain two gender categories: male and female. Other gender identities, such as transgendered individuals, are advised to report the sex by which they identify.
Pinterest, the virtual scrapbook with a total of 944 employees, is second on the list when ranked by a female workforce percentage. It's also one of the few tech startups with a large female user base.
On the lower end of the list are View, Inc., an electrochromic windows manufacturer, and Nvidia, a graphics computing tech company. Both employ workforces that are less than 20 percent female.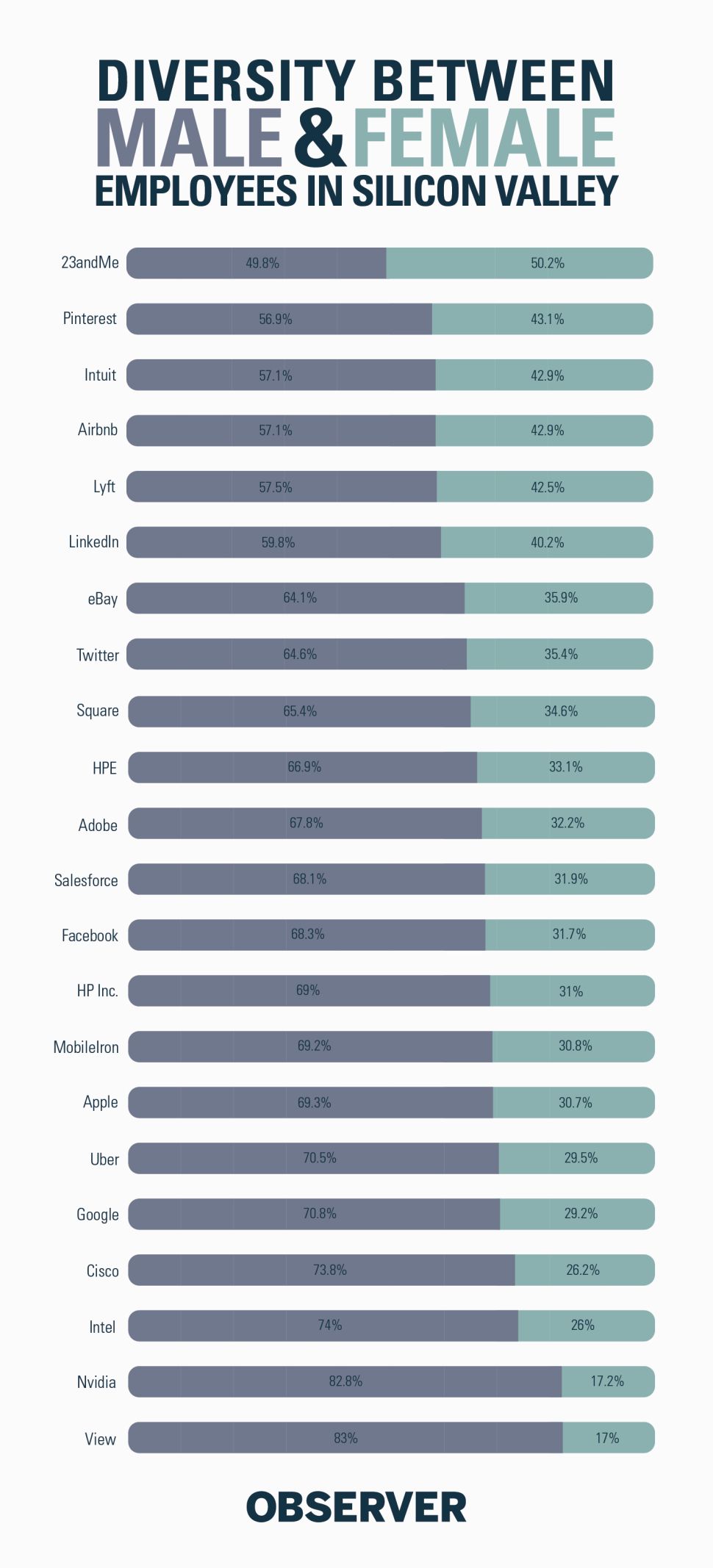 A limited number of women in Silicon Valley hold executive titles.
Pinterest ranks second for overall female staff representation, but the company's management team, which is small, is a veritable boys' club. In fact, there is only one woman on the eight-person executive team.
A Pinterest spokesperson told Observer that the data they released is outdated and inaccurate, and claims that currently one-third (three out of nine) of Pinterest's management team are women.  
Pinterest has 944 employees, and a majority (78 percent) of women employees hold professional titles, including software engineers, lawyers, accountants and human resources specialists.
23andMe, consistent with its overall gender split, has the highest proportion of women in executive positions, although its management team is small. Of the 17 managers, eight are women.
Facebook has 132 female managers, or 27 percent of all managers, the highest head count across the list. LinkedIn is a close second at 120, or 37 percent.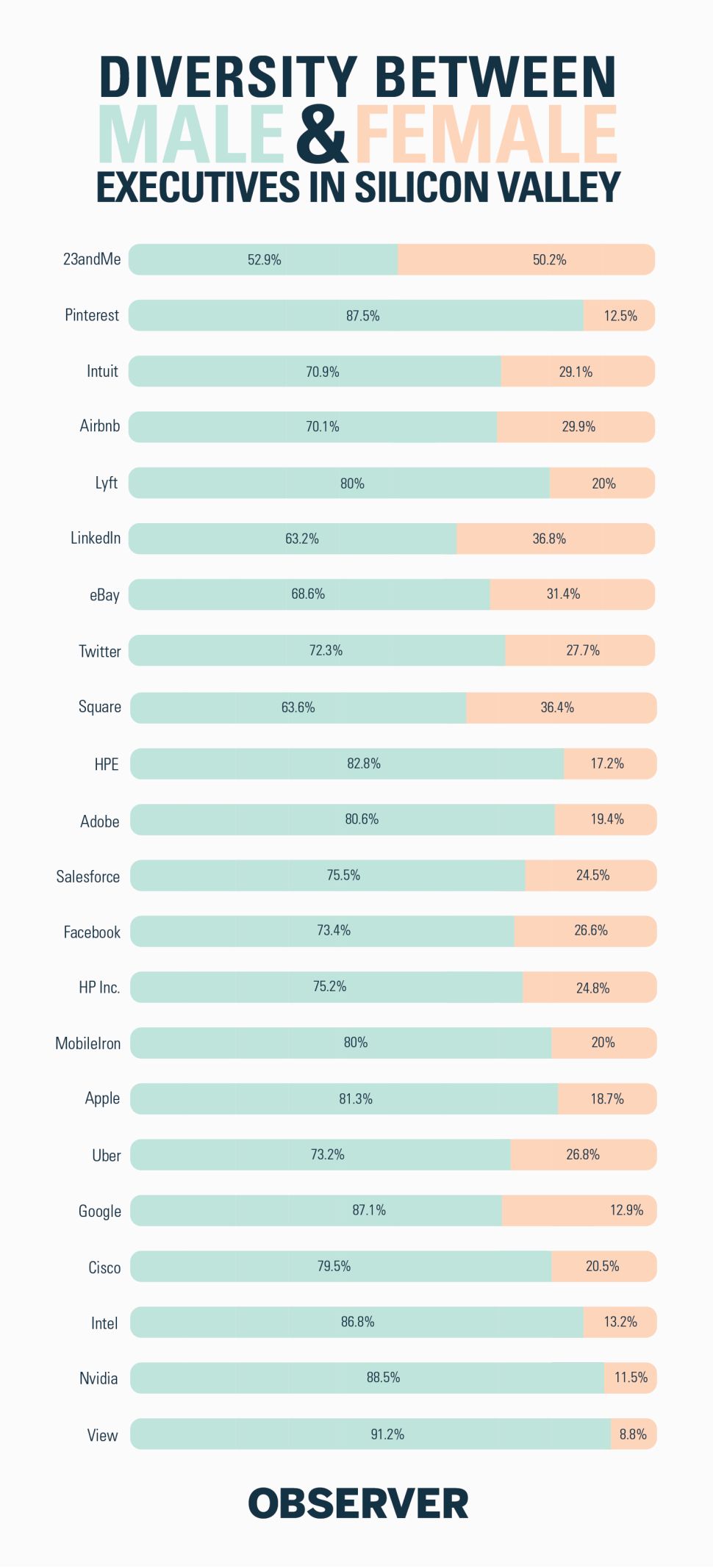 LinkedIn is the most diverse among "FLAG companies."
LinkedIn is the most gender-balanced by both total number and executive-level measure among the big four tech companies. Forty percent of LinkedIn's 6,655 employees are women.
LinkedIn is also a frontrunner in ethnic diversity. It has the highest minority representation at the executive level of all listed companies. Thirty-two percent of the 326 senior-level employees are minorities, a majority of which are Asian.
Google and Apple both fall behind in the female manager count (lower than 20 percent). It's worth noting that both companies have tiny management teams, only 0.1 percent of the total staff size.
Google only has four female executives, and all of them are white.
Apple has 20 female managers out of 107 executive-level employees with a multi-ethnic mix.
White men are still the face of tech companies.
Not only do men have a stronger presence in management positions, they are also mostly white. Except for Airbnb, all other 21 companies have a male-dominated management team of which more than half are white.
At Hewlett Packard Enterprise (HPE), 70 percent of male managers are white. Apple is a close second at 68 percent.
Asians account for most of the minorities across the list, whereas Latinos and African Americans are in the single digits.
Tip for the cautious: data can be misleading.
As a final note, it's important to consider the context when interpreting data. The percentages in this report can exaggerate the reality. Because the base number upon which percentages are calculated varies widely, a small change in the number of employees may translate in to a significant percentage difference. And vice versa.
For example, according to the data, Pinterest has 12.5 percent of women in management team. In fact, that's only one woman. Since the data release, Pinterest has hired two women executives and let go of one male executive. That doesn't say much about the company's overall diversity strategy, but on paper, Pinterest now has a management team that is 33 percent female, which puts it the fourth place on the list—a giant leap from the 21st place.
Large companies like Google and Apple have tens of thousands of employees, so a small percentage represents hundreds of people, and even sizable personnel shakeups may not show much in the overall change.