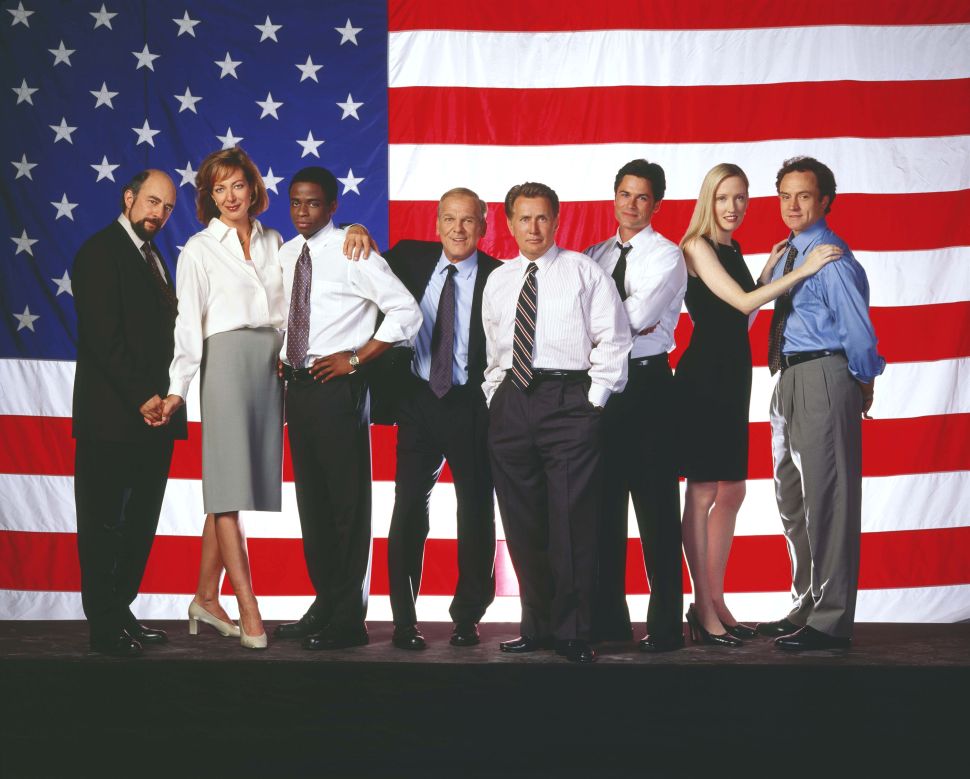 Aaron Sorkin's The West Wing aired on NBC from 1999 to 2006 and racked up three Golden Globe Awards and 26 Emmy Awards as well as endless praise from audiences. Of all of the silly and unnecessary revivals and reboots launched by Hollywood these days as thinly-veiled cash grabs, a continuation of The West Wing actually makes the most sense given the tumultuous political climate of today. As it turns out, Sorkin even has an idea for a revival with This Is Us star Sterling K. Brown in the Oval Office.
"Sterling K. Brown as the president, and there's some kind of jam, an emergency, a very delicate situation involving the threat of war or something, and [President] Bartlett [played by Martin Sheen], long since retired, is consulted in the way that Bill Clinton used to consult with Nixon," Sorkin told THR.
Not for nothing, but Brown himself is all in on the idea.
We'd watch Brown in just about anything. That's how good of an actor he is. We'd also love to see more of The West Wing, one of the 50 best TV series of all time. Lastly, watching Brown play off of Sheen and (hopefully) many other original cast members as they solve the country's problems would be a delight, especially in today's, uhh, unique political landscape.
The West Wing ended 11 years ago with President Bartlett finishing his second term and Matt Santos (Jimmy Smits) following him into the White House. Given the elapsed time, it would make sense that Santos's tenure as Commander in Chief has ended as well. The series was celebrated for mirroring real-life events and acknowledging major happenings such as 9/11. Obviously, there's quite a bit of recent history that Sorkin could borrow from for new material.
This isn't the first time Sorkin has expressed interest in revisiting The West Wing. Last year, he said he'd be open to a possible revival of the series during a Reddit AMA. Sadly, nothing has ever come from these comments and it doesn't appear as if NBC is chomping at the bit to make it happen. And that's strange because if the likes of Miami Vice and Starsky and Hutch are coming back to the small screen, why wouldn't you want to revive a true blue classic? This is art compared to schlock, people. For now, fans will just have to settle for rewatching old episodes on Netflix.
Sorkin's directorial debut, Molly's Game, is currently in theaters.