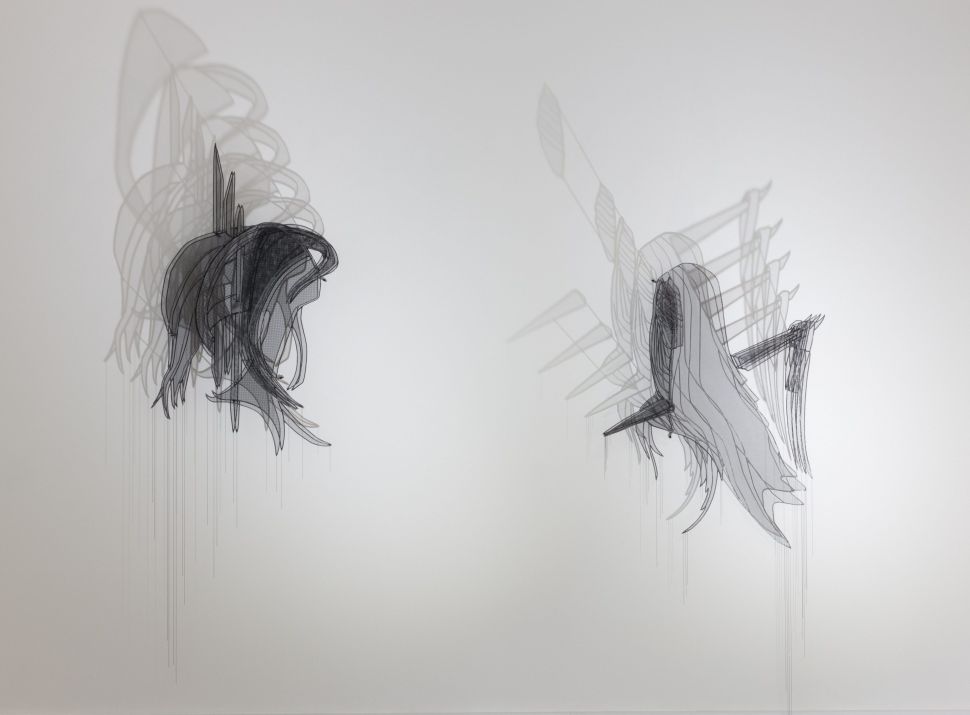 "My work used to be a lot more architectural, but after last year's election, I don't know, I suddenly felt like I wanted to represent people," artist Afruz Amighi told me in her Brooklyn studio one early fall afternoon. I was there to see her latest steel sculptures, soon to be shipped off to London for her first solo show in the U.K. at Sophia Contemporary. The exhibition, "Echo's Chamber," which remains on view through January 19, 2018, features nine new wall-mounted works that serve as metal effigies of archetypal women in profile along with select drawings.
Born in Iran but raised in the U.S., Amighi has long made sculptures out of steel, chains and fiberglass mesh that reference the architecture of her homeland, from which she only has a few memories. The works are often illuminated by harsh lights that cast big shadows—perhaps a metaphor for how one's heritage stretches far beyond borders. As the political climate in America swung to the right—forcing into sharp relief immigration and gender parity issues, among others—the artist, as an immigrant woman, said she needed new inspiration. "I felt like we couldn't rely anything structural anymore," she said as she explained her desire to move away from edificial constructions and her return to the human figure, which she hadn't experimented with since high school.
Seeking fresh inspiration, she spent two weeks walking the halls of the Metropolitan Museum of Art, where she found herself drawn to the Ancient Greek and Roman and African art sections, fascinated by how these long-gone civilizations represented their own and how, in turn, we remembered them. Once again she was interested in how light was used to illuminate some aspects of these cultures, but not others. "The Greek sculptures are in a room bathed in sunlight although they were traditionally displayed inside," and the African works that were once part of everyday use and outdoor rituals "are in the dark, in these basement spaces," she explained. "I wondered what would happen if you could switch them, to use light to reveal alternative, even contradictory narratives."
Her time spent pondering these stories, both well-known and forgotten, drew her to the Greek myth of Echo and Narcissus, which was a timely reference given the political intensity of and media attention paid to the social media "echo chamber" in the wake of the election. But Amighi was more interested in how the tale represented women. Echo was a symbol of womanhood in the face of self-obsessed masculinity as embodied by Narcissus. While she could only repeat what was said by others, "she could also never be silenced," the artist said, "and that seemed like an incredible strength."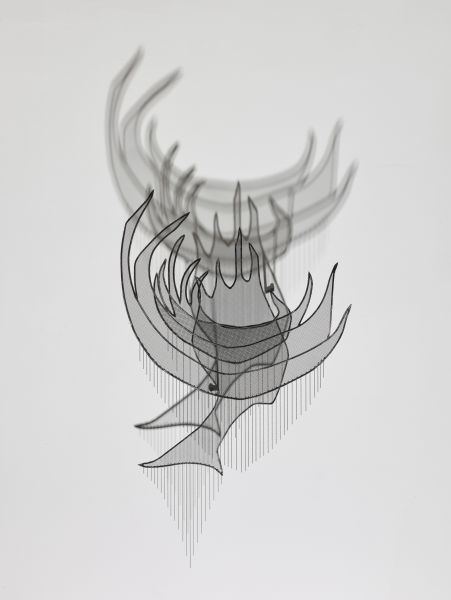 She began sketching schematic profiles of women, infusing them with characteristics of friends and family while also likening them to archetypal figures of femininity through their titles, like Amazon and The Nun. What is striking about these renderings is how they are all under assault—the outline of knives and daggers pierce through each. "I wanted them to look self-possessed in the face of violence," she explained to me in her studio.
This self-possession is perhaps best realized in the sculptural execution of these women. Their flat mask-like faces are made from layered multiples of mesh screens, stacked at a beveled angle and illuminated from the floor so as to cast sharp shadows behind the walls on which they're mounted. While they may seem familiar, they are ultimately obscured as individuals; but, since there are many iterations of the same figure, each form echoes the last and they build upon each upon each other, ultimately becoming unified in their larger-than-life shadow.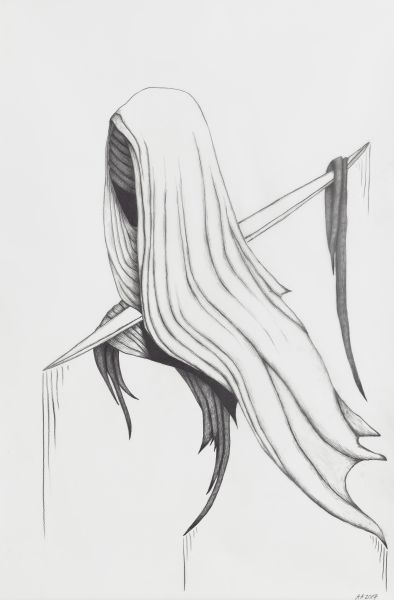 When I visited "Echo's Chamber" in London in mid-November, only two months had passed since I had seen the works propped up in her studio. Yet, so much had transpired to make their shadowy voices all the more intense: the Harvey Weinstein scandal had broken a few weeks prior, prompting over 50 women to reveal their similar stories of assault by a narcissistic man obsessed with his own power, and millions more to unite under shared experiences through the #metoo social media campaign. And the art world, for its part, is still grappling with like accusations against long-time publisher of Artforum, Knight Landesman, the resignation of whom spurred the #notsurprised open letter that garnered nearly 2,000 signatures from women and gender nonconforming people in the arts who had experienced abuses of power by men in prestigious positions.
Seeing the sculptures in their final state displayed alongside Amighi's initial drawings, it seems that she has ultimately remained true to her previous architecturally driven practice—she had sketched a plan for a structure. An edifice that could not be shaken, broken, or destroyed by a single act, even one as quick, cutting, and damaging as a dagger. And that structure exists in the multiplicity of voices among the shadows that, when finally brought to light, creates a deafening echo that speaks of nothing but the need to be heard.
Margaret Carrigan is a freelance writer and editor. She planned to go to law school but she did terribly on the LSAT, so she got a master's in art history instead. She lives in Brooklyn with her cat, who is named after Alyssa Milano's character from the early aughts CW smash hit series Charmed.