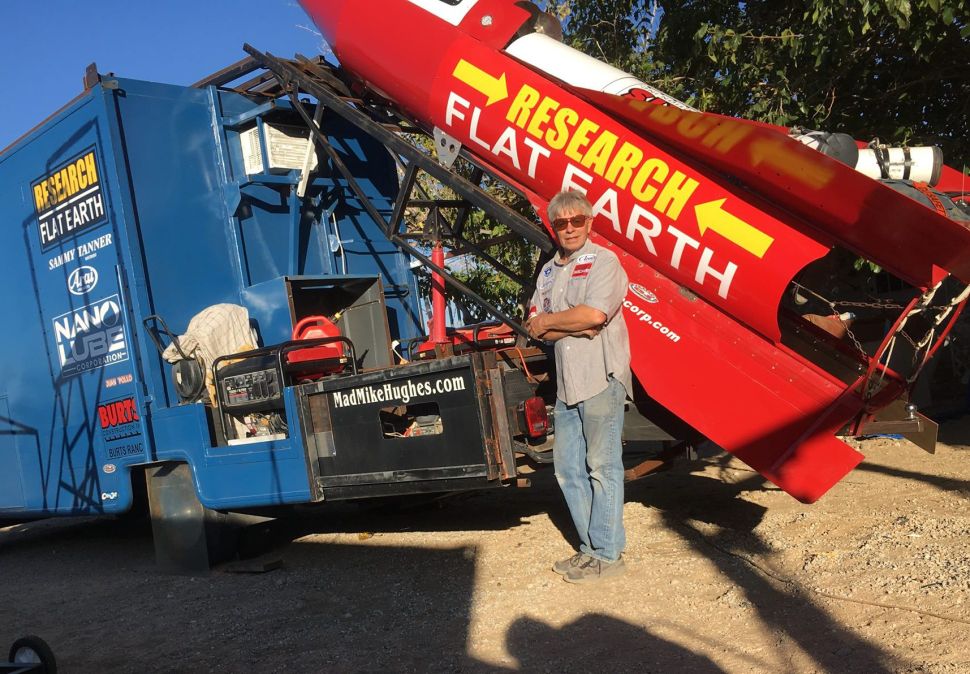 While most Americans probably spent the weekend trying to figure out how to burn off all the calories from their Thanksgiving Day feasts, 61-year-old "Mad" Mike Hughes was putting the final touches on his $20,000 homemade rocket ship. He was in the Californian ghost town of Amboy, in the Mohave Desert, preparing both his rocket and himself for the flight. This will be a manned mission, as Hughes needs to be present to prove his theory that the earth is actually flat.
The launch was initially slated for Saturday afternoon, but Hughes ran into a little snafu when the U.S. Bureau of Land Management informed him he could not hold the launch event on public land without securing the proper permits first. Additionally, his rocket launcher (built out of a motor home) broke down in the driveway. Hughes told the Washington Post on Friday, "It's still happening. We're just moving it three miles down the road." He anticipates the launch to take place no earlier than Tuesday of this week.
If all goes according to plan, the bright red steam-powered rocket, made of scrap metal, will propel Hughes up to 1,800 feet at a speed of 500 mph, traveling a mile across the ground. To put it in perspective, 1,800 feet is about the height of One World Trade Center in New York City. The rocket will be equipped with parachutes to enable a return back to the earth's surface. Prior to the launch, 70 gallons of water will be heated in a stainless steel tank to propel Hughes and the rocket into the wild blue yonder. For safety reasons, fans are discouraged from attending.
A limo driver turned stunt man from Apple Valley, California, Hughes has no engineering or formal aeronautical schooling. He built the rocket in his garage, slapped on some Rust-Oleum paint, and adapted a motor home he purchased for $1,500 on Craigslist to serve as a launch ramp. His effort is being supported by the group Research Flat Earth. Hughes' initial Kickstarter campaign raised only $310 of its $150,000 goal.
With no prior test flight of the rocket, this week's flight will be the measure of Hughes' hard work. But Hughes brushed off any pre-launch jitters when he told the Associated Press, "If you're not scared to death, you're an idiot. It's scary as hell, but none of us are getting out of this world alive."
He added, "I don't believe in science. I know about aerodynamics and fluid dynamics and how things move through the air, about the certain size of rocket nozzles, and thrust.  But that's not science, that's just a formula. There's no difference between science and science fiction."
Hughes attempted a similar stunt back in 2014 over Arizona and reached an altitude of 1,374 feet. He collapsed after landing from the excessive G-forces and wound up recovering for weeks. That attempt can be seen on YouTube.
Of course, Hughes could have just bought a Southwest Airline ticket to see the earth's ever-so-slight curvature from 33,000 feet for a fraction of what he's spent on his project. He also could have slept a little more soundly, knowing that he wasn't about to put himself in perilous danger.
If the rocket sustains a structural failure at low altitude, the parachutes will be rendered useless. The in-flight G-forces alone could potentially knock Hughes out cold. If any part of the structure of the rocket happens to fail, it's more than likely the craft will simply slam into the ground at an excessive speed.
I can't overemphasize how dangerous a stunt like this really is, not only for the occupant of the rocket, but also the individuals on the ground. Without professional engineering, testing and redundancy, absolutely anything could happen. Except, of course, proving that the earth is flat.
Kyle Bailey is a television news aviation analyst, pilot, and former FAA Safety Team Representative. Follow him on Twitter: @Kyleb973.