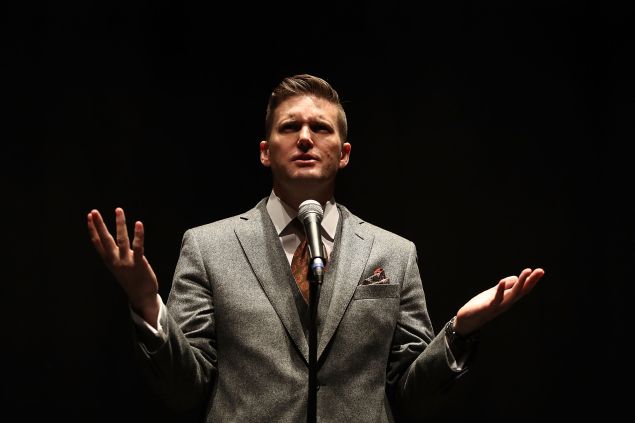 First they got punched in the face. Then they got banned from Uber and Lyft. Now some of the most well-known white nationalists have lost their Twitter bragging rights.
Prominent alt-right activists like Richard Spencer, Laura Loomer and Jason Kessler (who organized the Charlottesville, VA "Unite the Right" rally at which Heather Heyer was killed) discovered last night that their accounts were no longer verified. Twitter uses the designation, symbolized by a blue check mark, to denote prominent accounts.
But many users pointed out that Twitter's verification of controversial white supremacists made it seem like it was endorsing hate speech. As such, the social network said it was reevaluating its process for verifying users.
"We opened up verification for public submissions and verified people who we in no way endorse," the site wrote in a series of tweets. "We are conducting an initial review of verified accounts and will remove verification from accounts whose behavior does not fall within these new guidelines. We will continue to review and take action as we work towards a new program we are proud of."
Other Twitter users who lost their verified status included far-right activist James Allsup and British conservative writer Tommy Robinson. Alt-right troll Tim Gionet, known as Baked Alaska, was banned from the service outright.
Those who lost their blue check marks accused Twitter of censoring and attacking whiteness. Spencer claimed that it's "not okay to be proudly white" anymore, while Kessler (who was only verified a week ago) wrote that "Whites need ethnic consciousness!"
Loomer made a Holocaust comparison, accusing Twitter of "eradicating" her presence "just like Hitler." And Robinson's supporters took a page from George Orwell's 1984, claiming he had been "un-personed."
It's worth pointing out that removing the blue check mark from alt-right accounts is pretty much the least aggressive move Twitter could have made. Spencer, Loomer and their ilk weren't suspended or blocked, so they can still freely tweet their views. Baked Alaska and Milo Yiannopoulos are the only white nationalists Twitter has ever banned.
Twitter, Facebook and other social media sites are under increasing scrutiny over the spread of far-right views and fake news on their platforms during the 2016 election. Most recently, some eagle-eyed Facebook users discovered that the alt-right social network Gab was advertising on the site.