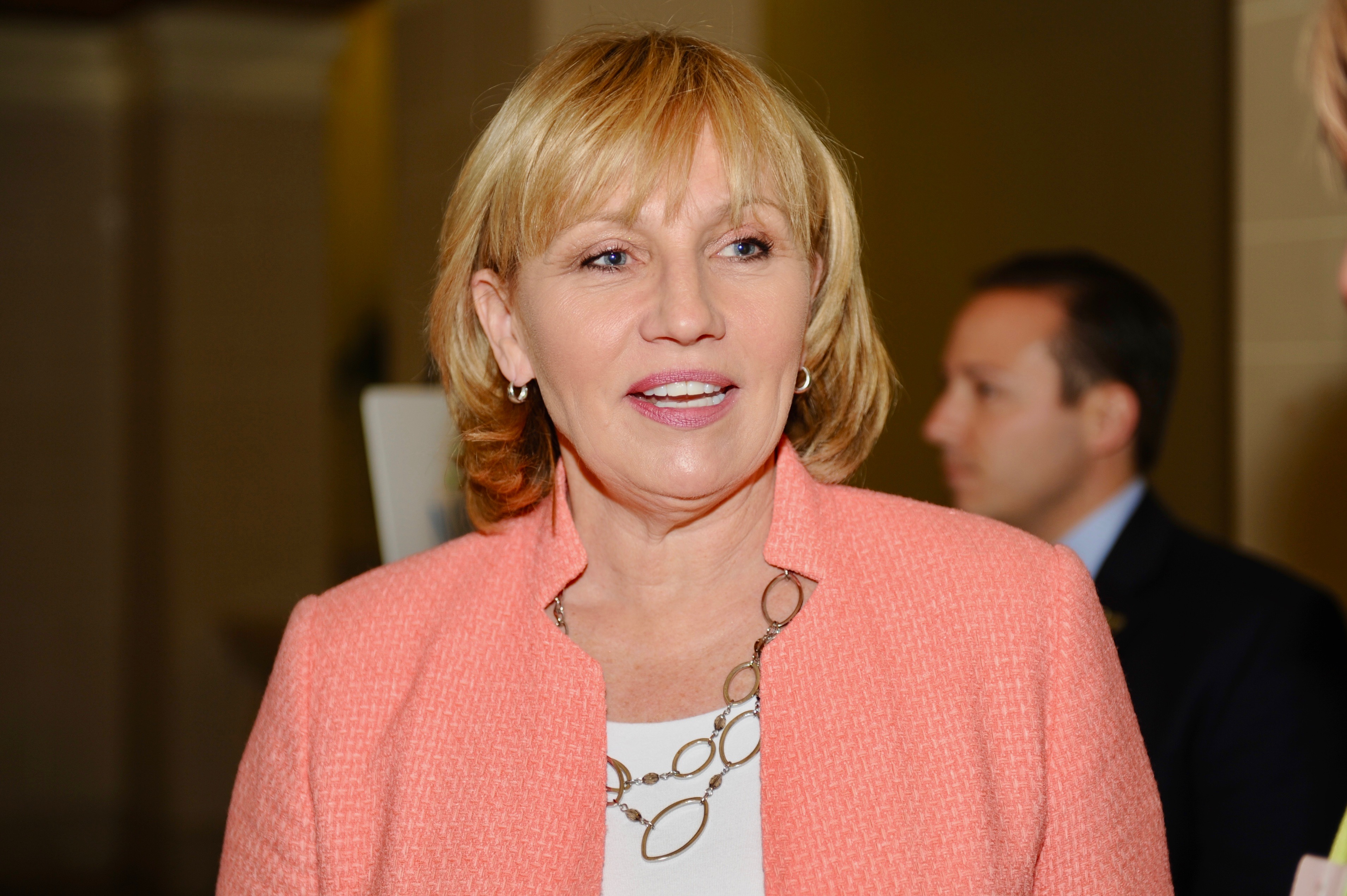 Kim Guadagno waded into the fierce, multimillion-dollar battle between Senate President Steve Sweeney and the New Jersey Education Association on Wednesday, calling on Phil Murphy to take sides with either the powerful senator or the influential union.
Guadagno, the Republican nominee for governor, said Murphy's neutral stance on the NJEA effort to oust Sweeney from his Senate seat this year shows that he is "bought and paid for" by special interest groups.
She even went as far as to praise Sweeney, the top elected Democrat in state government, at a time when her fellow Republicans are trying to take his Senate seat.
"Steve Sweeney stood up for the taxpayers of New Jersey and now he's suffering for it in one of the most expensive legislative races in the country in history," Guadagno said at a campaign event in Middletown.
After the event, Guadagno campaign spokesman Ricky Diaz said Guadagno "fully endorses" Sweeney's Republican challenger, Fran Grenier.
The NJEA is pumping millions of dollars into the 3rd district Senate race to punish Sweeney (D-Gloucester), who teamed up with Gov. Chris Christie on reducing public workers' pension and health benefits and, then reneged on a promised ballot question to guarantee pension funding through the constitution.
Murphy, the Democratic nominee for governor, has taken some heat for avoiding the feud, which is forcing Democrats to spend millions on Sweeney's district that could be spent on other competitive races across New Jersey. Murphy's neutral stance also threatens to strain the relationship between himself and Sweeney, who would be perhaps his most important ally if he becomes governor.
On Wednesday, Guadagno tried to further drive a wedge between Murphy, the NJEA and Sweeney. And like Christie did on Tuesday, she took time out of an unrelated news conference to bash the NJEA for how much it pays its leadership, attacking Murphy for not condemning the union leaders' compensation.
Asked if she was suggesting Murphy should tell the teachers union to back off Sweeney, Guadagno said she simply wants Murphy to take a position on the race.
"I think that Phil Murphy needs sit down and tell us what his deal is with the NJEA," she said. "All we know is he is not taking a position and that in it of itself tells everything we need to know about who is controlling Phil Murphy."
Guadagno linked Murphy's refusal to pick sides in the race to him not taking a position on extending a 2 percent cap on yearly salary hikes negotiated in arbitration for police and firefighters. The interest arbitration cap has been a top issue in the governor's race because it's credited with minimizing property tax increases under Christie. The law is set to expire at the end of the year.
Murphy, who is backed by public safety unions, has declined to take a position on the cap until a task force examining the law releases a report due Dec. 31, the same day the cap expires. Christie's appointees to the panel released a report in September that showed the cap helped slow the rise of property tax hikes. But Murphy dismissed the report as a political stunt since the Democratic appointees did not sign off on it.
"If Phil Murphy hadn't promised the unions and special interests that he would not sign the arbitration clause, he should tell us that," Guadagno said. "We have a right to know. Taxpayers have a right to know before they go to the ballot box."