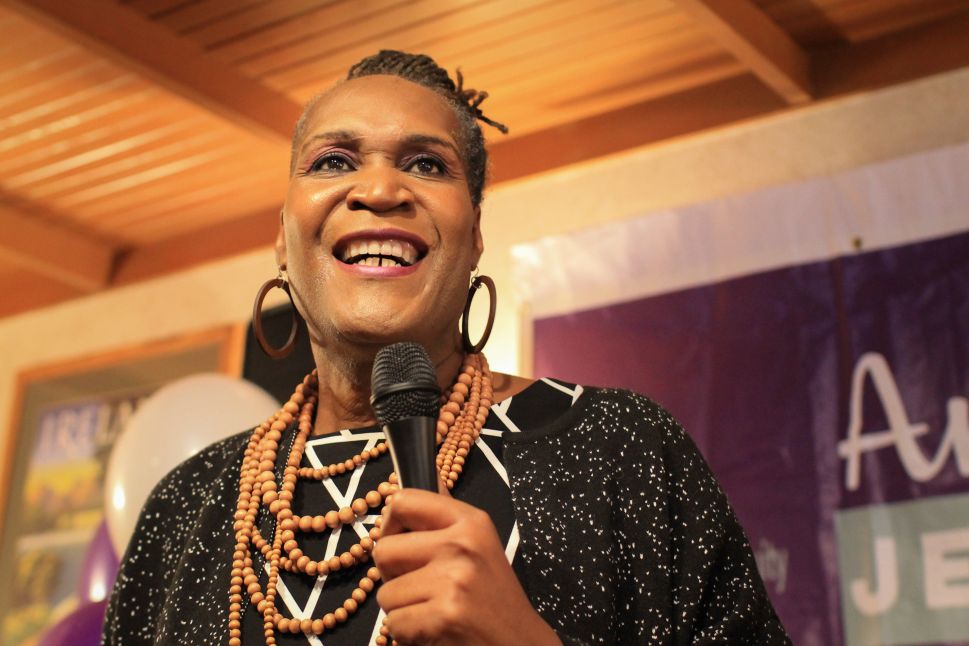 Andrea Jenkins made history last Tuesday as the first openly transgender black woman elected to public office in the United States. A writer and poet by nature, Jenkins broke onto the political circuit through community outreach, burnishing her credentials as a policy aide in Minneapolis' City Council. Here, she addressed youth violence while redeveloping the city's south-central neighborhoods to connect business investors, community advocates, and local artists. Winning 70 percent of Tuesday's election vote, Jenkins' victory is a microcosm for the cultural shifts percolating to the surface of today's political landscape. Following her election to Minneapolis' City Council, we spoke with Jenkins about her historic campaign, the current state of politics, and what she's most excited to pursue in office.
What's going through your head right now?
I'm super excited. I had a great campaign team, and we worked really hard. We knocked on thousands of doors, we had 800 signatures on the petition to get my name on the ballot, and we were endorsed by over 20 organizations including Our Revolution, the DSL, Democratic Party here in Minnesota, the Star Tribune, Congressman Pete Ellison, Women Winning, the Trans United Fund, and the Victory Fund. We had so many endorsements. We felt really good about our chances to win, and we achieved that. It wasn't as much of a surprise as it was a confirmation of the hard work we did.
What were some of the challenges that you faced on the campaign trail even with all the endorsements?
I'm an openly-out transgender woman, so I have experienced rejection. I have experienced oppression. Fortunately, I didn't experience any blatant racism and transphobia, particularly from my constituents that trusted me. Running a campaign is like running a business, and I also have a full-time job, so it was a challenge to stay motivated every day, to really create the type of professional campaign and image that we wanted to. We managed to do it, and we had support. Whenever we needed something, people stepped up and helped build a website or came and took photographs of an event. It's been a surprisingly adventurous journey to get here.
What do you think that Tuesday's win signifies about the current state of American politics?
I think my election specifically, and Democrats all around the country being elected in the first major election cycle since November 8, 2016, is a message that we are not going to stand for [Trump]. We are better than that. We want to continue the progress that America has made. It took us almost 50-plus years to get any semblance of health care for all and we're not retreating from that. We are resisting this onslaught, and we are continuing to push forward for progress.
You said that you are a student of American history. What period of United States history fascinates you the most?
The era that just ended: the age of Obama. America came together and overwhelmingly elected a black president twice. That was a shining moment in American history. I know there are many critiques about President Obama's time in office from both sides of the aisle, but I said it on the day he was first elected in 2008, that I thought he would be counted among the top five presidents in American history, and I still stand by that comment today.
And in a sense, we saw that type of activism that got Obama into office in Tuesday's election.
People are beginning to understand that we can't only work outside of electoral politics. We have to have an inside-out strategy. We need people laying on the street in the middle of the freeway saying "Black Lives Matter" but we also need people in City Hall, in state legislature, in the White House and in Congress saying those same things. I'm humbled to be a recipient of that momentum. I know that representation matters, elections matters and there is value in electing people that are going to stand up and uphold those values.
Do you think Tuesday's election will also be a touchstone in the larger fight against transphobia and racism?
I can only hope, and I always remain hopeful. But I think it does send a message. I think a lot of people will say, "Wow, if a black transgender woman can get elected to the Minneapolis City Council, I can too." I want that to be the outcome, I want people to step up and be willing to be a representative for our communities and be a voice standing up for progress, standing up to patriarchy, standing up to sexism, standing up to white supremacy and saying, "It is time for us to end that and to move forward as one nation together."
What are you looking most forward to in entering the political arena?
I'm really looking forward to advocating on behalf of my community, to standing up for those rejected, and to addressing the police accountability, which is a challenge not only in Minneapolis, but all over the country. I'm looking forward to working with elected officials here locally, but all over the country, to try and promote progressive values that will move society forward.