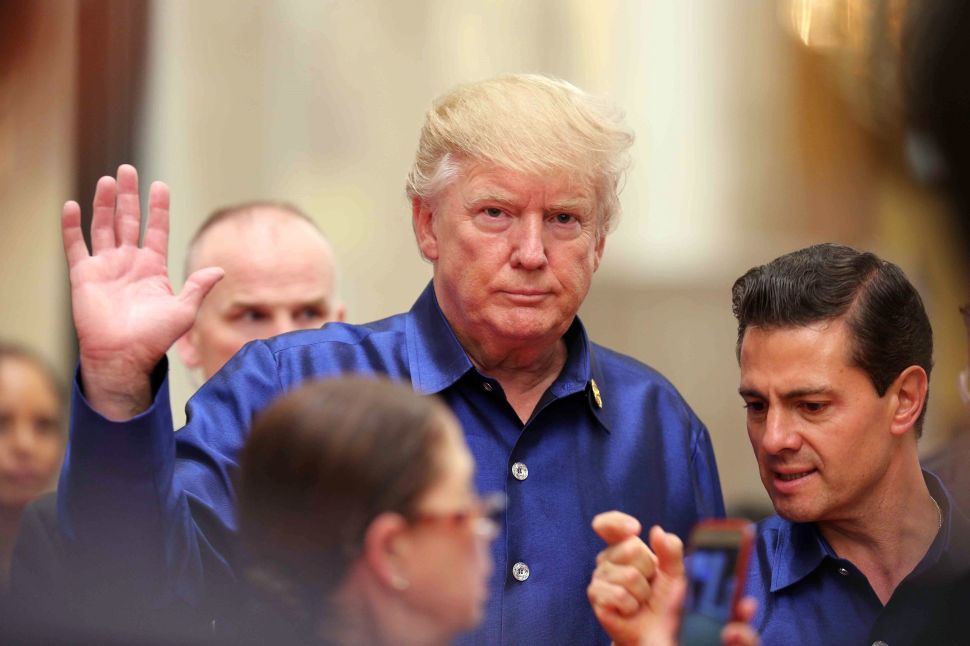 While President Trump grandstanded for his "America First" ideology at the APEC forum this weekend in Vietnam, at the same summit, 11 countries moved ahead on the Trans-Pacific Partnership (TPP) trade deal, conspicuously without the U.S. Half a world away, at the UN Framework Convention on Climate Change conference in Bonn, Germany, the same dynamic was unfolding: The U.S. on the outside of global consensus, hawking snake oil and other fossil fuels, but with no takers.
At least give the president credit for consistency: Neither of these positions makes any sense when expanded beyond a tweet, but they are wrongheaded, isolating and damaging to American interests in a similar manner. In both the case of TPP and the Paris Agreement—and potentially in the NAFTA negotiations as well—President Trump has completely hamstrung U.S. diplomats, who are supposed to advocate for America while at the same time withdrawing.
"Imagine yourself being there in Bonn, representing the United States, with a policy saying, 'We're going to withdraw from the Paris Agreement.' But imagine that your job is to work out the Paris rulebook… What does the United States do? … How do you pull that off?" rhetorically asked Daniel Reifsnyder, former U.S. Deputy Assistant Secretary for Oceans and International Environmental and Scientific Affairs at the State Department and 25-year veteran of UN climate negotiations, at a recent Columbia University event. "I really feel for my former colleagues who were still there," he added.
Not surprisingly, the U.S. Bonn delegation has made itself scarce: It "occupies a small locked room that often seems unoccupied." Not exactly the face of a charm initiative. But that's a small price to pay for saving coal miners' jobs at home, right? In fact, coal has added a measly 1,900 jobs in 2017—a rounding error equal to about one-fifteenth of the 26,000 coal jobs lost from 2014 to 2016. Meanwhile, in 2017 and 2018 more than 21 gigawatts worth of coal plant capacity have been slated to go offline, with another 19 GW in planned closures in the years beyond. New analysis suggests fully 30 percent of U.S. coal plants operating in 2016 are now economically obsolete. Neither markets nor the Trump administration's cheerleaders are capable of engineering a reversal of fortune for coal. So what exactly does the U.S. have to gain, aside from the adoring gaze of Fox News telecasters and coal magnates?
The positions the White House is advocating for in Bonn not only defy logic, but have the effect of completely isolating the United States. Departing even from retrograde petrostates like Russia, Saudi Arabia, and Venezuela, the United States is now the only country actively advocating for fossil fuels as a climate change solution. (The others at least have the good sense to keep quiet, while Saudi Arabia is orchestrating a historic pivot towards solar power.) "After forfeiting international leadership on climate, the Trump White House is compounding their error with a silly stunt," Senator Brian Schatz of Hawaii told the New York Times. "Fossil fuel companies are not clean energy companies, and no amount of spin will change that."
No one has been fooled. Since announcing its intent to quit the Paris Agreement this spring, the Trump administration has failed to rally to its side a single country, evidence that U.S. defiance belies its international isolation. Even worse, it has exposed its own weakness both internationally and at home. With the accession of Syria and Nicaragua to the Paris Agreement in the past month, the U.S. has the dubious distinction of being the only party to the UN climate change convention that does not support Paris. On the domestic front, American allies of climate action and international collaboration have badly undercut the Trump administration message in Bonn. A cadre of Democratic senators, governors and mayors descended on Bonn to announce, "We're still in [the Paris Agreement]." Led by California Governor Jerry Brown and Michael Bloomberg, the coalition of climate hawks, called America's Pledge, on Saturday released a report arguing that action at the state and local level alone can help ensure that the U.S. can meet its Obama-era Paris target. Its signatories, which have "adopted quantified emissions reduction targets" include "a total of 20 U.S. states, 110 U.S. cities, and over 1,400 businesses with U.S. operations representing USD $25 trillion in market capitalization and nearly 1.0 gigatons of GHG emissions per year," or roughly one-sixth of U.S. emissions.
And the UNFCCC negotiations continue apace. Countries from around the world are showcasing their actions on climate, including the German hosts and the Chinese. While it's undeniable that the U.S. positions have cast a pall on the global mood, no other countries have retreated from the climate negotiations or abandoned their national commitments, called "contributions," submitted under the Paris Agreement.
Instead of leading in the energy sector or in diplomatic forums, the U.S. seems intent on being first in obtuseness, particularly regarding science and the already mounting costs of climate impacts. What has the U.S. response been to the new report from the Lancet that documents climate change's role in increasing transmission of tropical diseases, and that since 1990 climate change has raised by 125 million the number of people worldwide vulnerable to heatwaves, and reduced global labor productivity by 5 percent? Or the new report by the U.S. Government Accountability Office that climate change has cost the federal government $350 billion in expenditures of firefighting, flood and crop insurance, and disaster relief over the last decade? Or the federal government's National Climate Assessment (NCA), just released this month, which documents the brutal and overwhelming evidence of human impacts on climate change, and the resultant increased temperatures, sea level rise, and incidence of wildfires across the U.S.?
Take it from EPA administrator Scott Pruitt, responding to a question about the U.S. pullback on the Obama-era Clean Power Plan: "Does this [NCA] report have any bearing on that? No it doesn't. It doesn't impact the withdrawal and it doesn't impact the replacement." As a bellwether of the Trump administration, he's right on target. If all you care about are adoring gazes from the far right and fossil fuel barons' campaign contributions, devastating climate damage, hobbled diplomacy, and international isolation don't matter a whit. And so we are learning the hard way that "America First" is really "America left behind."
Andrew Eil is an independent consultant with expertise in climate change and clean energy policy, international development and sustainable investing. As former Coordinator of Climate Change Programs at the State Department, he managed a $75 million portfolio of clean energy programs. Prior to the State Department, Andrew worked for the World Bank. Andrew has an MPA from the Woodrow Wilson School at Princeton University and a BA in Russian history and literature from Harvard University.