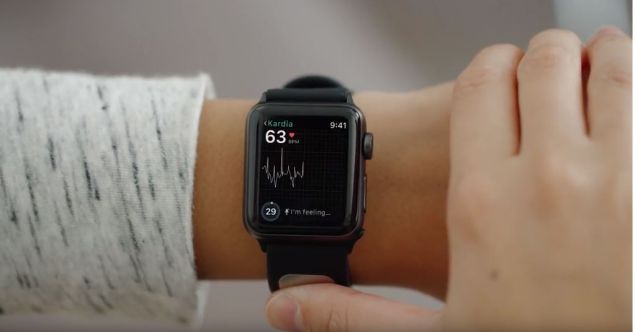 Apple may sometimes seem like a heartless tech company, but its newest Apple Watch feature is aimed squarely at cardiac health.
Today KardiaBand, a device that detects dangerous or abnormal heart rhythms, became the first Apple Watch app cleared for medical use by the Food and Drug Administration (FDA). The device, a black band which attaches to the watch, measures the wearer's heart rate every five seconds and tells them when it's out of their expected range.
KardiaBand can record an EKG (heart rhythm test) in only 30 seconds with its one-touch sensor, which displays the results on the watch face. The sensor can also test for atrial fibrillation (AFib), or irregular heartbeat, which affects 30 million people worldwide and one in four people over the age of 40.
"This is a paradigm shift for cardiac care as well as an important advance in healthcare," Dr. Ronald Karlsberg, a cardiologist and professor of medicine at Cedars-Sinai Heart Institute, said in a statement. "KardiaBand is a giant leap in personalized health."
KardiaBand, which is manufactured by medical artificial intelligence company AliveCor, is also introducing a new feature as part of the Apple Watch launch. Called SmartRhythm, it uses the watch's heart rate and activity sensors along with AI to evaluate the body's heart rate and physical activity level. If the two values are not in sync, KardiaBand automatically captures an EKG. The data can be stored in-app, imported into Apple Health or sent to a doctor.
The Kardiaband system is available on all Series 3 Apple Watches for $199, though users must also subscribe to AliveCor's Premium service for $99 a year. Patients then receive SmartRhythm notifications on Apple Watch, automatic AFib detection and unlimited EKG recordings. They can also view all their results on the cloud and track their weight and medications.
Thanks to the FDA clearance, AliveCor can sell and market KardiaBand as a medical device—though patients don't need a doctor's approval to use it.
Apple stock was up more than one percent following the heart health news.
The company also announced a new heart study with Stanford University School of Medicine today. Apple will collect data on AFib from watch users who are at least 22 years old and download the Apple Heart Study app. The findings will be submitted to the FDA.