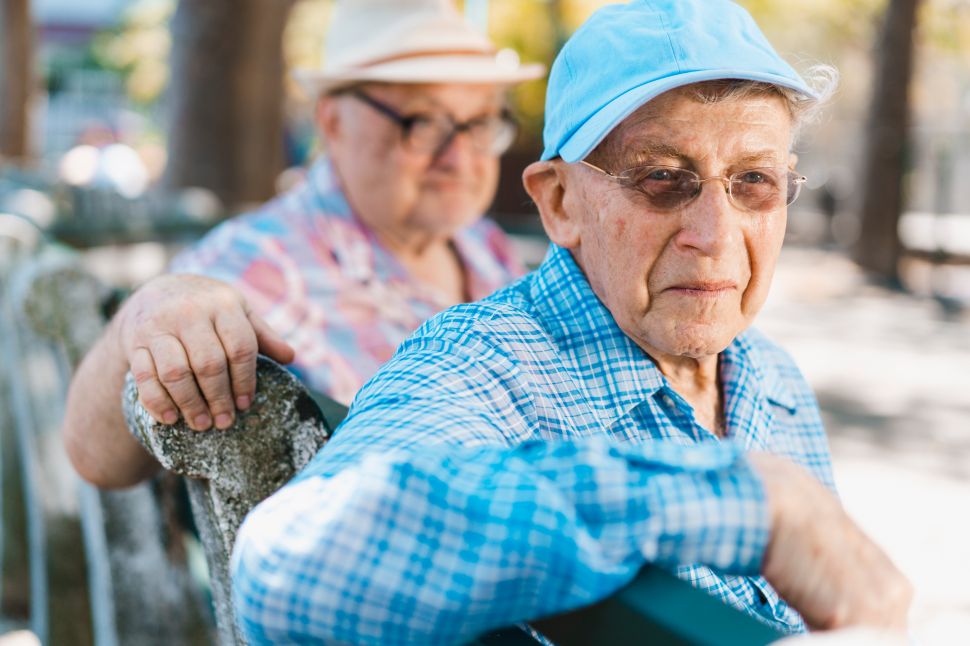 This year, Annie Hall, the beloved witty, neurotic, Oscar-winning classic from 1977, turned 40—a major age milestone for most, but even more so for Alvy, the film's leading man, who anxiously surmised in his opening monologue, "I turned 40 and I guess I'm having a life crisis or something."
Age, however, is just a number for New York–based artist Matt Starr, who, along with theater director Ellie Sachs is working on a Kickstarter-funded remake of the movie with a cast of octogenarians from the Lenox Hill Neighborhood House on Manhattan's Upper East Side. The completed film in due out in December.
Despite Annie Hall's sizeable cult following, for Starr the project stemmed from a very personal experience. "I visited my grandma, Maxine, a few years ago. It had been a while since I'd last seen her and she was showing signs of Alzheimer's," he told Observer. "She kept asking the same question over and over again," leaving him at a loss for how to connect more effectively with her.
He decided to play some music and movies from when she was young to stir her memory, and when he put on Casablanca, something changed, according to Starr. "She started reciting lines and assuming the role of Ingrid Bergman's Ilsa," he said. Starr would then play the Humphrey Bogart character opposite her. He used this as a means of communication with her and started to wonder if movie role-playing could be a catalyst through which other seniors might find meaning and connection.
Indeed, Starr's artistic practice has often explored how media shapes our individual and collective realities. Like his contemporaries Brad Troemel and Chloe Wise, the 28-year-old new media artist often employs social media as a tool of creation and dissemination in his work, as seen in his viral Internet trend experiment, "Babycore," in which he riffed on the Normcore fashion trend by posting photos of himself and a toddler dressed in matching colorful casual ware. The Annie Hall project isn't the first time he's re-staged a cultural touchstone—his 2014 installation, "TheLimited F#cking 2," was a subversive, sexualized re-envisioning of the 1990s tween retail behemoth, The Limited Too.
When it came to restaging films, however, Starr decided to enlist some help from Sachs, a director and facilitator with a professional history firmly rooted in community work. Sachs has taught and created improvisation and theater classes in prisons, schools, and low-income housing community centers. "I figured she'd be the perfect person to help me realize this vision," he said.
Together, they decided to teach a three-month "Interpretive Film" class to elderly people, including improvisation, acting techniques and script analysis. They billed it as an art therapy exercise to achieve similar memory results to those Starr experienced with his grandmother, and pitched it to senior centers all over Manhattan until the Lenox Hill Neighborhood House on took them up on the offer.
"At the start of the project, we explained to the participants we'd be recreating scenes from a classic Hollywood film and had them rank a list of 10 movies from one to ten," Sachs explained to Observer. It was a tie between Annie Hall and Singin' in the Rain. "We felt it best to pursue Annie Hall for two main reasons: it's timeless and ageless, and it would be easier to recreate classic scenes from the film in their original locations," she said, noting the senior center  is within walking distance from many of the film's original locations.
As the class continued through spring 2017, Starr and Sachs became overwhelmed with the amount of enthusiasm from their students, and their eagerness to act in a film. Starr and Sachs decided to extend the project by directing a full recreation of Annie Hall.
Shula Chernick, in her mid 70s, was cast as the titular Annie, while Harry Miller, 94—an Emmy-Award winning set designer on hit TV shows like Captain Kangaroo and the soap opera Guiding Light—snagged Alvy's role. It was the first time on camera for both.
"A lot of our ensemble came into the project with the preconceived notion that we were using film," Starr said. "They assumed it was still the industry standard." This prompted a lot of nervousness among the cast  because they thought it would be costly to reshoot their scenes. "When we explained that it was digital (and showed them the monitor) a lot of the pressure was off and they were able to just enjoy themselves and focus on the scene. That's when we got great performances."
For Starr and Sachs, they hope the finished product will help counter the ageism that permeates our youth-obsessed media culture. "There is a pervasive misconception that elderly people are less worthy, less capable, less funny, less sexy, less able," said Sachs. "From our experience, we know that to be fervently untrue."
Margaret Carrigan is a freelance writer and editor. She planned to go to law school but she did terribly on the LSAT, so she got a master's in art history instead. She lives in Brooklyn with her cat, who is named after Alyssa Milano's character from the early aughts CW smash hit series Charmed.