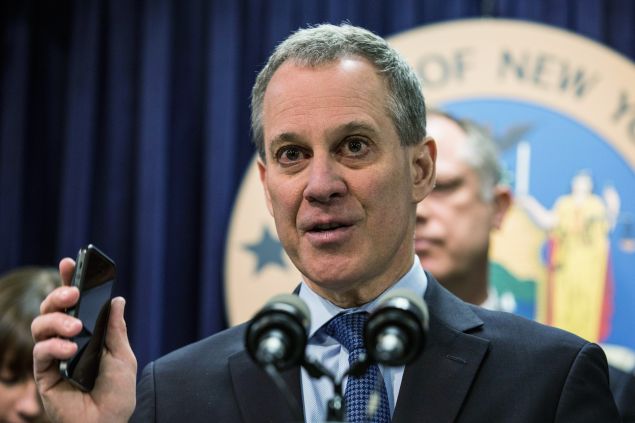 New York Attorney General Eric Schneiderman said that he is "disappointed" by a Brooklyn jury's decision to acquit an off-duty cop who fatally shot an unarmed black man in a Brooklyn road rage shooting last year.
On July 4, 2016, Police Officer Wayne Isaacs, 38, shot and killed Delrawn Small, 37, after they argued while driving and subsequently stopped at a traffic light in East New York. A week after the shooting occurred, Gov. Andrew Cuomo announced that the shooting was within the scope of an executive order he signed in 2015 making Schneiderman the special prosecutor in cases in which law enforcement kills a civilian under dubious circumstances.
Isaacs, who was stripped of his badge and gun a week after the shooting, was cleared of murder and manslaughter charges, according to the New York Daily News.
"We are disappointed by the verdict, but we respect the jury's determination and thank them for their service," Schneiderman said in a statement. "I also want to thank the family of Delrawn Small for their courage and perseverance in the face of tragedy. My office will continue to investigate these cases without fear or favor and follow the facts wherever they may lead."
Video footage emerged that contradicted Isaacs's account of the incident. Isaacs claimed that he shot Small in self-defense after Small started punching him through his open car window. But the surveillance tape shows that he fired his service weapon at Small just seconds after Small approached his car.
The governor also expanded the executive order to give the attorney general prosecutorial power over "any and all unlawful acts or omissions or alleged unlawful acts or omissions by any law enforcement officer relating to the death of Delrawn Small." The original draft only applied to cases in which an officer killed an unarmed individual, or in which it was not clear whether the deceased individual had a weapon.
In a statement provided by Communities United for Police Reform, Small's brother and sister, Victor Dempsey and Victoria Davis, called on Mayor Bill de Blasio and Police Commissioner James O'Neill to immediately fire Isaacs.
"The fact that Officer Isaacs failed to protect public safety — shooting Delrawn three times and then failing to administer emergency care or even alert 911 to the fact that he shot him, which led to Delrawn bleeding out on the street and dying — is a clear indication that he doesn't deserve the responsibility of being a police officer," they continued.
The NYPD told Observer that Isaacs will remain on non-enforcement duty without a service weapon as the department conducts its internal investigation into the incident.
"Any further disciplinary action to be taken in connection with this matter will be based on the findings and recommendations made at the conclusion of the Departmental inquiry," Sergeant Jessica McRorie, an NYPD spokeswoman, said in a statement.
Austin Finan, a spokesman for the mayor, also confirmed Isaacs' status "pending a complete internal investigation."