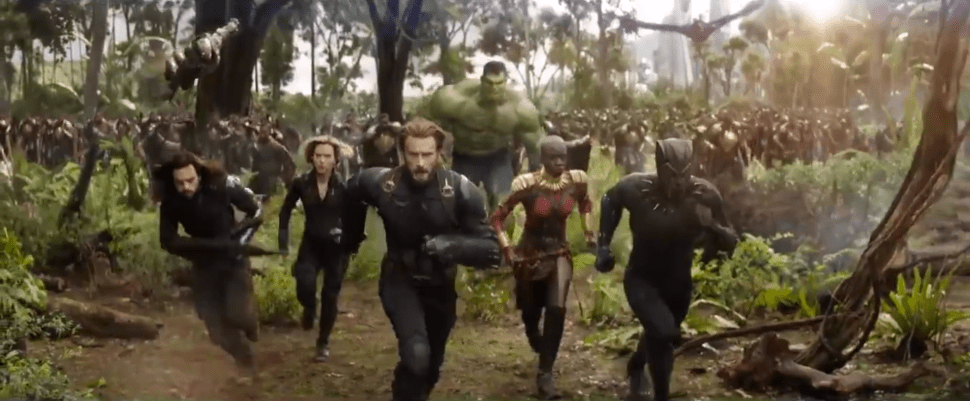 Much has been made about the future of the Marvel Cinematic Universe following the next two Avengers films: Avengers: Infinity War and the untitled Avengers 4. Marvel Studios head honcho Kevin Feige has already stated that the latter film will mark an end to the current era of the MCU, throwing around words like "conclusion" and "finite" when discussing what form the series will take moving forward. It's not a coincidence that the contracts of several MCU cornerstone actors will end after Avengers 4—meaning fans may want to brace themselves for a few heart wrenching deaths. And while the Guardians of the Galaxy series will help set up the next decade-plus of cosmic MCU stories, this earth-bound chapter is coming to a close as we know it.
Thankfully, we still have a few more years until we have to say goodbye and only six more months until we get to say hello to Infinity War. Today, Marvel officially kicked off its marketing campaign with the film's first trailer. Check it out.
Avengers: Infinity War is directed by Joe and Anthony Russo, the brother duo behind arguably the MCU's top entries in Captain America: The Winter Soldier and Captain America: Civil War. The pair will also helm Avengers 4, which was shot back-to-back with Infinity War to ensure the involvement of the massive and sprawling casts. Yeah, these movies are going to be filled to the brim with superheroes.
Infinity War stars (deep breath): Robert Downey Jr., Chris Evans, Chris Hemsworth, Scarlett Johansson, Mark Ruffalo, Jeremy Renner, Elizabeth Olsen, Anthony Mackie, Paul Rudd, Chris Pratt, Zoe Saldana, Dave Bautista, Pom Klementieff, Tom Holland, Benedict Cumberbatch, Chadwick Boseman, Sebastian Stan, Peter Dinklage, Josh Brolin and more. The sheer amount of capes and tights required for this movie is going to set Disney's costume department back a pretty penny.
Avengers: Infinity War hits theaters on May 4, 2018. It will be followed by Ant-Man and the Wasp (July 6, 2018), Captain Marvel (March 8, 2019), Avengers 4 (May 3, 2019), Spider-Man: Homecoming 2 (July 5, 2019) and Guardians of the Galaxy Vol. 3 (2020). After that (or fit somewhere in between), fans can likely expect sequels to Doctor Strange and Black Panther as well as introductory origin story films for new MCU characters.