Famed retired Philadelphia Phillies and Toronto Blue Jays pitcher Roy Halladay tragically died on Tuesday. His Icon A5, a single-engine airplane that he was piloting, crashed into the Gulf of Mexico miles off the coast of southwest Florida. He was 40 years old.
The Pasco County Sheriff's Department was notified by a local resident of the crash at 12:06 p.m. After a search, authorities spotted Halladay's seaplane upside down in shallow water. Sheriff Chris Nocco reported that Halladay was the sole occupant of the aircraft, after a four-hour search and recovery operation. The Sheriff also reported no indication of any type of distress call to local air traffic control by the ill-fated flight. The National Transportation Safety Board (NTSB) will be the lead investigating body from this point forward.
Glancing at Halladay's twitter page, one can't help but notice his love for both flying and his new airplane. On Halloween Halladay tweeted, "I keep telling my dad flying the Icon A5 low over the water is like flying a fighter jet!"
Apparently Roy's wife, Brandy Halladay, was at first opposed to her husband getting his pilot license. In a promotional video by the aircraft manufacturer that has since been deleted from YouTube, she says that she initially "fought hard " against it. Roy went on to obtain his license in 2016 and took delivery of the airplane, in which he would have his accident, on October 12, 2017.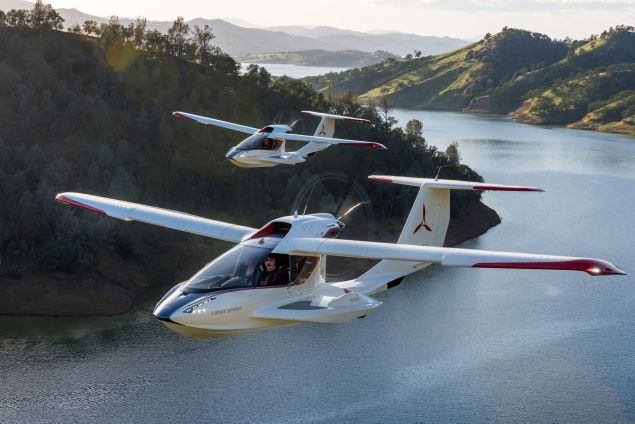 Roy's airplane was a special Founders Edition, Icon A5, and was the first in a limited edition of 100. The Icon A5 is an extremely unique model in itself, though it's a relative a newcomer on the commercial circuit. Its first test flight took place on July 16, 2008, with the maiden flight of the first production aircraft following six years later, in July, 2014. Prior to Tuesday's accident there were two other incidents involving this particular plane, one of which was fatal; both occurred this year.
The Icon A5 is unusual in that its wings fold, making it, in a sense, portable. It could even be trailered behind a car. Halladay's aircraft was equipped with a whole airplane parachute system, which could be manually be deployed in a catastrophic failure situation, making impact with the land or water theoretically survivable.
The Icon A5 is also amphibious, capable of making both water and ground landings. It's classed in the less stringent Light Sport Aircraft designation, which doesn't require the aircraft to have extensive on-board equipment and instrumentation, and the horsepower of these engines is limited. Unlike normal designated certificated aircrafts, all planes in this category are prohibited from being operated Instrument (IFR) conditions, which in layman's terms means that these types of planes should not not be flown in bad weather with low visibility, low cloud bases or fog. I think that it is safe to say that the NTSB will be scrutinizing the aircraft logs, wreckage, pilot training flight logs, pilot medical history and weather conditions at the time of the accident to see what may have played a role.
Icon Aircraft released the following statement to ESPN late Tuesday: "We were devastated to learn that former MLB pitcher Roy Halladay died today in an accident involving an Icon A5 in the Gulf of Mexico. We have gotten to know Roy and his family in recent months, and he was a great advocate and friend to ours. The entire Icon community would like to pass on our deepest condolences to Roy's family and friends. Icon will do everything it can to support the accident investigation going forward and we will comment further when more information is available."
The NTSB typically takes about a year to release whatever findings it concludes from any of its investigations. It seems as if we experience these accidents with the rich and famous far too often—as with the cases of Cory Lidle, JFK Jr. and John Denver. May these accidents at least serve to make aviation safer, and aviation fatalities as rare as humanly possible. We must learn from any findings the NTSB findings releases and act on them.
Kyle Bailey is a television news aviation analyst, pilot and former FAA Safety Team Representative. Follow him on Twitter: @Kyleb973.