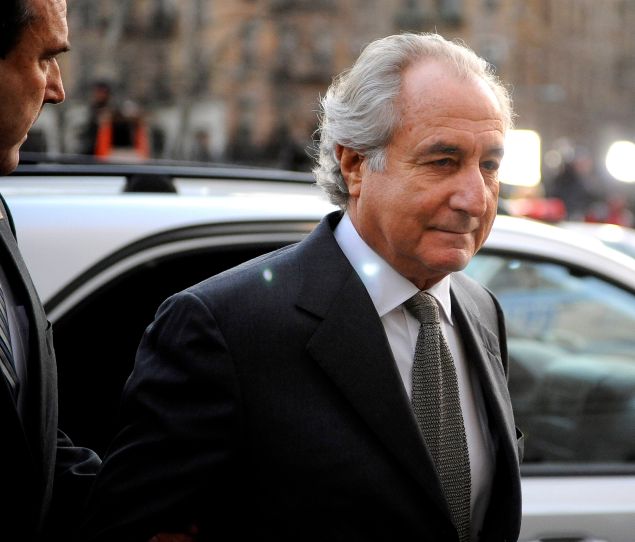 After almost 10 years, Bernie Madoff's victims are finally getting some relief.
The Department of Justice announced yesterday that it had begun distributing relief to the 24,000 victims of Madoff's Ponzi scheme, the biggest investment fraud in U.S. history.
The Madoff Victim Fund will distribute $772.5 million in its initial cash infusion. Deputy Attorney General Rod Rosenstein said the payout was "the largest restoration of forfeited property in history."
Even so, these funds represent only a fraction of the $4 billion that was recovered for the victims in total. And that figure seems even smaller considering prosecutors estimate Madoff cheated his clients out of $64.8 billion in total.
Madoff, the chairman of an eponymous securities firm, made the wealth management arm of his business into an elaborate Ponzi scheme, fabricating investment figures to make his clients think they were making money.
He carried on the four-decade-long swindle until 2008, when he was arrested and charged with 11 federal felonies. The 79-year-old pleaded guilty and is currently serving a 150 year prison sentence in Raleigh, North Carolina.
Madoff's clients included New York elites like Daily News owner Mort Zuckerman (who lost $30 million), author and Holocaust survivor Elie Wiesel (who lost his $12 million life savings along with $15 million for his foundation), socialite Zsa Zsa Gabor (who lost $10 million) and actor John Malkovich (who lost $2 million). Wiesel and Gabor have since died.
The money in the $4 billion Victim Fund isn't even Madoff's—it was collected from third parties. More than half came from the estate of Madoff investor Jeffry Picower, a Madoff investor and beneficiary who reportedly netted $5 billion from the Ponzi scheme (more than Madoff himself). Madoff's victims sued Picower prior to his death in 2009.
About $1.7 billion in the fund came from JPMorgan Chase, which was fined under the Bank Secrecy Act because it turned a blind eye to Madoff's activities.
Richard Breeden, the administrator of the Victim Fund, was criticized for taking $39 million in billings from it through the end of last year. Even Congress took notice: Florida Senator Vern Buchanan, whose state was hit hard by Madoff's scheme, asked his state's entire congressional delegation to put pressure on Breeden and the Justice Department.
The process was complicated by the fact that many of Madoff's victims invested in feeder funds, which were overseen by outside investors. Most of these investors put their clients' funds in Madoff's till without letting those clients know—so they initially didn't realize they had lost all their money.
A separate victim fund overseen in bankruptcy court by Madoff trustee Irving Picard has distributed more than $9 billion since 2009. This fund doesn't accept claims from anyone who didn't invest directly with Madoff, making cash payouts simpler.