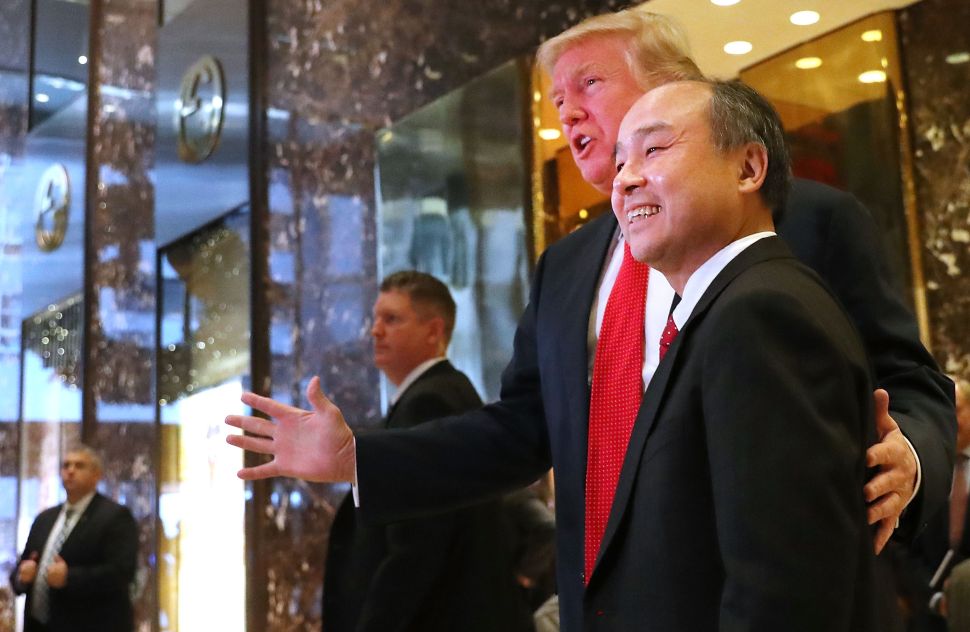 SoftBank, the Japanese telecommunication giant, has become the latest investor in Uber, funding $1 billion in partnership with three other investors. Reuters reported the deal is confirmed after a month-long boardroom war inside Uber.
In addition, the SoftBank-led consortium will buy 17 percent of investor and employee shares in Uber in a secondary transaction, Reuters reported.
SoftBank is arguably the strongest corporate presence in global venture capital, Silicon Valley included. It has stakes in many high-profile U.S. startups like Slack, WeWork and SoFi.
In October 2016, SoftBank announced the launch of SoftBank Vision Fund, a $100 billion venture fund aiming to invest in tech-oriented startups in the next five years.
So far, the fund has raised $93 billion, only a short way from its fundraising goal.
But, contrary to what the name suggests, SoftBank isn't actually the largest owner of the SoftBank Vision Fund. SoftBank Group, the entity that runs SoftBank's regular business, has $28 billion stake in the fund. The largest shareholder is the Public Investment Fund of Saudi Arabia, a sovereign wealth fund which committed $45 billion to the fund; Mubadala Investment Company, a government fund of the United Arab Emirates, committed $15 billion; and remaining $4 billion was raised from Apple, Foxconn, Qualcomm and Sharp.
Here is a list of U.S. startups, in addition to Uber, that SoftBank Vision Fund has invested in (solely or with other investors) since its formation in 2016:
Mapbox (Data platform): $164 million, October
Petuum (Artificial intelligence): $93 million, October
Slack (Messaging app): $250 million, September
WeWork (Space sharing): $2 billion in private equity and $1 billion in secondary market offering in February, and $1.4 billion in August.
Talkspace (Healthcare): $31 million, September
Kabbage (Financial technology): $250 million, August
Brain Corporation (Autonomous navigational technologies): $114 million, July
Nauto (Artificial intelligence): $159 million, July
Cybereason (Cybersecurity): $100 million, June
Guardian Health (Healthcare): $360 million, May
Dome9 Security (Cybersecurity): $16.5 million, April
Zimperium (Mobile security): $15 million, March
Viro Media (Virtual reality): $2.5 million, March
SoFi (Lending platform): $500 million, February
Radish (Entertainment platform): $3 million, January
OneWeb (Broadband service): $1.7 billion, December 2016
Source: CNN Money, Crunchbase, SoftBank Vision Fund