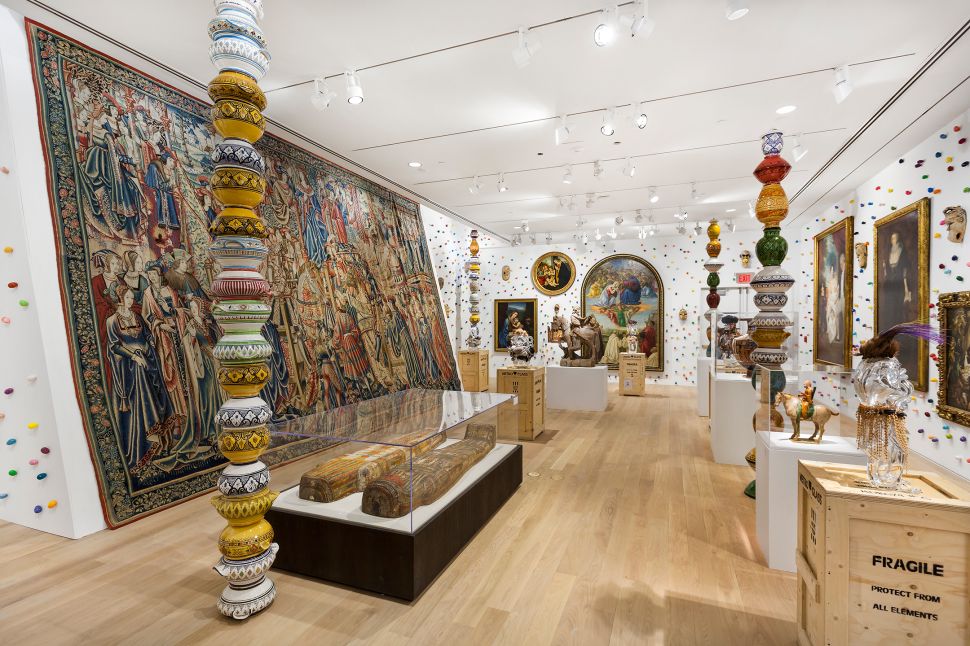 Beginning just two weeks after Thanksgiving and three weeks before Christmas, Miami Art Week offers aesthetic antidotes to your holiday woes. Overdid it on the turkey and pumpkin pie? Detox with specialty oatmeal at Design Miami's Lizworks booth. Need fresh conversation pieces after banal family catch-up sessions? View a film at the Pérez Art Museum Miami by Twelve Years a Slave director Steve McQueen, that celebrates singer, actor, and Civil Rights activist Paul Robeson, or soak up the work by Mika Rottenberg at the Bass Museum that takes on capitalism. Mojo-less from sexless nights under your parents' roof? At the Nautilus Hotel, Suzy Kellems Dominik's 12-foot neon sculpture of an orgasming vagina might offer some encouragement. While the main fair (Art Basel Miami Beach) extends from December 7-10, special events begin as early as the December 1, when the Institute of Contemporary Art (ICA) opens its new home in the city's Design District. Here's all the art to see at this year's extravaganza in the sunshine state.
Galleries
Beware flying barricades at Little Haiti's Spinello Projects, where local artist Antonia Wright meditates on protest and provocation. A piston will shoot small barriers at a much larger one, which shields the audience from harm. At nearby Nina Johnson Katie Stout's funky, anthropomorphized furniture is on view. Check them out beginning December 4, the same day that Miami Beach's David Castillo Gallery opens an exhibition of work by Christina Quarles. Her paintings exploring queerness and identity were recently featured at the New Museum's Trigger: Gender as a Tool and a Weapon show.
In the Design District, Locust Projects presents sculptor Nancy Davidson's first exhibition in Miami: large, zany inflatables reminiscent of the body. Textiles are in at Dimensions Variable, where A Thread of Execution presents tapestries and other fabric-based work by eleven artists.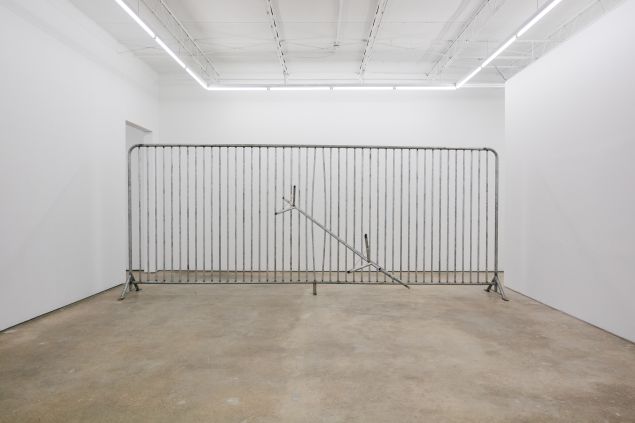 Museums
On December 1, the Institute of Contemporary Art Miami (ICA) will open its new home in the Design District. Don't miss paintings by Chris Ofili or the exhibition "The Everywhere Studio," which is devoted to the concept of the artist's studio.
Opening December 6 at the Rubell Family Collection, Allison Zuckerman's fusions of historical tropes and digital art offer wry cultural critiques. The same day, the Cisneros Fontanals Art Foundation (CIFO) begins their celebration, entitled Triángulo, of three major figures in Cuban geometric art: Carmen Herrera (who, last year, enjoyed a major retrospective at the Whitney), Loló Soldevilla and Sandu Darie.
After a two year renovation, South Beach's Bass Museum reopened in October with exhibitions of work by Ugo Rondinone and Pascale Marthine Tayou, both filled with color and one filled with clown sculptures (Rondinone's). Beginning December 7, they'll present Argentinian artist Mika Rottenberg's film and sculpture, which often critique late-stage capitalism.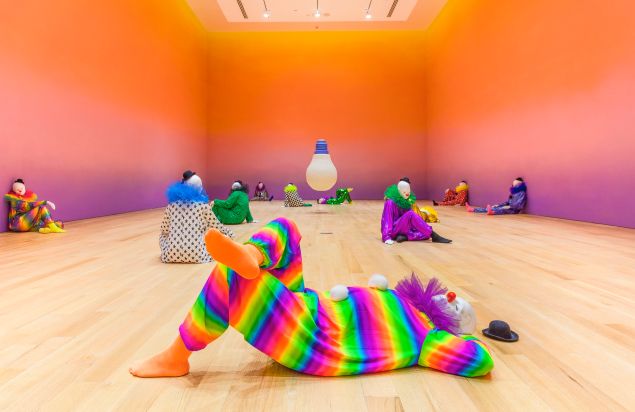 Located in a stunning Herzog and de Meuron building, The Pérez Art Museum Miami (PAMM) will exhibit a video installation by Oscar-winning film director and visual artist Steve McQueen, who's enjoyed cross-disciplinary success in recent years (he also had a show at the Whitney). When you max out on contemporary art, head to the Lowe Art Museum at the University of Miami for some easily digestible pop art prints.
Fairs
Art Basel Miami Beach is, of course, the main event. Special sections include "Nova" (works created within the last three years), "Positions" (focusing on new talent), "Survey" (art historical shows; don't miss Judith Bernstein at The Box) and more. Booths for galleries participating in "Kabinett" will feature artist-curated spaces. For a focus on Latin American Surrealism, visit the Di Donna Galleries booth.
At Design Miami, don't miss the "Curio" section, where special projects range from Liz Swig's booth of inventively-flavored oatmeal samples and terracotta bowls designed by the Campana Brothers to Harry Nuriev's Russian drainpipe-inspired light fixtures.
Over at NADA Miami, Detroit's Reyes Projects will fill their booth with artist Marie Herwald Hermann's minimal ceramics and maximal wallpaper. NADA returns to the Ice Palace this year after Hurricane Irma created problems at their planned location, Deauville Beach Resort.
INK Miami Art Fair, located at the historic, palm tree-lined Suites of Dorchester, will exhibit works on paper in an open-air courtyard.
At PULSE Art Fair at Indian Beach Park, view new films on the subject of power in the "PLAY" section, curated by Jasmine Wahi and Rebecca Pauline Jampol.
Untitled, under new direction by Manuela Mozo, will feature a Gordon Matta-Clark Garbage Wall. Initially created to acknowledge the first-ever Earth Day in 1970, the newest iteration will comprise local marine debris. Indeed, one man's trash is another man's art fair project.
Miscellaneous
On December 4, the Knight Foundation celebrates its tenth anniversary throughout Museum Park. Listen to a live sound installation by the New World Symphony at the Frost Planetarium and enjoy a series of surprise performances.
From December 6 to 10, luxury watch brand Audemars Piguet presents a commission by multidisciplinary artist Lars Jan. Entitled Slow-Moving Luminaries, the installation at Miami Beach Oceanfront, between 20th and 21st Streets, will function as an intricate, immersive labyrinth.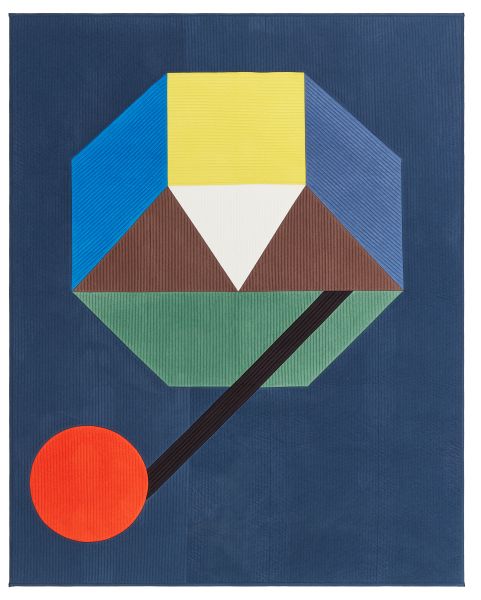 At Hermès in the Design District, check out a textile collaboration with artist Seulgi Lee, who transformed Korean proverbs into bright, bold symbols on a line of blankets. Nearby, the façade of the newly opened Gucci boutique features a mural by Spanish artist Coco Capitán.
The iconic outdoor art park, Wynwood Walls, will debut twelve new murals by an international roster of artists including David Choe and Felipe Pantone. All center on the idea of fearlessness; the walls will encourage visitors to take courageous risks—artistic, political, personal—as the new year approaches.
Alina Cohen is a freelance writer based in Brooklyn.