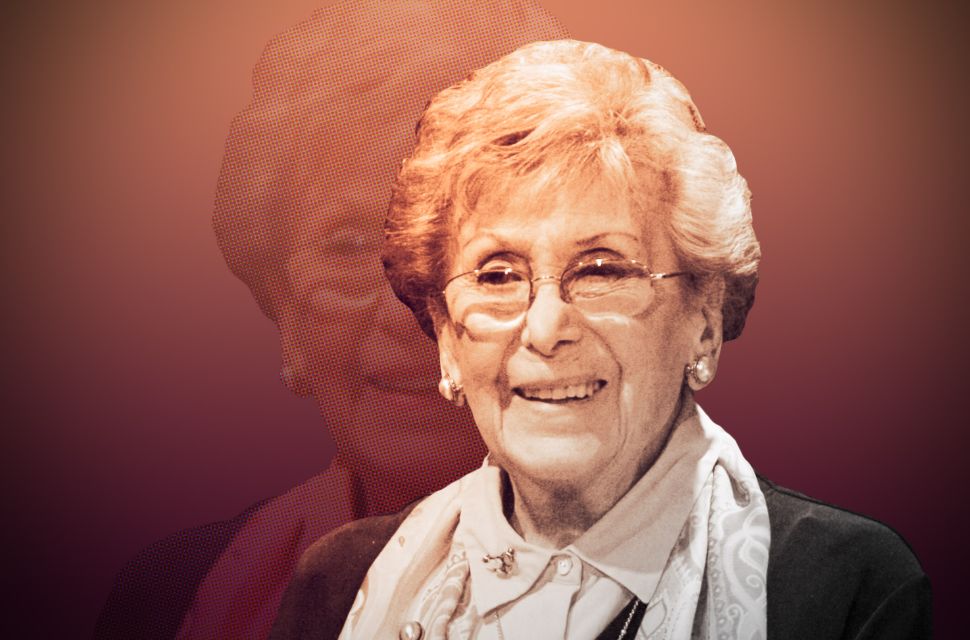 Superman, Batman, Wonder Woman and the whole Justice League would be advised to make a place in their number for an authentic hero of the arts. She may look like a mild-mannered, little-old-lady librarian, but, underneath, she's really Betty Corwin.
Corwin, who'll be 97 on November 19, spent 31 of those years running the Theatre on Film and Tape Archive (TAFT) at the NYPL for the Performing Arts. It was her idea, in fact, and, for that singular vision, The League of Professional Theatre Women filled Sardi's Eugenia Room recently to toast the trailblazing Betty and give her a Tiffany bowl for lifetime achievement. Indeed, achievement is the word for it.
Among the ladies who lunched: Oscar winner Estelle Parsons, Kennedy Center Honoree Carmen de Lavallade, three-time Obie winner Kathleen Chalfant, Pulitzer Prize-winning playwright Paula Vogel, critic Linda Winer, comedian Jamie deRoy, producers Daryl Roth and Pat Addiss and the cast of the latter's Shakespeare-based musical, Desperate Measures.
"I'm passionate about the theater," Corwin told the members of the gathering, all of whom suspected as much. This is what comes of having show-savvy parents who expose you at an early and impressionable age to the likes of Ethel Merman, William Gaxton, Harry Richman…
"Even then," Corwin recalled, "I had a thought in mind that some day—some day—someone will record these artists," but it took time and detours for her to realize she was that someone. In the meantime, she married a Connecticut doctor, raised three children and led a perfectly contented life as a Broadway-loving civilian. With time on her hands, she volunteered for the psychiatric emergency room at Jacobi Hospital in the Bronx, which proved useful in her future life as a wrangler of artists and unions.
On the hospital bulletin board, she noticed an announcement that the Rockefeller Foundation was offering training to five women to become paraprofessional psychiatric social workers, so she applied. "Part of the application was to write your autobiography," she said, "so I was typing away, talking about my mother and father and brother, and, suddenly, I found myself typing, 'The most exciting time of my life is when I worked in the theater.' Then, I stopped and thought, 'What am I doing?'
"I never finished that autobiography. I called the woman in charge, and I said to her, 'Agnes, thank you so much for helping me find out what I really want to do.'"
Her ex-sister-in-law, Helen Harvey, then an agent at William Morris, helped her fine-tune it. "'Why don't you try to film theater?' she said. I said, 'Are you kidding?' She said, 'No. Everybody talks about it. Nobody does anything about it. Why don't you?'"
She took this hardly-new idea to "a responsible institution"—The New York Public Library for the Performing Arts—and pitched it to the dean of drama there. He wondered how she was going to do that. "I said, 'I don't know if I can, but I want to try. I know, before I do anything, I have to get clearance from eight or nine unions."
Sans salary, Corwin bargained for a desk, a phone and three months of time at the Lincoln Center Library to turn her dream into a reality. At the end of three months, she had only one agreement—with Actors' Equity—but the library kept her on.
To speed up the negotiations, Corwin needed a product to show. "I knew I couldn't do Broadway, but I could do an Off-Broadway show—they didn't require any unions.
"I put an ad in the paper for a cameraman and hired the cheapest one in New York. His name was Bob Brady, and he had his own equipment. We went down to Sheridan Square Playhouse, and we taped The Golden Bat. He sat there in front of his equipment, totally stoned, a haze of smoke over his head, but we got our first show."
More Off-Broadway tapings followed, but Corwin realized the archive must have Broadway shows. It took two years for the Dramatist Guild and the Directors and Choreographers to come around, but the stagehands and musicians dug in their heels. "They hated me. All my letters were answered with a big NO. All my telephone calls were rejected. I was distraught. There was no way I could get to those unions."
Then, one day, Corwin found herself walking along 46th Street in front of a building engraved I.A.T.S.E.—International Alliance of Theatrical Stage Employees—and the spirit moved her. "I thought, 'Goddammit! I'm going up there!'" And she did just that.
"It was like a scene from On the Waterfront. There was this guy with his feet up on the desk, leaning back against the wall, smoking a big cigar. He never asked who I was or what I wanted. He just said, 'Yeah?' I said, 'I'd like to talk to Dick Nimmo.' I heard him on the intercom say, 'Hey, Dick, there's a pretty lady here to see you,' and Dick Nimmo answered, 'Send her right in.' I went in his office and said, 'I'm Betty Corwin.'
"He turned purple. Then, I sat down and didn't get up for over an hour. I told him all the other unions had agreed. I told him all the conditions that were agreed to. I told him we'd never show the tapes to anybody but students, theater professionals and researchers. And the archive wouldn't be open to the general public. I went on and on until he finally [threw up his hands and] went, 'Enough! You've convinced me.'"
An agreement was in her office the following morning. Then Corwin went into the Byzantine hierarchy of the last holdout, the musicians' union, and, by playing a few "he owes me one" cards, she managed to bring them in line.
"That day—the day we got the musicians' union—we all celebrated in the office because we knew something momentous had happened. We could record theater."
Corwin retired 16 years ago, and Patrick Hoffman took over the arduous job of building the archive. Interviews, dialogues and television shows acquired by the library over the years are among the collection's 7,000 titles, and 4,152 of these are live performances of Broadway, Off-Broadway and regional theatrical productions. Archive tapers just made Off-Broadway forays to Lonely Planet and The Home Place.
If anyone deserved a Pulitzer Prize-winning secretary, it was Betty Corwin, and she actually had one—albeit, at 26, Paula Vogel was a few years away from such award-winning work as How I Learned To Drive and last season's Indecent. She showed up to offer the crowd a few introductory notes on her former boss, the honoree.
"In my two years there," the playwright remembered, " I witnessed the triage that Betty Corwin routinely performed. There'd be a phone call on a Friday afternoon from a distraught producer. 'The show is closing tomorrow,' and Betty would leap into action, with us behind her, securing money and permissions for its future.
"To work with Betty is to become inspired by Betty. Betty taught me with her focus, her professionalism, her sense of humor and her savvy way of wearing scarves. Betty taught me how to rebound from disappointments. Betty taught me the basics of grant writing, telephone manners, the importance of saying things. I took these skills with me after two years at Brown University and formed my program of playwriting. Throughout my educational career, I've asked myself, 'What would Betty do?'
"That kind of model comes along only once or twice in a lifetime. Betty taught how upset she was, as a lover of theater, to realize the performance she saw of Laurette Taylor in Glass Menagerie was lost to future generations—that the performances of Marlon Brando and Jessica Tandy in Streetcar…would be more ephemeral than the theatrical reviews and programs in print. What Betty has given us is nothing less than living memory—the memory of performance, not the ephemeral performance itself. From the shadows of early tapes, we can imagine and picture the life force of the human body that is an actor in the space in front of the echoes of an audience."
Chalfant, who is one of the many filmed faces in the Lincoln Center Library vaults, told the group she arrived in New York in 1973 about the time Betty Corwin was ramping up her scheme and remembered how important the project was.
"We began to discover, in that way that we all do when we come to work in theater in New York, that there are certain rites of passage that make you feel as though you are somehow part of the community and you imagine that maybe you actually are doing something," the actress said. "One of these was when you'd be in some little tiny theater somewhere and people would start to whisper, 'They're going to film it for Lincoln Center,' and it was like a kind of spiritual MacArthur Grant. It was one of those things that made you feel you were a part of the American theater."
The library tapes could have the opposite effect, too. Chalfant cited a production of Samuel Beckett's Endgame she did for director David Esbjornson at CSC where she played Clov, a role usually played by a man. "As you might imagine, this caused a great deal of distress to Beckett's estate," she recalled, "and this is what they said to us: 'We only found out about this after you began the run, so you can continue the run, but—under no circumstances—can it be filmed for Lincoln Center.' What that means is that everyone in the world knows how important what [Betty's work] was. They say that history is written by the victors. Our history is written by Betty Corwin."