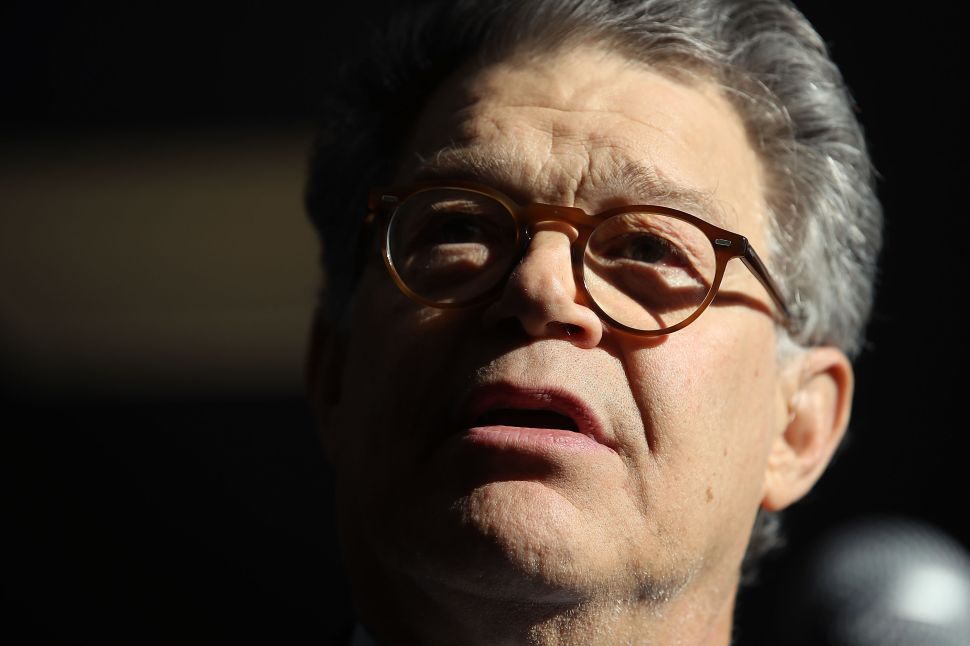 Women who accused former President Bill Clinton of sexual misconduct stormed Senator Al Franken's office on Wednesday demanding the lawmaker's resignation. In a video shared on social media, Juanita Broaddrick, Kathleen Willey, and Leslie Millwee joined one of Franken's six accusers, Melanie Morgan, for a theatrical demonstration against men who commit sexual assault.
"I am here to demand Senator Franken resign," Morgan told reporters inside the senator's office. "Senator Franken, come out and talk to us. Don't be a coward."
Morgan described her encounter with Franken 17 years ago while filming an episode of Bill Maher's Politically Incorrect, alleging the senator harassed her by phone for several days thereafter. After two members from the senator's communication team told Morgan that Franken was not available to speak, police arrived. The women dispersed shortly thereafter.
Earlier that day, Broaddrick, Willey, and Millwee held a press conference calling on Franken and Michigan Congressman John Conyers to resign from their positions.
"They are not sorry. Their apologies are weak. The only reason they apologized is because they were caught," said Millwee, who also demanded that lawmakers stop funding covert settlements for sexual harassment. "I'm tired of paying Bill Clinton's pension for what he did to me and all of these other women. I know there are many, many more like me."
Though Franken publicly supported an ethics investigation into misconduct, on Thursday morning two additional accusers came forward with allegations against the senator, bringing the total number to six. Former model Leeann Tweedon was the first to raise complaints about Franken's misconduct.