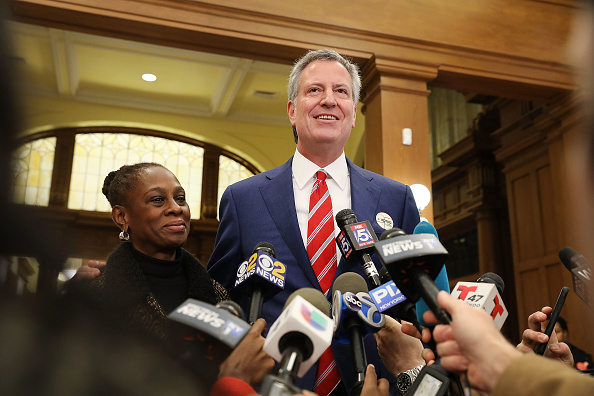 Mayor Bill de Blasio won a second term in a landslide on Tuesday, bringing four more years of Democratic rule to New York City as Council members hope for more action on key issues such as police reform, affordable housing and education.
De Blasio captured 62 percent of the vote, or 231,103 votes, in this year's general election, according to CBS New York. His Republican opponent, Staten Island Assemblywoman Nicole Malliotakis captured 32 percent of the vote, or 120,801 votes. The Associated Press called the race for de Blasio at 9:27 p.m.
De Blasio is the first Democrat to win re-election as mayor since Ed Koch, who was in office from 1978 to 1989.
Former Brooklyn Councilman Sal Albanese got 2 percent of the vote while independent mayoral candidate Bo Dietl, Green Party candidate Akeem Browder and Smart Cities candidate Michael Tolkin each got 1 percent. Libertarian candidate Aaron Commey got less than 1 percent.
The mayor's campaign balance was $1,325,121, according to his latest New York City Campaign Finance Boardfiling. He received $5,981,466 in private funds and $3,488,124 in public funds, and the total expenditures came out to $8,144,469.
De Blasio captured more than 70 percent of the vote in the Democratic primary, with 317,091 votes. But turnout was low, with 437,517 people voting in the primary, or less than 14 percent of 3.1 million active Democratic voters.
"It's a good night for progressives," de Blasio said in his victory speech at Brooklyn Museum. "It's a good night for Democrats. My friends, all of you together achieved this — the first time in 32 years a Democratic mayor is reelected in New York City. Let's promise each other that this will not be the last time. This is the beginning of a new era."
The mayor — flanked by First Lady Chirlane McCray and their son, Dante  — touted the accomplishments of his first term and spoke of other initiatives coming, including every police officer having body cameras and "3K for All," a program that provides free, full-day early childhood education for all 3-year-old children.
He noted it was the first anniversary of President Trump's victory. The United States, he said, became a little "fairer" and "bluer" tonight.
"Let's cheer so they can hear us in New Jersey. Let's cheer so they can hear us in Virginia," he said, referring to Democratic victories in those states on Tuesday night. "And tonight, New York City sent a message to the White House as well. Our message is this: you can't take our New York values and win, Mr. President. You turn against the values of your hometown, your hometown will fight back."
Ken Sherrill, a professor emeritus of political science at Hunter College, told Observer that the mayor's book of proposals four years ago was "much longer than could be accomplished in four years."
"It's like a professor who tells a student, 'You read that book four years ago, you should remember what was in it,'" Sherrill said. "I don't think that's literally what he's doing but I think he did outline what would be an eight-year plan. It was a very ambitious set of goals and almost all of his initiatives have been things that take time."
Another key factor in the coming second term, Sherrill said, is that the mayor will have fewer resources at his disposal to influence Council members given that he cannot run for re-election and some Council members will be seeking higher office. But Sherrill noted that de Blasio is freer because he will not be a candidate again.
"He's likely not to be a candidate again and so he's freer to do things that he put aside in the first term because they were too risky politically," Sherrill continued. "And some of those things are gonna be things that the City Council likes. You might see the mayor, you might see the entire city government moving further to the left."
Underdog Coasts to Victory 
In January 2013, then the public advocate, de Blasio launched his first campaign as an outer-borough working dad and public school parent who would bring a populist, progressive fight against the policies of then-Mayor Michael Bloomberg.
De Blasio vowed to create or preserve 200,000 affordable housing units by 2024, reform the controversial stop-and-frisk policing method and enact legislation to ban racial profiling, fund universal prekindergarten and after-school programs by raising taxes on the highest earners and create a municipal identification program in part to help undocumented immigrants who needed government-verified ID. He also promised to end the "Tale of Two Cities" — his campaign slogan — and said he would change a system in which the interests of the elite superseded those of everyday New Yorkers.
In November 2013, he won with 73.3 percent of the vote in a landslide victory. But only 24 percent of registered voters turned out to vote.
Four years later, he has delivered in a number of areas. He instituted universal pre-K and recently expanded the 3K for All initiative. Right-wing critics insisted that crime would balloon under his tenure, but overall crime is down.
The city has also seen an increase in high school graduation rates, two successive rent freezes and more than 350,000 jobs in the last four years. De Blasio recently announced that the city will build and preserve 200,000 affordable homes by 2022 — two years ahead of schedule — and upped the goal to 300,000 by 2026.
Manhattan Councilwoman Helen Rosenthal told Observer that he "has a lot to brag about."
"I think his pre-K work, crime coming down citywide dramatically and the affordable housing plan," Rosenthal said. "I think those are three ginormous topics that have made a real difference in New Yorkers' lives and I certainly hear that when I'm out talking with my constituents."
The mayor often touts his neighborhood policing initiative, a 93 percent drop in the use of stop-and-frisk policing and a decrease in marijuana possession arrests even as critics claim an increase. The city has also seen a 90 percent decrease in criminal court summonses issued citywide.
But police reform activists are upset that he continues to embrace the broken windows policing method that targets smaller crimes to stave off larger ones. And the mayor remains opposed to the Right to Know Act, a package of police reform bills.
Activists have also blasted de Blasio over the NYPD ending its practice of regularly providing information about disciplinary action taken against cops, and want him to close the Rikers Island detention complex sooner than his 10-year timetable.
He also faced some criticism from police officers who turned their backs on him at the funerals of two police officers assassinated while sitting in their patrol car in Brooklyn in 2014 and took issue with him warning his half-black son, Dante, about the potential dangers of interacting with police.
A coalition of affordable housing advocacy groups have also called on the mayor to fire Alicia Glen, deputy mayor for housing and economic development, because they believe she is bringing a for-profit investment model from Wall Street since she led Goldman Sachs' urban investment division. And he continues to face criticism over his handling of the city's homelessness crisis despite revealing his plan in February.
His first term was also marked by constant feuding with Gov. Andrew Cuomo. The mayor is pushing a millionaires tax on wealthy New Yorkers to fund subway repairs and reduced fares for low-income New Yorkers, while Cuomo is drafting a congestion pricing proposal.
Brooklyn Councilman Robert Cornegy told Observer that universal pre-K, a drop in the use of stop-and-frisk policing and First Lady Chirlane McCray's focus on mental health issues have had a "real positive impact" on communities of color.
But he acknowledged that there are "a lot of campaigns on the table" related to police reform that the entire city needs to "work harder on" as well as criminal justice reform.
Cornegy said that when he speaks with the mayor, he always mentions "things he'd like to do more of" to him.
"He's probably his own worst critic to some degree," he said. "While he's had these really great progressive initiatives, he'd like to do more."
Brooklyn Councilman Rafael Espinal touted the mayor's achievements but also noted that homelessness will continue to be a big issue and that he sees creating an equitable property tax system as a key priority.
He also said that advocates have said that more needs to be done on police reform.
"I hope that happens before the beginning of the next term but if not, I would imagine that it's going to continue being a big issue moving forward," Espinal said, referring to the Right to Know Act.
Unexpected Bumps Along the Way
Despite the likelihood of his victory, de Blasio faced some roadblocks in the months preceding the election.
Then-U.S. Attorney Preet Bharara and Manhattan District Attorney Cyrus Vance investigated de Blasio's administration in connection with a potential pay-to-play scheme involving his defunct political nonprofit Campaign for One New York and his failed 2014 fundraising effort for the state Senate Democrats. But in March, acting U.S. Attorney Joon Kim and Vance announced that they would not file any charges.
And as the election approached, top political donors Jona Rechnitz, 33, a wealthy Brooklyn real estate developer, testified that he gave campaign donations to the mayor in exchange for favors. The mayor called Rechnitz a liar and a felon.
Cornegy said that the mayor has done a "phenomenal job" of staying focused on his reelection campaign and his agenda in the face of "those monumental distractions."
"I think people have taken tremendous shots — some warranted and some unwarranted — but … in an election cycle, it's tough to deal with those things individually in an election cycle and I think he's done a good job of addressing them when he's had to and then redirecting everyone back to his reelection campaign," he said.
De Blasio received high-profile endorsements from Sen. Kirsten Gillibrand, Senate Minority Leader Charles Schumer, Sen. Bernie Sanders (I-Vt.) and Sen. Elizabeth Warren (D-Mass.).
What's Next? 
During his keynote address at a power breakfast hosted by the Association for a Better New York, de Blasio promised to "keep New York 'New York'" and spoke at length about the adverse impact of President Donald Trump and the House GOP's tax plan that will eliminate the federal deduction for state and local taxes (SALT).
He said his first-term achievements would help maintain the city's character, but did not offer any new proposals or initiatives that he will pursue in a second term.
Doug Muzzio, a political science professor at Baruch College, told Observer that the mayor has been "uncharacteristically silent."
"In a sense, it could be risk aversion: that he doesn't wanna take any chances by stepping out and proposing a grand scheme in terms of the election, exposure that way," Muzzio said. "And also, in the second term — presuming that he gets it — he promises a big initiative and it doesn't happen or it happens poorly, it damages his reputation."
He said that the mayor's best bet is to "play it safe," noting that he has a huge lead strategically in terms of campaigning.
"Clearly he wants to pursue exactly what he did in the first term," Muzzio continued.
Espinal pointed out that it is "no secret" that the portfolio he has now is "very large."
"We still have over a dozen rezonings that the city has to push," he said. "There's still a large homeless population they'll have to continue working on."
Rosenthal said that she would like to see the mayor continue to build affordable housing.
"In the same way that we can document crime coming down, I wanna be able to document preserving affordable housing, keeping people in their homes and he has four years to make it happen and I hope that's his top priority that he talks about and cares about every day," Rosenthal said.
Cornegy said that he expects some education reform as it relates to the Gifted and Talented program and creating a pipeline for minority communities to get into specialized high schools.
"I don't know what's going to be in the mayor's mind but I know that it will be pretty grand and pretty progressive and probably a little bit bold," he said.