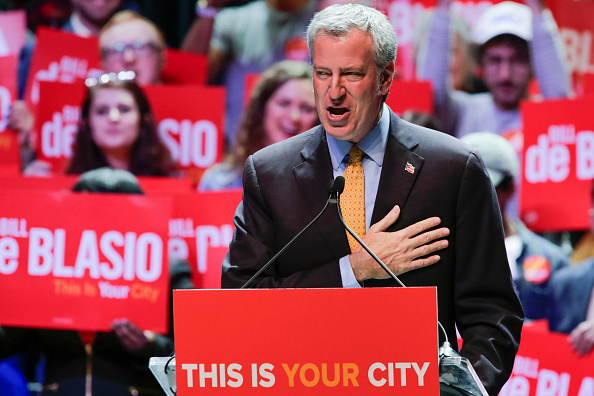 A day before New Yorkers hit the polls, Mayor Bill de Blasio warned that the city risks "losing our essential character" if it "falls into the trap of becoming an exclusive place," vowing to "to keep New York 'New York'" if he wins re-election on Tuesday.
The mayor kicked off his speech at the Association for a Better New York power breakfast on Monday morning by noting that the New York City Marathon "puts a lot in perspective." He said the city had a "tough week" because of the terror attack in Lower Manhattan that claimed eight lives. But he said New Yorkers remained resilient, with 1 million people attending the Halloween Parade in the Village the night of the attack.
He said that his administration has proven it can address the "challenges of our times" and what it can do to keep the city "a healthy city, an inclusive city, a city of opportunity," but that it risks losing that progress.
"There still looms a real danger and the danger of us losing our essential character is real," he said. "We should be concerned that we never fall into the trap of becoming an exclusive place, that we don't become a gilded city, that we don't become a large, gated community. We will not be New York City anymore if everyday people can't afford to live here and if they can't find a real opportunity."
He said that the danger to the city is coming from Washington, referring to President Donald Trump and the House GOP's tax plan that will eliminate the federal deduction for state and local taxes (SALT) and limits the property tax deduction to $10,000.
The plan would lead to a $7.1 billion tax increase for more than 1.1 million taxpayers in New York City. He spoke at length about how the plan would lead to a decrease in $1.5 trillion in revenue and "hurt nowhere more than his hometown."  
He praised the leadership of Senate Minority Leader Charles Schumer and Reps. Daniel Donovan (R-Staten Island), Peter King and Lee Zeldin — Long Island Republicans — as well as Democratic and Republican mayors across the country in opposing the repeal of SALT.
"Crime is going down, schools are getting better and jobs are increasing," the mayor added. "Something is working. We can't risk it. We can't risk going back. We can't risk losing our progress. We can't have it taken away from us from, of all places, our nation's capital."
The mayor did not discuss any new policies or initiatives he will pursue in his second term. But he touted accomplishments in his first term such as universal prekindergarten, his affordable housing plan — which he recently announced is ahead of schedule — increased high school graduation rates, overall crime being down and a drop in the use of the stop and frisk policing method are rooted in maintaining the city's nature.
"The notion underlying it is to keep New York 'New York,' to keep that flame alive, to keep that ability of New Yorkers to reach opportunity, to keep that real, not ever let anyone be excluded," de Blasio continued. "Let's face it: we are living in a time where things have changed. We're living in a time where we're confronting challenges we couldn't have imagined just 20 years ago."
In the weeks leading up to the election, top de Blasio donor Jona Rechnitz, a Brooklyn real estate developer who pleaded guilty to charges of corruption, alleged that he gave money to the mayor's campaign in exchange for favors from City Hall. De Blasio has maintained that Rechnitz is a liar and a felon and that the average New Yorker is not concerned about his testimony.
Despite the controversy, the mayor received high-profile endorsements from Senate Minority Leader Charles Schumer and Sen. Bernie Sanders (I-Vt.) last week as well as from Sen. Kirsten Gillibrand on Sunday.
For the rest of the day, de Blasio will be greeting voters on Staten Island, in Jamaica and in the Bronx. First Lady Chirlane McCray will greet voters in Harlem.
The mayor's campaign is hosting an election night event at the Brooklyn Museum on Tuesday night.