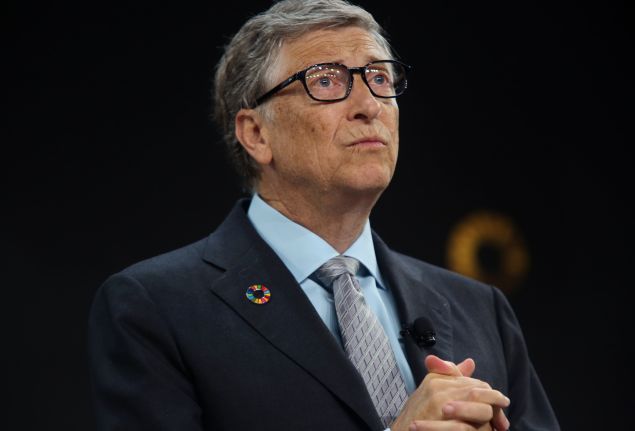 Bill Gates has spent a lot of time recommending books lately, but now he's shifting his focus (and his money) to one of the world's biggest health crises.
The Microsoft (MSFT) co-founder announced on his blog this morning that he is donating $100 million to help support research into Alzheimer's disease. Half of of this money will go to the nonprofit Dementia Discovery Fund, while the other half will go to startups exploring "less mainstream approaches to treating dementia" through clinical trials or early detection.
"I know how awful it is to watch people you love struggle as the disease robs them of their mental capacity, and there is nothing you can do about it," Gates wrote. "Our understanding of the brain and the disease is advancing a great deal. We're already making progress, but we need to do more… This is a frontier where we can dramatically improve human life."
Gates told CNN's Dr. Sanjay Gupta that he spent a year investigating Alzheimer's and talking to scientists before making the monetary commitment. The billionaire said he identified five areas of need: understanding Alzheimer's, detecting and diagnosing it earlier, pursuing multiple approaches to treat the disease, making it easier for patients to take part in clinical trials, and using data better.
This is Gates' first donation to find a cure for a non-communicable disease. The funds come from Gates' personal fortune, not his work with the Bill & Melinda Gates Foundation, which he and his wife use to direct their philanthropic efforts. The couple has donated $35 billion through the charity since 1994.
Gates wrote that once an Alzheimer's treatment comes to fruition—hopefully within the next 10 years—his foundation will work to expand access in poor countries. He also wants to award a grant for a global dementia data platform, which would make it easier for researchers to identify new pathways for treatment.
More than five million Americans (and 47 million people worldwide) are living with Alzheimer's disease, the most common form of dementia. This number could rise to 16 million Americans (and 130 million people around the world) by 2050.
Alzheimer's is the sixth leading cause of death in the United States, killing more people every year than breast cancer and prostate cancer combined. Nearly half of people over the age of 85 have Alzheimer's, which costs the nation $259 billion annually—that amount could rise to over $1 trillion by 2050.
While there is currently no cure for Alzheimer's, there have been over 400 drug trials in the last 15 years. There have also been many diagnostic advances, such as improved brain scans and imaging technology that can predict if and when people will develop Alzheimer's. Doctors have even proposed that daily activities like meditation and taking medical marijuana can help stave off the disease.