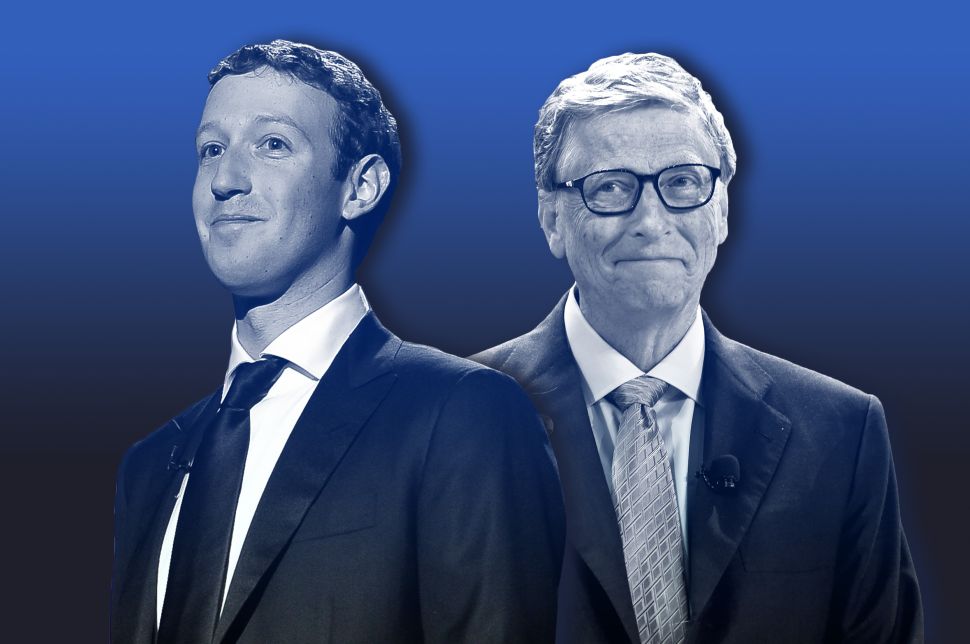 On Wednesday, Bill Gates' $40 billion charity, the Bill & Melinda Gates Foundation, announced a partnership with Saudi Arabia's MiSk Foundation to donate $10 million to fund innovators working in education, CNBC reported. Earlier this week, Gates pledged $100 million of his personal funds to support research to cure Alzheimer's disease. 
Gates is an anomaly in the philanthropy world for the amount of publicity he receives, and so is Mark Zuckerberg, the millennial tech billionaire 29 years his junior.
In 2015, Zuckerberg and his wife Priscilla Chan started The Chan Zuckerberg Initiative, a charitable fund to which the couple promised to donate 99 percent of their wealth over their lifetimes. Since the establishment, the nonprofit has committed multiple multi-million dollar funds to support public causes. Last year, they pledged $3 billion through the foundation in a mission to cure all childhood diseases over the next decade.
Unlike traditional philanthropists who shy away from the spotlight, Gates and Zuckerberg see their every move documented by news headlines.
"Most traditional philanthropists are trying to keep a low profile when it comes to their giving. These new mega-donors, however, don't really have a choice, given their prominence, so why not leverage their public visibility in the interest of the cause?" Peter Vogel, a professor of family business and entrepreneurship at Switzerland's IMD Business School, told Observer.
"These tech entrepreneurs were under the media limelight long before they entered philanthropy. So it's natural that their philanthropic work attracts so much media attention," he said.
The fact that the two families are constantly chased by media doesn't necessarily translate into an industry-wide phenomenon, but the amount of money they control represents a significant chunk of the charitable giving in America. The combined size of the Chan Zuckerberg Initiative and the Bill & Melinda Gates Foundation takes up half of the total assets of the 10 largest foundations in the U.S.
Vogel said that this unconventional approach to philanthropy is quite unique to America, due to the country's tradition of private donors heavily funding social causes, education, arts and healthcare.
"The U.S. has a solid foundation for philanthropy built by early pathfinders like the Carnegie family and the Rockefeller family. That's not seen in any other country," Vogel said.
"Today, there is probably not a single university in the U.S. that doesn't receive significant fundings from alumni. Museums and many other institutions are also funded by private wealth. In Europe, by contrast, philanthropy has a very different structure. Arts and educational institutions are mainly publicly funded, so there's not as much a need for philanthropy. But it's certainly gaining momentum."